Pavlik and Lopez Winning by Early Knockouts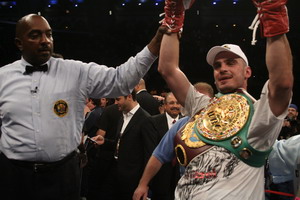 By Frank Gonzalez Jr. - Photo by Sumio Yamada - Saturday night in Atlantic City, Kelly "The Ghost" Pavlik improved his record to 34-0, with 30 KO's after making easy work of Gary Lockett (30-2, 21 KO's). Lockett landed a few good shots and put on his best menacing face but he took a knee twice in the second round after being tagged a few good times by Pavlik, then again in the third, after a series of unanswered punches in the third found Lockett on his knee yet again, his corner (Enzo Calzaghe) threw in the towel. Lockett couldn't handle the power and quality of Pavlik.

With all the politics that stir the pot in boxing, it's interesting to note that the trainer of Gary Locket is Joe Calzaghe's father/trainer and outside of being in Lockett's corner, Enzo got a good, up close assessment of what Pavlik brings, which should be valuable information, should Pavlik fight his son anytime in the near future.

Kelly looked great but that wasn't much of a fight. Surely the match makers can do a better job next time they give us a "mandatory" match up. Who did Gary Lockett ever beat that justifies his getting a shot at Pavlik's titles anyway? But, if you like brevity, this fight was short and to the point.

On June 21, IBF Middleweight champ, Arthur Abraham (26-0, 21 KO's) has a scheduled rematch against Edison Miranda (30-2-0, 26 KO's) who Abraham beat by lopsided decision the first time they met back in September of 2006. Abraham is good and will be the most logical match-up for Kelly Pavlik; should he get past the latest incarnation of Miranda, who is a big puncher but not the best boxer in the division. Miranda is explosive and while he has some flaws on defense, he is capable of an upset. Pavlik vs. Miranda II would also be entertaining.

Pavlik's style is simplicity and basic boxing fundamentals. His timing is good and he has good power in both hands. He is susceptible to fast handed fighters and he does get hit, but his defense is pretty good. Unless he plans on moving up to 168 to fight Calzaghe, he really needs to fight Abraham or Miranda to keep things exciting. There's no great depth of talent right now at Middleweight, so my guess is that Pavlik moves up soon.

*

The first fight on the card featured Mexican WBO Super Bantamweight Champ, Daniel Ponce de Leon (34-2, 30 KO's) against rising Puerto Rican prospect, Juan Manual Lopez (22-0, 20 KO's). This was a big upset that saw the favorite, Ponce de Leon, come on aggressively, throw a lot of shots and pressure Lopez early, until during an exchange, Lopez landed a right hook, clean into Ponce de Leon's jaw that floored him.

Ponce de Leon got up, but was shaky. De Leon is as tough as they come but here was this young kid from Puerto Rico, getting his first shot at a title and delivering big time as he went for the kill and chased Ponce de Leon with punches from all angles. Lopez landed eight unanswered shots until Ponce de Leon was down a second time and the ref stepped in and did his job.

The 24 years old, Juan Manuel Lopez of Caguas P.R., showed some explosive punching power and an energetic ring presence. One round isn't enough to show how good his chin is or how he might deal with long term pressure or how he deals with adversity in general but I have a good idea we're going to find out soon, as we should see a lot more of this kid who's promoted by Top Rank.

Super Bantam is a tough division and home to two of the best fighters in all of boxing in Rafael Marquez and Israel Vazquez. There's also Celestino Caballero, the only other guy to beat Ponce de Leon. There's Jhonny Gonzalez, Steve Molitor, Ricardo Cordoba and the very long named, Poonsawat Kratingdaenggym to name just a few.

Congratulations to Juan Manual Lopez, and welcome to prime time.
---
Pavlik over Lockett: Everything Comes Together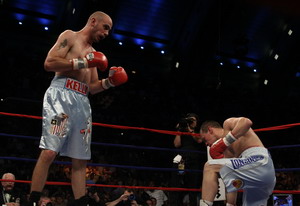 By Ted Sares: Kelly Pavlik (photo by Sumio Yamada) successfully defended his WBC and WBO middleweight title belts tonight with a beat down of game Welshman Gary " The Rocket Man" Lockett in Atlantic City. Pavlik moves to 34-0 while The Rocket crashes to 30-2.

Despite Enzo Calzaghe's exhortations between rounds, there was nothing anyone could do to stop the taller and sharper "Ghost" from coming forward, savaging his outclassed opponent, decking him thrice and rendering his face a bloody mess. Indeed, if there was an angle to discuss about tonight's fight, it was that everything seemed to come together for Pavlik and such a confluence of skills would have spelled doom for anyone at his weight on the Planet Earth this particularly steamy evening in Atlantic City, NJ.

Pavlik's defense and movement was sharp, his jab punishing (as usual), his punch volume non-stop, his focus like a laser beam, and the power coming off the end of his long and straight incoming stuff awesome. In short, he was the perfect killing machine and his performance surely will send shock waves across the globe.

Whose is next depends on many factors, but names like Abraham, Miranda and Calzaghe must be a part of any discussion.

Unlike what happened to Vernon Forrest and Ponce de Leon, there was nothing close to an upset tonight. Pavlik, the Blue Collar Hero from the Rust Belt, is something special and an exemplar for hard work and desire.
---
Kelly Pavlik Shows His Class Against Limited Lockett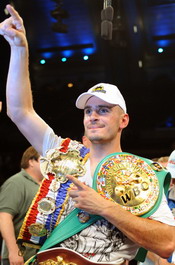 By Andrew Walker, photo by Naoki Fukuda - WBO-WBC middleweight world champion Kelly Pavlik 34-0-(30) outclassed reigning WBU middleweight champion Gary Lockett 31-2-(21) inside three rounds tonight at the Boardwalk Convention Hall, Atlantic City, USA. Pavlik showed his intentions from the opening bell throwing more punches then the shorter challenger Lockett and looking totally relaxed whilst doing so. To his credit Lockett did not look overawed by the occasion and came to fight and make the most of his opportunity but it quickly became obvious that he was way out of his depth against the champion.

Round two would show the challenger's limitations at this level more acutely with Lockett taking a knee and a count twice as he succumbed to the greater volume and power of Pavlik but still the gutsy Welshman remained calm and took the full count both times to try and gain some composure before continuing. Lockett survived the second round and on returning to his corner trainer Enzo Calzaghe implored his charge to throw more punches but the usual "bollocking" that Enzo dishes out to his fighters was not forthcoming and you could already see the concern on his face for Lockett.

Round three and Lockett started well but this was short lived as Pavlik got back down to business and once again an accumulation of punches forced the challenger to take a knee and another count. Although Lockett once more rose to his feet, Trainer Enzo Calzaghe had seen enough and threw in the towel just before the referee waved a halt to the fight. Lockett had been brave but ultimately limited at this level but Pavlik was true to his word and had not taken the challenger lightly as some had feared he would do. Pavlik looked devastating against this level of opposition and you have to think that, that was the whole idea of this mandatory defence. And why not? Pavlik deserved this fight after his recent wars and a meeting with Abraham could be up next before a possible super fight with the King of the super middleweight and Ring magazine light heavyweight champion Joe Calzaghe early next year.

Joe Calzaghe would be a different proposition altogether for Kelly Pavlik if the fight did come to fruition but it would not be out of the young Americans reaches to take a victory. Joe is only getting slower and older whilst Pavlik seems to only be getting better. Either way it is a fight that the boxing fans would love to see if it can be made within the next twelve months.

But for tonight Kelly Pavlik deserves the applause for a stunning victory against a brave Gary Lockett who will go back to Wales defeated but contented with his biggest payday to date. I'm sure Enzo will be smarting and plotting revenge over the Pavlik camp but next time he will bring the heavy artillery in the shape of son Joe perhaps?

Here's hoping.
---
Pavlik lights up Lockett, now the real work begins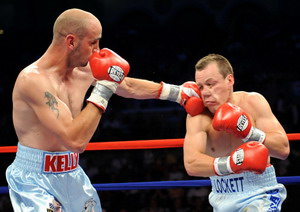 By Mike Cassell, photo by Naoki Fukuda - As the Floyd Mayweather Jr. era comes to a close, it seems fitting that a fighter like Kelly Pavlik 34-0 (30 KO) has emerged. Although he has fought very far above his competition and has done so in an absolutely spectacular fashion, someone often needs to remind this humble young man that he is the recognized undisputed middleweight champion of the world, the 300lb. gorilla of American middleweight boxing.

On Saturday night he went in as a 25 – 1 favorite , returning to the Jersey Shore to face a challenger that most knew didn't have a chance. It only took Pavlik three rounds to walk through Lockett, forcing trainer Enzo Calzaghe to throw in the towel after Lockett took a knee for a third time against the brutal onslaught of Pavlik. After fighting Jermaine Taylor twice, he earned this fight, but fans know he has only just begun. He still talks like a contender, and maybe that's what makes him who he is, and it is quite frankly refreshing.

He doesn't clutter his words, or talk about himself in the third person. There is nothing more annoying for a reporter, than to listen to an athlete talks about himself as if he, himself is not in the room. Pavlik doesn't need to do that. He stills lives in an 1100 square foot house, and still trains in the same fashion as he always has. This attitude always leaves boxing enthusiast to believe there will be a drop off, like Pavlik knows something that we all don't. The cold reality is, he does and every time he gets in the ring, he says it loud and clear, without uttering a syllable.

He slipped into the middleweight division quietly, as older champions faded away, but the onus is on Pavlik to clean up a division that has given belts to virtually unknown German fighters, Felix Sturm and Arthur Abraham. Boxing unlike any other sport is completely driven by capitalistic principles. There is no revenue sharing or owners meeting, only PPV numbers and the strength of the gate. For Sturm and Abraham, who are unknown is this country, there is only one way to get known, and that is to fight Pavlik. For Pavlik, taking these belts and defending them, will not make him rich, but will put him in a unique position to wait for the bigger names, or the "money" so to speak, to step up and make a real challenge. The Life that Pavlik leads is so simple and inexpensive, you get the feeling that he has what he needs, and knows what he wants, so expect him to clean up before he "cleans up".

My uncle had hotel around the corner form Boardwalk Hall, so it is like a second home to me. I can honestly say that after watching hundreds of rounds in that building, and seeing some real "Arturo Gatti" like excitement, Pavlik breathes a new life there that is rare and has never been seen to date. An excitement that leaves every fan with a fulfilled feeling after making the drive and spending the money for decent seats. After he fought Jermaine Taylor the first time, the fans shuffled out of the arena onto the boardwalk, chanting and talking about each shot. They stayed there for hours, fans of Taylor and Pavlik, together, having a great time. I remember thinking, its 2am, the boardwalk is packed, and no one is going home. I had never seen anything like it. The old Boardwalk Hall needed it, our struggling economy needed it, but the fans really needed it. It was something very special.

Saturday night is wasn't as loud, and it wasn't as crowded, but after the fight, like old friends who hadn't seen each other in a while, people stood on the boardwalk, chanting "Kelly" and talking once again about boxing. While other reporters were inside at the after press conference vying for a few words with Pavlik, I was out on the boardwalk engrossed in real conversations with the real people who will decide Pavliks next opponent, the fan.
---
So, Are We Going To See Kelly Pavlik-Joe Calzaghe Now?
- by James Slater, photo by Naoki Fukuda - Now that the fight many experts correctly said was a mismatch all along is over with, in Kelly Pavlik-Gary Lockett, are we fight fans going to see a genuine super fight involving "The Ghost" and a Welsh fighter? You know who I'm talking about, Joe Calzaghe. And while Calzaghe's team mate Lockett had absolutely no chance in Atlantic City last night, "The Pride of Wales" himself would surely have more than a good chance of becoming the first man to beat the big-punching and extremely popular Pavlik.

But will the fight happen? And if so when? Well, the two men who can make the fight happen, promoters Bob Arum and Frank Warren, spoke immediately after last night's easy three round win for middleweight world champion Pavlik and discussed the possibility of the match-up..

Arum said he's in talks with Warren for an October 18th date for the super fight. No weight was mentioned for the bout, but Arum said that if the October date could not be made then Pavlik would fight twice more this year in defending his middleweight title - in September and then again in December. There is no doubt Arum wants the fight, but his British counterpart in Warren says it is all up to Joe Calzaghe.

Speaking to Setanta Sports moments after his fighter Gary Lockett had been dismantled, Warren had the following to say about the proposed fight seemingly all of boxing wants to see.

"It's Joe's decision, first of all," Warren said about a Pavlik fight. "There are a couple of good opponents out there for Joe. But, at the end of the day, Joe is the man, not [Roy] Jones or [Kelly] Pavlik. A fight with Pavlik would have to be made at super-middleweight, firstly. But it remains to be seen how good Pavlik can be. He does fight in straight lines, he's good at coming forward, but I want to see what happens when someone puts pressure on him."

When he was reminded by the guy interviewing him that Jermain Taylor put pressure on Pavlik and almost beat him, Warren agreed and made no bones about the fact that he feels Calzaghe is a much better fighter than Taylor was/is.

So, will the super-middleweight dream fight get made? Like Warren says, it all pretty much depends on Joe. Kelly Pavlik has made it clear he rates Calzaghe and would like to fight him. Calzaghe, on the other hand, may well feel as though he has nothing more to prove and retire after a fight with someone like Jones.

Let's hope not, because a Calzaghe-Pavlik fight could well be something truly special indeed!