Pacquaio-Marquez II - A Fight For The Ages!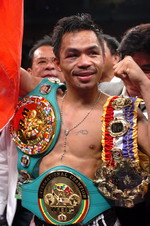 by James Slater, photo by Naoki Fukuda: The argument as to just who deserved the decision after Saturday's instant classic between Manny Pacquaio and Juan Manuel Marquez, in their superb rematch, will no doubt go on for some time. Yet one thing the fight proved beyond any doubt is the fact that Pac-Man is once again boxing's number one most thrilling operator.

In his last two bouts, against Jorge Solis and Marco Antonio Barrera, it was clear Manny was not firing on all cylinders. As a result, both fights did not produce the pulsating action Pacquiao fights normally do. Well, guess what - Pac-Man is back to doing what he does best, namely putting the fans attending his fights through absolutely pulse quickening drama. Last night's return bout, four years in the making and all, was nothing short of a majestic and glorious battle.

The fight also asked a number of questions, not least, who actually won? Also, the following posers were put forth; can Pacquiao really go any further up in weight? Will there be a third Pacquiao-Marquez bout, was the rematch even better than March 1st's Vazquez-Marquez rubber match? And, finally, can we simply stop talking about a Pacquiao-Ricky Hatton fight?

Now to answer these questions one by one.

Firstly, for what it's worth, this writer had last night's fight scored as a one point win for Juan Manuel Marquez. The fight was desperately close, however, so the question of who won can only come down to a case of take your pick. One does hope that there are no cries of robbery, though. This fight was too good to be spoiled, at least partially, by any complaints of that nature. The action was dead close, let's leave it at that.

Can Pac-Man go up any further in weight? For a guy who made his pro debut down at a mere 106 pounds, the Filipino superstar has already achieved plenty. But to go up to lightweight? That may be biting off a little more than Manny can chew. Super-featherweight looks, to this writer, anyway, about as successfully high as the 29-year-old can go. As it is, Manny has already earned himself the accolade of being the first boxer from his country to win as many as four world titles in different divisions. In short, Pacquaio doesn't need to take risks by going up any higher, his legacy is already cemented beyond any doubt.

Will there be a third fight? How can there not be? The fights, both one and two, were absolute barnburners, and it could be argued (indeed, it almost certainly will be) that we have yet to see a clear winner in either fight between the two men. As great as fights one and two were, last night's return especially, there will surely be a third clash. Hopefully this year.

Was last night's great fight even better than March 1st's rubber match war between Israel Vazquez and Rafael Marquez? Again, it's down to individual opinion, but I say yes. The drama was absolutely agonising last night, and the action more than delivered. Sure, the March 1st fight between Juan Manuel's brother and the magnificent Israel Vazquez delivered big style too, but for me Pacquaio-Marquez II topped it. Just. Whatever the case, though, we have almost certainly seen 2008's fight of the year - whether or not you think it took place two weeks ago, or just last night.

How about talk of a Pac-Man-Ricky Hatton clash? No. In a word, no. This fight should not happen. Yes, I know Manny enters the ring at around 144 pounds or so, but he is just too small for Hatton. There is no shortage of other, equally intriguing fights out there for Pacquaio, so why go after a natural light-welterweight like "The Hitman?" Such a fight would no doubt prove incredibly lively and dramatic for a while, but it wouldn't be a long while. Manny is not the hardest guy in the world to hit, and get hit hard and often he would by Hatton. Against a man so much naturally bigger, it would simply not be fair. Pacquiao is fearless, and would take the fight in a heartbeat, without question, but this particular mountain would be one too high to climb.

For the time being, however, whatever path he chooses to follow in the coming months, let's all congratulate, not only Manny Pacquaio, but also the equally superb Juan Manuel Marquez, on a fight exceedingly well fought last night at The Mandalay Bay in Las Vegas.

Without any question, Pacquiao-Marquez II was a fight for the ages!
---
Juan Manuel Marquez: Too Little; Raphael Marquez: Too Much: Losing The Biggest Fight of My Life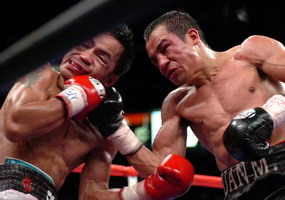 Michael Herron (M.I.C), photo by Naoki Fukuda: The phrase "biggest fight of my life" is overused in prize fighting; however, it could not have been truer for the Marquez brothers, Juan Manuel and Raphael. March, 2008 saw each engage in career defining fights. Raphael completed his historic trilogy against super-bantamweight champion Israel Vasquez; and in their long-awaited rematch, Juan Manuel battled Filipino superstar Manny Pacquiao. Both fights surpassed expectations and each will make a case for "Fight of the Year." Though Juan and Raphael fought like champions, neither of them emerged victorious. Perhaps against their respective opponents, one brother may have given too little, and the other, too much.

Too little and too much refer to aggression. Against Vasquez, I believe Raphael was too aggressive; and against Pacquiao, Juan was not aggressive enough. To put it another way, Raphael fought where he should have boxed; and Juan boxed where he should have fought. Raphael started the contest boxing beautifully, but would lose discipline whenever Vasquez closed distance.. Because of the power deficit, Raphael could not afford to trade with Vasquez; yet that was the story of the final six rounds. As if by impulse, Marquez engaged in the violent brawl that Vasquez initiated; the consequences led to defeat.

Juan Manuel, though a gifted counterpuncher and technical boxer, spent too much time counterpunching and technically boxing! At some point during the fight, Juan should have taken the lead, forced the action, and put Pacquiao on the defensive. In fact, it is when he pressed the action that he performed best. Marquez proved that he could break Pacquiao's defense when he was aggressive; but perhaps by habit, he resorted to his comfort zone of counterpunching and defending. This decision allowed Pacquiao to be the clear aggressor and overall ring general. There are points to be awarded to fighters viewed as initiating contact, or as it's called, "making the fight."

Many observers, however, view the knockdowns as the chief determining factor in both fights. While technically true considering the one point split-decisions, the aggressive energy, and lack thereof, clearly favored the victors. Vasquez and Pacquiao retained the impression that they were but a punch away from victory; as if the knockout could come at any moment. This ominous nature of the struggle, in addition to the knockdowns, likely provided a crucial edge in scoring close rounds. Consequently, by not doing too little, like Juan Manuel; or regretfully doing too much, like Raphael; Pacquiao and Vasquez did just enough to win the "biggest fight of their lives."

Writer's note: Though this is a critique, all four combatants deserve praise for a job well done.
---
Pacquiao-Marquez: (2) Marquez - (2) Pts. = (2) Losses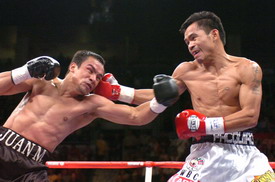 By Paul Strauss, photo by Naoki Fukuda: If you prefer, we could change the equation to two knock-downs = two losses, because that seems to be the difference between winning and losing for these two brothers. With Juan it happened in the third round, after he seemed to be having things his way. For his brother, it was the twelfth. Something else common to these siblings is the toughness of their opponents. Vasquez and Pacquiao have to be two of the toughest customers around in any weight class.

After last nights fight, Juan Marquez said he thought he won the fight, because, "I know I hurt him three, four, maybe five times". Well, if he did, it wasn't for very long. Manny was probably hurt worst by a punch that landed squarely on the right eye. It definitely bothered Manny, which he confirmed during the post fight interview..

However, the difference in the fight seemed to be what Emanuel Steward referred to in the trade as "heavy hands". Manny has that ability to knock his opponent silly without even landing square. He gets hit on the chin, and manages to hit his opponent with a glancing blow, but who is hurt worse? It's usually his opponent. What a great gift to have, the knowledge that you can not only hurt your opponent, but take him out at any time with one punch.

That ability seems to also provide Manny with the confidence to relax in the ring, as he did last night. He remained strong throughout the contest, and was able to keep his knockout punch to the end.

Marquez contributed to the thrilling fight with his big heart and his cleverness. He landed a variety of punches on Manny. First he was able to land a surprisingly long left hook. Then he effectively used the lead right, just as he had in the first fight. Finally, he mixed in some uppercuts for good measure.

However, Manny is a more complete fighter now. His defense has improved, not that his strong chin needs much defense. His speed and ability to change the angle of his punches is uncanny. Marquez seemed confident several times in that he had his own guard properly in place, only to have Manny's punches get inside, or come around the side.

Manny's so fast that he can almost lull his opponents into a false sense of security, giving them a feeling that their out of range, only to have him spring on to them like a cat. He throws two, three or more hard punches almost at a run. If they are still standing after the assault, they usually have an expression on their face that says, "Where the hell did that come from!"

I've heard Emanual Steward comment more than once about Manny's poor balance, and that he's often out of position, but I'm not so sure. He seems to be pretty adept at what Jack Dempsey used to call his "double shift". With Manny it comes from the opposite side. First he throws the right jab, then a long straight left, with his left leg following, which makes it seem like he extended himself too far, and is out of position. However, another straight right is following up fast, which comes from the orthodox position. He does it in a blur, seemingly to run at his opponent, and to them it probably feels that way too.

It sounds like there won't be a third fight between these warriors, because Manny wants to move up in weight. What a shame! Maybe Marquez and Diaz can battle it out, and let Manny pursue a new list of opponents to beat on. If Manny can stay focused, and not be distracted by his celebrity, and other ventures, then there probably are more titles coming his way. I think Juan and his little brother will do fine as well.

I know I'll sure be tuning in any time they're fighting.
---
Manny Pacquiao edges Juan Manuel Marquez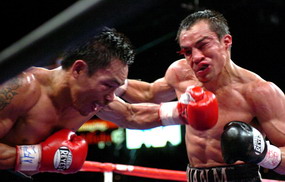 Andrew Walker, photo by Naoki Fukuda: The long awaited rematch between Manny Pacquiao and Juan Manuel Marquez did not disappoint tonight at the Mandalay Bay in Las Vegas with Manny Pacquiao taking a split decision win over Juan Manuel Marquez to become the new WBC Super Featherweight World champion. After a close first round both fighters stepped up the already high work rate in round two with Marquez and Pacquiao both teeing off with some good shots but Marquez just edged the round with his excellent counter punching. In the third round Pacquiao caught Marquez with a terrific short left that had the Champion down with just under a minute left of the round to go.

Marquez was nearly knocked down for a second time just before the bell sounded but he managed to remain on his feet and regained his composure. The fourth round started a little slower then the previous three but Pacquiao was beginning to show his superior strength whilst Marquez was having more success with his jab, beating Pacquiao to the counter punch once more to produce another close round.. Round five and six produced more of the same with Marquez still boxing superbly to just edge both rounds over Pacquiao who was now looking for the big punch to end the fight early.

Early in round seven there was an accidental clash of heads and both fighters sustained cuts to their right eyes although Marquez's was more noticeable at first. Pacquiao landed some big shots in round seven as he again looked for the early finish over Marquez. The damage to Pacquiao's right eye was made worse by Marquez in round eight as he repeatedly targeted it with his superior jab whilst Pacquiao remained the stronger of the two and continued to land with the bigger, more powerful shots. The right eye of Marquez was now giving cause for concern and the fight was briefly stopped in round nine so the ringside doctor could take a closer look at it but he saw nothing to prevent the fight from continuing and the fight was waved on.

Pacquiao was starting to have more success now and arguably won the next three rounds with his fearsome punching power over Marquez. The final round was a good one for both fighters but Marquez clearly won the twelfth with a superb display of boxing skill and at this point I had scored the fight a win for Marquez 114 – 115 but the judges saw the fight slightly different and Pacquiao won on a close split decision with scores of 112-115, 115-112, and 114-113. There were a few rounds that were so close they could have gone either way but the early knock down in round three gave Pacquiao the edge over the twelve rounds in the judge's eyes. Either way this was great fight and I for one would definitely like to see a third fight between them before the year is out if it can be made.

Judges score cards: 112-115, 115-112, and 114-113 in favour of Manny Pacquiao.

WBO Featherweight Champion Steven Luevano successfully defended his title with a unanimous decision over Terdsak Jandaeng on the under card with an excellent display of boxing skill. The only low point of the fight for Luevano came in the fourth round when he was knocked down with a big left from Jandaeng but he immediately got back up and appeared to knock Jandaeng down but it was ruled a slip. The judges score cards were a true reflection of this fight but it was still entertaining to watch.

Judges score cards: 118-109, 119-109, and 119-109 all in favour of Steven Luevano.