Pacquiao destroys Diaz in 9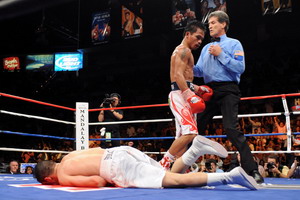 By Anthony Coleman, photo by Naoki Fukuda: Last night the Pac-Man arrived to another unforeseen land in an attempt to continue his reign of dominance. Brave David Diaz, one of the champions of the land, was given the job to defend the territory against this wandering warrior…and got the high holy shit beat out of him. Thus the Pac-Man claimed another victory and ascended to another level in staking his claim as the best fighter in the known universe.

Yes, I know this opener sounds like a plot from a Dragonball Z storyline, but that is my perfect analogy for Manny Pacquiao because if there is ever a boxing equivalent of Son Goku he is it. He is a powerful and dominant fighter who continues to ascend to another level with every move to a higher division and dangerous foe by adding new arsenals to his skills. Last night he ascended to true Super Saiyan form with his absolute dominant victory over WBC Lightweight champion David Diaz. In short, this was his magnum opus: the absolute finest performance of his career.

Going into the bout while Manny was considered the universal favorite there were still doubts in how effective he would be at Lightweight. Nobody thought he was going to lose, but most of us thought that it would still be a difficult fight. While Diaz is limited in both technique and athleticism, he was still a tough, strong guy who continually comes forward and possesses a good chin. Plus many, especially this writer, didn't know how Pacquiao, who won his first world title at Flyweight, would be able to handle the move all the way up to Lightweight. Will his power be affected? Could he carry the weight and still maintain his athletic ability? All the reason why many thought it would be a hard fight. But from the opening bell it was a blood letting.

I'll spare you the round by round because the fight was pretty much the same from the opening bell to the conclusion. Pacquiao dominated the fight from the outside with his footwork, awesome handspeed, and much improved technical skills. No longer was he the full court press, go for broke, leave himself open for counters T-800 from four years ago. Gone are the days when he relied solely on a weak jab, followed by overloading on his left hand and throwing himself off balance. He has now turned into a patient, cool calculating destroyer who maintains his punching position and fights behind a hard jab, while moving deftly around the ring and dropping hard three to five punch combinations. And last night he was really letting them rip.

Jumping in with lead right hooks, followed by a right uppercut. Double right hooks followed by a left cross. Right Jab followed by a left cross and right hook. He was just tattooing Diaz and by the fourth round Diaz's face was already a bloody mess. By the fourth Diaz was getting rocked by Pacquiao's punches, and all the while Diaz could barely touch the challenger whose defense was almost as superb as his offense.

So dominant was his performance that at least two of those rounds were clear 10-8s without even a knockdown (rounds 4 and 5). In fact the fight should have been stopped after the sixth round because Diaz had no chance of landing flush, no chance of pulling off a major boxing miracle. He was done for.

Yet give Diaz credit. He wouldn't quit (which was also a bad thing in my opinion seeing that he was getting hammered) and he made it to the ninth round. But Pacquiao did what the referee and the former champion's corner should have done sometime earlier: ended the fight. Pacquiao landed a massive left cross at center ring and Diaz ate it flush and fell face down and Vic Drakulich did the right thing and waved the fight off and Pacquiao was now the new WBC Lightweight champion of the world.

From top to bottom this was Pacquiao at his apex. He was more impressive now than he was in his Featherweight title winning effort against Marco Antonio Barrera. Though Diaz is nowhere near the boxer of the Mexican legend, Pacquiao has improved to the point in which he can finally be called a great boxer-puncher instead of purely a puncher. While his power may not be as strong as it was in lower weight divisions he still had enough to knock Diaz out cold and he could do it to anybody else in the division, especially if continues to land devastating combinations like he showed last night.

Right now the man is going to be near impossible to top as the Fighter of the Year in any publication and he is now, unquestionably the best fighter in the world Pound for Pound. In fact as it stands he will be considered the Fighter of the Decade when the clock strikes January 1st 2010. And think about this? What if he were to defeat the winner of Marquez-Casamayor or unify all of the belts against Nate Campbell? We then will have to stop asking where he stands among the very best fighters of his generation and then start questioning where he ranks among history's all-time greats.

Hopefully Pacquiao is basking in the glow of his finest hour. He silenced all of the critics who thought that he would lose a step in winning his fifth world title in as many weight classes and put together an all time great performance against a much bigger and stronger top five Lightweight. Whenever he walks into the bright lights of the squared circle in his next fights the opponent should know that he will be facing the best fighter in the world today.
---
Could This Welterweight Sized Performance By Pacquiao Lead To More 'Money'?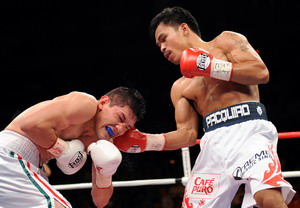 - By Vivek Wallace, photo by Naoki Fukuda: If playing pool until midnight and being a constant spectacle among skeptics results in the destruction fight fans saw Saturday night at the hands of Manny Pacquiao, a lot of other fighters had better chalk a stick and pull out the cue ball because there's a new training regimen about to take effect in the world of Boxing.

Coming into the fight, many wondered whether Manny Pacquiao would be able to sustain his greatness and carry his power with him as he traveled north to the Lightweight division and that question was answered in a mighty way as he showed great strength and power, knocking the very durable David Diaz out in 9 rounds.

This is a true testament to Manny Pacquiao, as never before has a fighter been known to carry his power up from such a small weight class (light flyweight - 106 lbs) to lightweight (130 lbs), and still remain this effective from a KO standpoint.

When considering accomplishments, it's hard to overlook the Champion tenure of Joe Calzaghe, and the fact that he has remained undefeated after so many years in the sport, but based on excitement, heart, and a skillset that has vastly improved, it's impossible not to consider Pacquiao the new heir apparent to the sports mythical Pound for Pound title. Every component fight fans look for in a fighter is embodied somewhere within that 135 lb frame that entered the ring by way of the Philippines Saturday night.

Trainer Freddie Roach said that there would be a concerted effort given to make sure that Pacquiao elevated his speed level to keep a potential shortage of power at the higher division nullified. Not only was the great speed present, but for a fighter who was once a predictable but talented force, it seems the Pacquiao camp has clearly opened the playbook and began exercising skills at a very advanced level. There was alot of movement, alot of traps, and a lot of simple execution that resulted in fireworks in the end.

As 'game' as Diaz was, the skeptical view about this fight was very clear. Despite the great work performed, those who see things in an unbiased manner know full well that Pacquiao fought a guy who would make Carlos Baldomir look like Roy Jones Jr. It's unclear whether Diaz was being overly methodical and thinking too much, or if his needle simply failed to reach that optimal level on this night, but his 'slow-as-molasses' rendition was hardly the best that the lightweight division has to offer.

Heavy conversation is expected to commence as early as Monday when dialogue will convene regarding a possible showdown with Ricky Hatton. Many - (myself included) - would like to see Pacquiao face other great lightweights, namely Nate Campbell. Such a fight would truly show Pacquiao's worth against a member of the division who's size, speed, and skills are actually comparable, but listening to Arum and Roach, it seems that chance may not be possible.

Aside from Ricky Hatton, considering that Pacquiao is comfortable in his heavier armor, one can't help but wonder if he does go on to successfully defend against 140 lb'er Hatton, could the future hold a battle for "Pound for Pound" supremacy, enticing Mayweather to lace them up again at some point in the future which would work well for his desired "year or two from the sport". Lets be real fight fans, it isn't exactly unlike him to consider a mega fight with a smaller guy. To his credit, he went up to 150 lbs to face a legendary bigger one too, but this could be a fight in the future that would be too easy to make to leave off the negotiation table.

Although that seems a very improbable proposition, we learn everyday and saw once again on the undercard of the Pacquiao/Diaz fight, anythings possible in this sport.

Talk is cheap but when the feet hit the pavement and dialogue breaks open with 10-figure potentials, in the end, more money could very well mean more 'Money'. Stay tuned.
---
As He Destroys David Diaz, Manny Pacquiao Solidifies His Position As Pound-For-Pound #1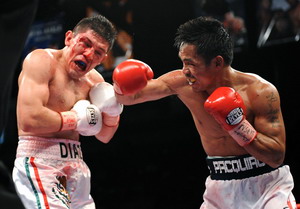 by James Slater, photo by Naoki Fukuda: Manny Pacquiao never put a foot, or a glove, wrong last night at The Mandalay Bay in Las Vegas. Utterly dominating the game but out-classed David Diaz for almost every second of the nine rounds the fight lasted, "Pac-Man" put the finishing touches to his handiwork at just after the 2 minute mark of the 9th. A perfectly delivered short left hand to the head sent fellow southpaw Diaz face-first to the canvas and the fight was over. The official time was 2 minutes and 24 seconds of round nine.

With his great win the 29-year-old Pacquiao made boxing history as he became the first Filipino fighter to ever win a world title at lightweight - picking up the WBC 135 pound belt with his destruction of the 32-year-old from Chicago. Also with such an impressive display "Pac-Man" proved beyond any doubt he belongs at the top of all pound-for-pound lists. For the record, Pacquiao improved to 47-3-2(36). Diaz fell to 34-2-1(17).

There were a number of questions going into last night's fight. Would Pacquiao be as fast up at lightweight? Would The Filipino be as powerful? Would a natural lightweight be too strong for him? Well, guess what? With his superb showing last night, Manny Pacquiao made it clear: HE is now a natural lightweight. With his speed just as sizzling, his power - as the fight-ending shot from hell proved - just as awesome and his stamina and strength as extraordinary as ever, Pacquiao boxed perhaps as good as he ever has. His accuracy against Diaz, who admittedly is not the hardest guy in the world to hit, was also very impressive.

Basically, Manny could not miss Diaz with his right hand - when either throwing it as a jab or as a hook - and it was this accuracy that saw the Chicago man busted up badly very quickly. Eventually, as his face felt more and more leather, Diaz sported two bad cuts - one on the bridge of his nose, the other, far worse, over his right eye. This cut could well have prompted a stoppage, and indeed there were two time-outs called by referee Vic Drakulich so as to let the doctor inspect the damage. But the fight, which by the fourth and fifth rounds had all but turned into a slaughter, was permitted to go on. Diaz's chances of winning were hopeless, however.

But the defending champion showed amazing guts and refused to give up. Despite this effort he didn't come close to winning a single round. Taking a number of sickening shots flush in the face, Diaz was being given a hideous beating. Pacquaio's blazing hand speed and power were way too much for this never-say-quit fighter. The end when it came was devastating. A left hand that travelled a very short distance landed cleanly and the soon to be ex-champ went down hard.

Now an all-time great of the highest order, Manny Pacquaio has conquered his SEVENTH! weight division. How far can "Pac-Man" go? All this writer will say is, watch out the light-welterweights of the world!
---
Manny Pacquiao Beats Up David Diaz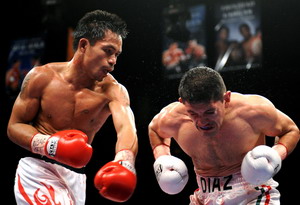 By Ted Sares, photo by Naoki Fukuda: Saturday represented a chance of a lifetime for David Diaz, 34-1-1, and he tried to make the most of it as he defended his WBC lightweight title against Manny Pacquiao

But unlike Pacquiao, Diaz is no legend. He is a Chicago blue collar type, almost old school, who has a boatload of ability and fortitude, keeps up the pressure like Jake LaMotta with crunching body work, and should never be taken lightly. Erik Morales and Jose Armando Santa Cruz both found this out. Diaz does everything well and possesses a stellar amateur background. Indeed, he had only lost one fight (to Kendall Holt).

However, Pacquiao has been in with opposition light years better than that of Diaz. Names like Marquez, Barrera, Morales, Larrios, Valazquez, Fahsan 3K Battery, Emmanuel Lucero, Lehlohonolo Ledwaba and many others dot his fine record of 46-3-2. As far back as 1998, he KOd the great Chatchai Sasakul in Thailand. There are no Favela's, Montano's, Juan Polo Perez's or John Triggs on his recent record.

The Fight

Immediately, Manny's far superior speed came to the fore as he beat Diaz to the punch while mixing his punches beautifully. In the second round, while Pacquiao was rocking Diaz with sharp combos, Jim Lampley bizarrely was singing the praises of Diaz. My mute button quickly went into action and I now watched in silence but without the interference of some of the worse announcing I have ever heard. It was just awful.

The third stanza featured crunching shots to Diaz's head, though the Chicagoan landed a few decent body shots. Still, his face was breaking up and his left eye was cut. The fourth round showed that moving up to lightweight had no adverse effect on Pac-Man as he continued his legal assault and battery.

By the fifth round, it was crystal clear that Pacquiao was in a different class than Diaz as he began to pot shot the Champion whose bloody face began to look like it had gone through a grinder. For every shot Diaz landed, Manny landed several more.

The action slowed in round six as Manny appeared to be putting some energy in reserve for a subsequent charge which then came by way of a savage flurry at the end of the round.

As the seventh started, a TKO seemed a distinct possibility. The sharp and punishing combos continued and Diaz began to take on the appearance of a fighter who might have too much heart for his own good.

The eighth featured more left uppercuts from Pac-Man and Diaz had no answer. What part of white towel didn't Diaz's corner know? This fight needed to be stopped--either by referee Vic Drakulich or by Diaz's corner.

The ninth began with brutal pot shots as the fight took on slaughter proportions--and then Manny finally iced him with a short crunching left on the chin.

It was a stunning, brilliant.performance by Manny Pacquiao.

I had it 80-72.