David Haye Destroys Enzo Maccarinelli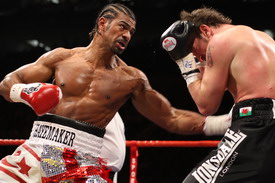 By Michael Klimes, photo by Tom Casino: The Main Event: One cannot know what Enzo Maccarinelli was feeling after his opponent David Haye ruthlessly dispatched him in the early hours of Sunday morning to end his title reign and eight year winning streak. He looked like he had been electrocuted as his hair was frazzled and there was shock in his face. Furthermore, the stumbling he did after he got up from his knockdown could be interpreted as his own little dance in the tradition of Zab Judah's jig in his bout against Kostya Tszyu a number of years ago.

For Haye, he did two things that night fighters rarely do in the modern age – make a promise and live up to it. He predicted he would end the fight quickly and did in an exhilarating style, something fashionable for a man that has modelled for Versace. Haye's three straight rights that drained his adversary's grip on reality over a thirty second time span were very impressive.. He demonstrated a mature composure as he did not rush in after the first successful right hand. He waited, teased Maccarinelli's defence and then struck with savage fury. His two fisted broadsides delivered to Maccarinelli's head after he had put the Welshman on his backside showed a killer instinct lurks beneath those polished looks.

The cruiserweight clash failed to surpass the expectations of Nigel Benn's and Chris Eubank's 'Judgement Day' showdown that took place in 1993 but what the fight lacked in duration; it made up for it in drama. What is also more important is that a potential superstar is in the making. Haye has the features, charisma and eloquence to become one of boxing's poster boys who could transcend barriers. He also has the confidence, power and athleticism to transplant his vision into reality. Haye has declared his decision to invade the heavyweight division and boxing fans around the world that know of this man can only hope he can inject energy into an area of boxing which has been searching for an identity since Lennox Lewis's retirement in 2004. We all know that the top sports, in so many ways are glamorous films with many different parts to be played and Haye could be one of the leading actors; interweaving flair and substance.

As for Maccarinelli, he is only twenty seven years old and still has the chance to comeback. He is a good fighter with sound fundamentals. He was just a bit unlucky that he did not land the first massive punch. Perhaps nerves got to him since he appeared anxious before the first bell rung and tense when he was fighting. There was a degree of robotic jerkiness in his joints as he strived to find a rhythm which never came. His entrance was telling as he ran into the ring with a hood over his head while Haye walked in slowly without one and absorbed the atmosphere by looking at the crowd. Maccarinelli is obviously in considerable pain at his loss but he has demonstrated he is a world class operator and should be able to regain what he has lost. He is a credit to British boxing and must be encouraged.

Kevin Mitchell versus Carl Johanneson

One of the UK's most touted prospects, the British super-featherweight champion Kevin Mitchell stopped the tough and crafty Commonwealth super-featherweight champion in the ninth round of a stirring contest. Both participated in exciting exchanges with both brawling and boxing at various points along the way. However, Johanneson demonstrated he was the better defensive fighter and was able to hit Mitchell with many excellent jabs and crosses. It was disturbing to see Mitchell's glaring lack of defence and he took a lot of unnecessary punishment. Mitchell proved to be very competent offensively yet took far too many shots by being too square in his stance and not having a tight enough guard. He showed that he could absorb punishment which could be seen as a virtue. However, it is paramount Mitchell works on a better stance and guard if he wants to go up to the world class level or even domestically. He was nearly stopped in the middle rounds and if he fights Amir Khan, Khan's skilful combination punching could put him in serious danger.

The Crowd

The atmosphere at the O2 Arena was magnificent. Frank Bruno and Evander Holyfield were in attendance as were the 2008 Olympic boxing team. They all received rapturous applauses when they were introduced to the audience. Unfortunately, there were a number of fans who did not appreciate Maccarinelli's efforts and were offensive with their choice of words as they shouted remarks at him while he was leaning on the ropes in utter dejection.

Congratulations to all the boxers for making the evening worthwhile.
---
The questions about David Haye's heavyweight invasion have officially begun
By Chris Acosta Can he hurt a big man? What happens when a bigger man hits him? Is he more concerned about his image than his boxing? Can he go twelve hard rounds? Is he more of an athlete than a fighter?

My answer: who the hell cares?

David Haye isn't perfect. He has that ugly loss to Carl Thompson back in 2004. He just might be saddled with those dual flaws that all punchers seem to be born with: a weak chin and stamina. He sometimes gets a little wild in there. The doubts about him are legit in many ways.

But the good far outweigh the bad. As Haye proved last night in his second round dismantling of fellow titleholder Enzo Maccarinelli, the Londoner has an awful lot to compensate for his perceived weaknesses.. He possesses freakish speed and reflexes, humongous punching power and the kind of sharpness that I suspect will shock a few heavyweights before he's done. He's also supremely confident of himself which you wouldn't expect from a guy who supposedly carries so many faults into the ring with him.

And perhaps more importantly than anything else is that Haye is taking the game more seriously than ever and will now be competing at a weight more suited to his long, muscular frame. There was a time when David Haye relied on his vast talents alone to carry him through and who could blame him? He became so used to seeing his opponents crumble under his blazing fists that there seemed no reason to change anything because it always worked. He admitted that his training was less than consistent back in those days and while many a boxer have used that excuse to lie to themselves, Haye's recent performances suggest otherwise. The man is so genetically blessed – the kind of person who always looks in shape no matter what they do or how they eat- that it makes the rest of us violently envious. When so much is handed to you right out of the gate, it's not always easy to understand that such gifts require a need to be fostered just as much as the regular Joe.

Things roll along exactly the way you want them to until reality sets in. That reality was that loss to Carl Thompson, who at the time was considered nothing more than an aged journeyman, albeit a heavy –handed one. Haye dominated that contest the way he had all the rest: by being faster, more athletic and carrying superior firepower. He was also much younger than his opponent so it came as a shock to most when Haye found himself in a new position, one which he was in no position to handle. Thompson staggered and came perilously close to being stopped but unlike his brash adversary, he was never dependent on anything but hard work and dedication. He was being hurt, yes, but he fought back fiercely and by the fifth round it was Haye who was sucking in gulps of air and searching vainly for a second win that yielded insufficient funds. The loss was a humbling experience and might have ruined a lesser man. If there's anything more confidence shattering than a good ass- kicking, then I have yet to hear of it. For a puncher to have someone survive their best and stay upright, it's the stuff of nightmares. It opens the door to self-doubt and criticism, two things that take forever to shake, kind of like bad credit. But surprisingly, Haye actually took it with grace and as a lesson learned; confident that he would never again fall victim to himself.

Today, the very lesson of that night has turned out to have been for the best. After all, it was better to have suffered the meltdown early in his career which with every new victory seems like a long, long time ago. But now the challenge looms at heavyweight and if there was ever a time to cash in, it might be right now. This isn't 1988 when Evander Holyfield decided to take his chances at heavyweight while a fearsome Mike Tyson was at the helm. The current crop of big boys is devoid of many legitimate power hitters. Wladimir Klitschko is the best of the crop and while he does indeed carry KO authority in both hands, he's also painfully reluctant to utilize it. I think we have to accept that Wladimir will always be a long range boxer who simply will not allow his fights to go into the trenches. From a strategic standpoint, it's effective but also maddening thing to watch considering that he's so much bigger and stronger than just about every opponent he faces. And while Sam Peter (who of course won the WBC title against Oleg Maskaev last night) is strong and a good puncher, I'm not totally convinced of his alleged improvement. I think that the Nigerian has realized his potential already and any argument to the contrary is just wishful thinking. The rest of the contenders are competent but lacking in the kinds of explosive power play that fans crave after years of John Ruiz' clutching and Chris Byrd, whose boxing was admirable but dull.

With that said, the questions of Haye's chin become somewhat of a moot point. With the exception of Wladimir and Peter, his future opponents will be no more threatening than some of his cruiserweight challenges and they certainly won't be as fast. And as for the issue of his punch, Haye is already a puncher regardless of weight. His right hand, which he affectionately refers to as "The Hayemaker" is straight and clean and delivered with striking velocity. He also has a tremendous uppercut and booming jab. And perhaps most promising is his initiative: David Haye takes risks. Whether it was continuing to make a weight that his body was never truly meant to handle or taking each and every opening his opponents offer, the man understands the importance of playing to win.

Boxing can and has survived without a recognizable figure atop the heavyweight division. But when it has that figure, the sport prospers heavily. Aside from his talents in the ring, Haye would be the perfect man to represent boxing in an age in which style easily outsells substance. He's charismatic, handsome, articulate, has the look of an athlete just meant for all the big endorsements and he's ambitious. Adding to this is that David Haye at last understands that success requires more than all the things you were born with. With that in mind, he just might be the "big thing" we've been looking for.
---
After Quick Victory David Haye Plans To Invade The Heavyweights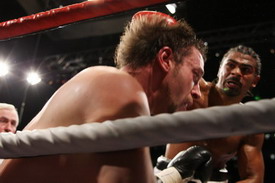 Matthew Hurley, photo by Tom Casino/Showtime: In the aftermath of his second round destruction of Enzo Maccarinelli at the O2 Arena in London the newly unified cruiserweight champion made his intentions for the future clear. With former cruiserweight and heavyweight champion Evander Holyfield sitting at ringside Haye battered Maccarinelli against the corner ring-post before sending him to the canvas. The Welsh fighter regained his footing but after a standing eight count referee John Keane waved the fight over. Haye then let it be known that he intends to emulate Holyfield and campaign as a heavyweight.

"The 'Hayemaker' doesn't lie," he said after the most emphatic victory of his career. "It's nice to know this division is cleaned up now. (So) it's time to move up to the heavyweights and put a bit more life into that division.."

Earlier in the week during a conference call Haye had spoken derisively of what he calls a weak heavyweight division, saving his most caustic remarks for current IBF and WBO title-holder Wladimir Klitschko.

"You've got all these Russian pretenders," he said mockingly. "These guys ain't got no rhythm, no timing, no speed. They're big and clumsy. Look at Klitschko the other night. It was an embarrassment to boxing what he did. He should be stripped of his title just for that performance alone. It was a disgrace and I can't wait to go up and knock that bum out."

Haye was referring to Klitschko's disappointing unification match with Sultan Ibragimov at Madison Square Garden on February 23rd. Klitschko won by a wide unanimous decision.

The fighter went on to add that he would bring his vaunted speed and power, and somewhat questionable chin, to the flagship division and clean up what he sees as an inappropriate mess.

"Cruiserweight is just a stop off," he said. "It's just a way of doing something historical. I'm going to go up and unify the heavyweight division. That has always been my ambition."

As for the chink in his armor that is his chin Haye concedes that it adds another dimension to the drama he brings to the ring.

"People say I've got no stamina and no chin but that is what brought so many of them here tonight; that element of the unknown. People are not one hundred percent sure I'm that good. So there is a little nag at the back of their mind that I might go over from a shot so it makes it more exciting for them."

Haye's next ring appearance may not come until November against a top-ten ranked heavyweight. His team acknowledged that he's much more comfortable at around two hundred and twenty pounds and that making the two hundred pound cruiserweight limit has been an ongoing struggle. The exciting fighter with the mouth that packs nearly as much wallop as his punch should bring a fiery excitement to a too often dreary division.
---
David Haye Lands The Haymaker!
Photos by Tom Casino/Showtime - LONDON (March 9, 2008) – South London native David Haye disposed of Welshman Enzo Maccarinelli in less than two rounds to unify the cruiserweight division. Haye entered London's O2 Arena on Saturday night with the WBA and WBC belts and collected Maccarinelli's WBO strap after a brilliant show of speed and power. The fight began shortly after 2 a.m. local time with a delirious, sold out crowd of 20,000 rocking the O2. Maccarinelli vs. Haye was a promotion of Frank Warren's Sports Network..

It was a special night on SHOWTIME Sports as the premium network aired a boxing and MMA doubleheader for the first time in history. Immediately following the live boxing telecast, SHOWTIME aired EliteXC presents Cage Rage 25 from Wembley Arena via tape delay from earlier in the night.

In a battle of big punching British champions, Haye landed the first big punch early in the second round staggering Maccarinelli. Haye stalked him into the corner and followed up with a barrage of lefts and rights. Haye, aptly nicknamed "The Hayemaker," landed another big right hand to send Maccarinelli down. Although he was able to get to his feet, Maccarinelli was on unsteady legs as referee John Keane began to count. Keane waived off the fight before completing his count at 2:04 of the second.

"'The Hayemaker' doesn't lie," said the jubilant and fresh unified champion. "It is nice to know that the cruiserweight division is now cleaned up. It is time to move up to heavyweight and fix that disgraceful division."

Haye improves his record to 21-1 with 20 knockouts.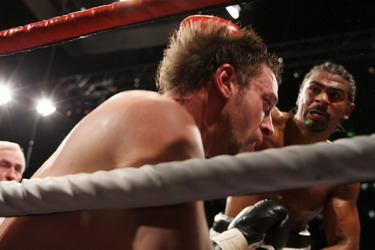 "Ever since I was a boy, I've said I would be the heavyweight champion of the world,'' Haye said. "Against my speed, my athleticism, my amateur pedigree, there's nothing those heavyweights out there can do."

"I didn't box the plan," said Maccarinelli, who drops to 28-2, 21 KOs. "Take nothing away from David Haye. It was a crackin' shot and I just got caught. Enzo (Trainer, Enzo Calzaghe) will crucify me for this."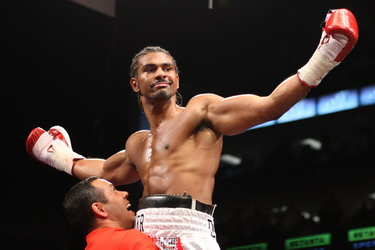 The renowned tandem of Steve Albert and Al Bernstein called the action for SHOWTIME CHAMPIONSHIP BOXING with Bob Dunphy directing. The executive producer of SHOWTIME Sports is David Dinkins, Jr.

Across town, before an equally excitable crowd of 8,000-plus at Wembley Arena, MMA pioneer Ken Shamrock of the USA was handed his first knockout loss by English powerhouse Robert "Buzz" Berry.

Berry landed a series of strikes to the head of Shamrock and sent him down. The referee waved off the fight at 3:26 of the first round as the 240-pound Berry prepared to pounce on his fallen opponent.

In other televised fights, Cage Rage featherweight champion Masakazu Imanari of Japan applied a text book reverse heel hook to destroy the knee of formidable Brazilian adversary Jean Silva. Silva tapped out at 2:35 of round one, and appeared to be in tremendous pain.

In a battle of big men, heavyweights Rob Broughton of England won a majority decision over fellow countryman Neil Grove by scores of 29-28 twice and 28-29. The two men entered the cage at a combined 250-plus pounds and fought an entertaining scrape for three full rounds.

And local favorite Tommy "Kong" Watson thrilled his adoring fans with a knockout of American Pierre Guillet. With Watson on his back during first-round action, Guillet dove in to attack, but Watson struck first by landing a devastating upward heel strike to Guillet's head. Watson quickly pounced on top of the fallen Guillet and finished him with fist strikes to the head.

SHOWTIME announcers Mauro Ranallo and Stephen Quadros called the action at Wembley Arena. The producer of the EliteXC telecast was Richard Gaughan with Rick Phillips directing. The executive producer of SHOWTIME Sports is David Dinkins, Jr.