Klitschko Outpoints Ibragimov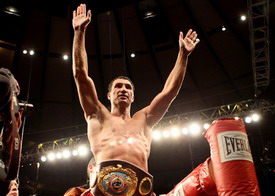 By Wray Edwards: Photos (c) Wray Edwards/ESB at the apron Madison Square Garden -- large photo gallery -- Wladimir Klitschko and Sultan Ibragimov waged tentative war against each other for a full twelve rounds. The big murmur ringside was when is Wlad going to throw the right. I think it was the third or fourth round when he first rolled out the hammer. Before that Klitschko was content to score average points with his quick jab.

Sultan stayed low and back responding with counter attempts to head and body. Many times when Sultan rushed in Wlad would respond with arm-wraps to the point that some were respelling his name "Clinchko. Really though, Sultan was also prone to poke and choke. They both spent the first six rounds in largely ceremonial boxing postures. But then, Wlad began to time Sultan and dropped the hammer quite effectively. The following photos pretty much tell the story: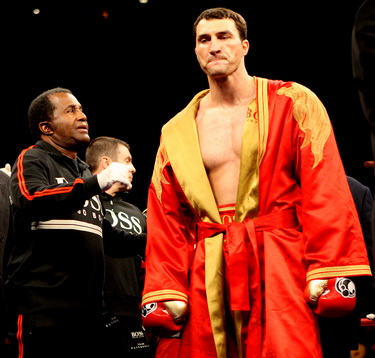 The big man entered the ring looking confident and formidable,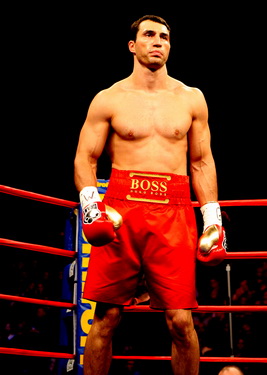 and even more so as he stood in his corner to begin Round One.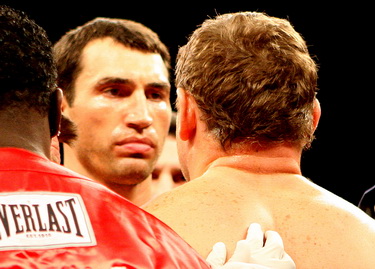 There are few people in the world who would want to see that look up close.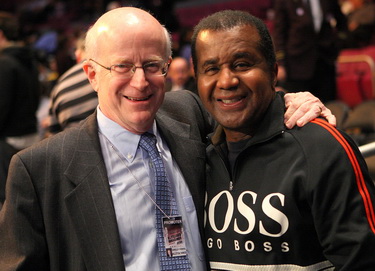 Shelly Finkel and Manny Steward discuss their battle plan.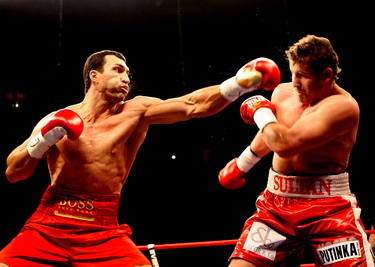 In the early rounds Wlad kept Sultan outside with his ever-present, excellent jab.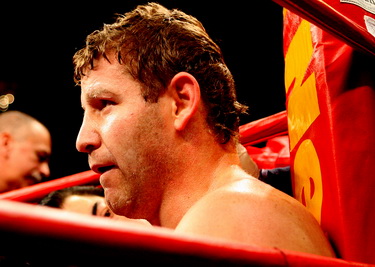 Here we see Sultan contemplating just what he might be able to do with this challenge.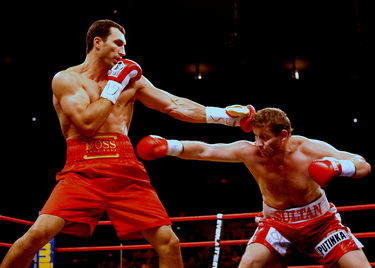 Ibragimov made many attempts to go to the body but the obvious difference in reach proved to be insurmountable.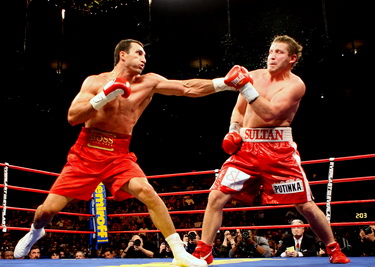 Then, God forbid, Wlad got the timing wired into his right and Sultan's day began to look kinda dicey.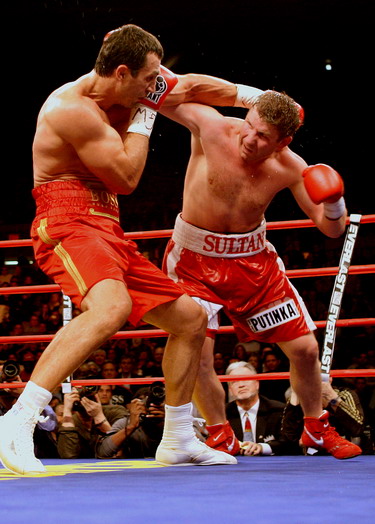 So Sultan tries a few rights of his own with only a very few hits on target and little or no damage done.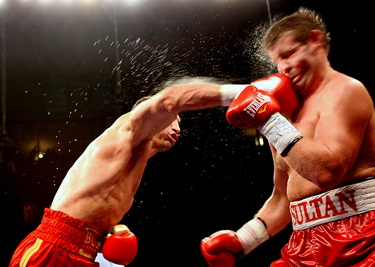 Klitschko, however, had the range to deliver some very disturbing energy to Sultan's face.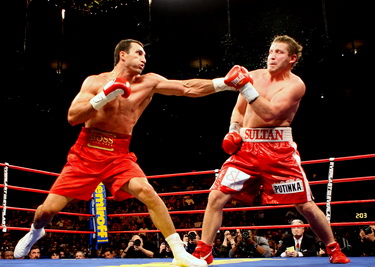 Wlad also continued the range-finding left jabs.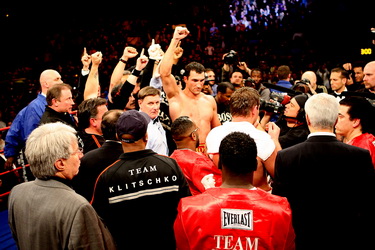 In the end, Klitschko earned the UD with scores of 110/119, 111/117 & 110/118 from the judges.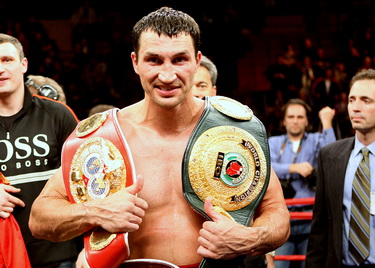 This brough him a unification victory and more leather for his mantle.

Wlad justified the confidence shown here.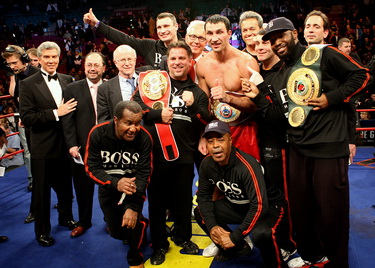 Then, of course everybody was smiling.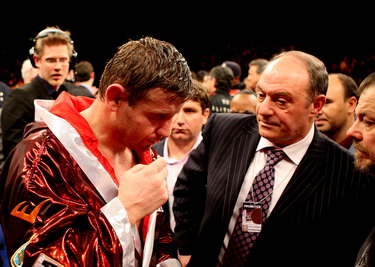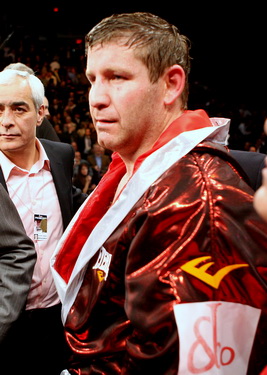 Well...almost everybody.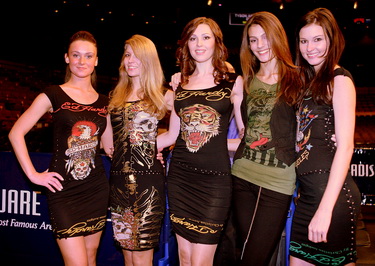 More smiling by (from left) Elena, Wlada, Olga, Anna, and Kira. You'd smile too if you looked like these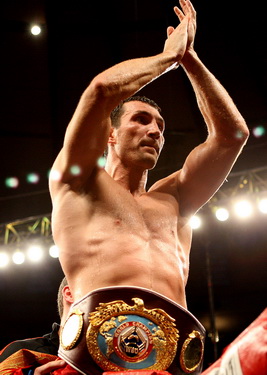 Meanwhile, Wlad encourages the fans to clap for him...they did indeed.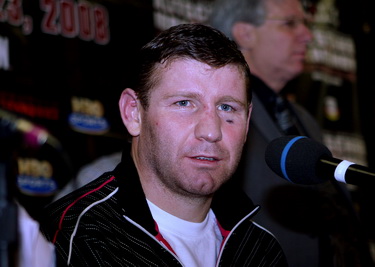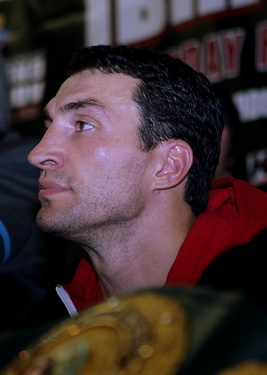 Both fighters took a seat at the news conference. Sultan congratulated Wlad and said that he did his best. Wlad commented on the good thing that unification would be for the sport and the division. We all agreed.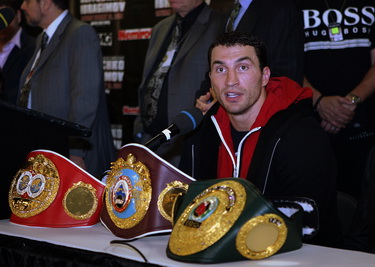 Klitschko displayed his unification leather.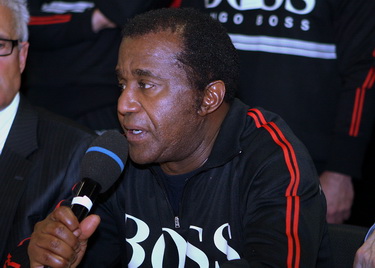 Mr. Steward said he felt that the fight was not as exciting as it might have been because of the defensive postures of Sultan...especially "leaning back."

The contest was marred by many boos from the near full-house crowd. It was especially evident as they had just seen a really bloody slug-fest between Duddy and Smichet (have plenty of photos of that fight which will be included in the under-card report).

In terms of a mismatch, the physical size differences between Sultan and Wlad made a good dance all but impossible. Size does matter, and is as important as styles in the makeup of a good contest.

IMO, Sultan should continue to fight, as he would probably do well against Toney, Peter, Chegaev and others. He's a real scrapper when not over matched by, what we must admit, is an unusual specimen.

Thanks to Cima G. of Redline, Mr. Keenan, and Seminole Warriors Boxing for providing us with access to the apron in Sultan's corner.

Next report in a few hours...the Duddy-Smichet fight. See you at the fights.
---
Klitschko vs Ibragimov: Worst. Fight. Ever!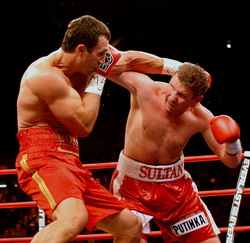 By Anthony Coleman, photo by Wray Edwards / ESB: Last night Wladimir Klitschko became the first man in nearly a decade to unify at least a portion of the Heavyweight title when he scored a wide unanimous decision victory over Sultan Ibragimov.

According to the HBO crew, the story of the fight was Klitschko's left jab, the punch he used to keep the shorter Ibragimov at bay and off balance throughout the entire fight, but that wasn't the only narrative. The other was the fact that the fight reached a level of god-awfulness that has rarely been seen in a boxing ring. This may have been the worst Heavyweight title fight I've ever seen.

There was not a single moment of drama, suspense and sustained action in this entire miserable fight. In fact the fight was an example of a man who couldn't, and the man who wouldn't. In the first half of the fight it was dominated by Klitschko scoring with his aforementioned sledgehammer jab, and he ruined Sultan's only chance of controlling the outside of the ring with his right jab. However, there was rarely even a significant power punch landed, as Klitschko wouldn't throw his right cross behind the jab despite plenty of opportunities to throw and land it, while Ibragimov couldn't land his wild haymakers.

In the second half of the fight the action picked up. This means it turned from being a shitty fight, into just an awful fight. Klitschko finally throwing his right cross, and often landed when it was unleashed. Also he would seemingly stun or hurt the now former WBO titlist with that cross. Yet he still wouldn't throw it enough, and in the second half of the fight Ibragimov was hugging his opponent and tried to make it a rougher fight. Meanwhile, many in the capacity crowd began to boo, yet I was surprised that the whole crowd didn't boo and show their displeasure by walking out. When the bell rang and the score cards were read I was angry that I wasted my Saturday night on these two men. This most definitely wasn't a good night for the sport.

I give Ibragimov some credit; he went out there and tried to outbox him and he was at least trying to score that lucky blow to turn the fight around. But his strategy wasn't effective. He should have changed his attack plan when it became obvious that he couldn't control the outside of the ring, and go inside and started going to the body. Would it have increased the likelihood of him getting KO'd? Yep. However, it was his only real legitimate chance of winning the fight, but he and Jeff Mayweather didn't roll the dice.

As for Klitschko, his stock went down even after notching a truly dominant victory. He was the main reason why the fight was so horrible. Besides the jab, he refused to truly commit to any other part of his offensive arsenal. At the Mecca of our sport, he dropped an egg and turned off many in the crowd from watching another one of his performances. Even his own trainer, Emmanuel Steward, was telling him that his performance looked ugly. I can't speak for everybody, but I could feel his frustration.

This fight proved one thing to me: Klitschko still has a lot of anxiety in the ring. At times he looked like a deer in the headlights of a truck. It wasn't just his reluctance to throw power shots either, every time Ibragimov threw a punch that came somewhere near his face, he'd jump back. While he has come a very long way from his lowest (after his two KO losses to Corrie Sanders and Lamon Brewster), he and Manny must eventually solve these psychological problems once and for all because if he faces somebody who can bully him in the inside, he will be in some deep trouble.

And as for Ibragimov, he simply doesn't have the size, punch nor the athleticism to become the elite fighter in the division. He'll be a nice contender and will give other top guys good battles, but he will always fall short of the top spot.

Yet whatever happens with these two men it is still clear that the real losers of last night was the paying public, HBO viewing audience, and the Heavyweight division. Though we now have a fighter who has unified half of the division, none of these boxers have captured the public's imagination and thus few will have an emotional attachment to them. And after this travesty, the Heavyweight division, which is experiencing a dearth in all-time low in terms of popularity, may become more irrelevant to the sports world. Hopefully a change will come in Boxing's glamour division. But don't worry boxing fans because a real fight will take place next Saturday.

New of the World:

-I didn't get a chance to talk about last week's Pavlik- Taylor fight, but here are my observations. Pavlik looked flat but, his jab and right cross was enough to score his second consecutive victory over Taylor, but the real story was Taylor's improvement. I've never seen him more polished and more determined in his career. Though he lost the bout, his career, as I speculated last December isn't over by a long shot. He will be back (and this means that the "Stock Market Plunge Award" shall be awarded to either Antonio Tarver or Joel Casamayor.

-The next couple months will pick up where 2007 left off. We have so many great fights to look forward to: Vazquez-Marquez III, Marquez-Pacquiao II, Margarito-Cintron II, Diaz-Campbell, Casamayor-Katsidis. OK the last fight is probably going to be one-sided as I fully expect Katsidis to give Casamayor the beating he so richly deserves, but everything else is a true fight fan's fight. We have a lot to look forward to in the first half of the year.
---
Klitschko-Ibragimov, Green, Duddy
By Geoffrey Ciani: The historical IBF-WBO unification bout between former Soviets Wladimir Klitschko and Sultan Ibragimov wound up being a real stinker. Indeed, the first heavyweight unification bout of the 21st century was one of the least entertaining heavyweight championship fights I have ever seen, right on par with the snooze fest between John Ruiz and Fres Oquendo. Boxing fans may have found greater amusement had they tuned into C-Span and watched the US Congress debate the annual budget.

Unfortunately, this was an opportunity to help rekindle interest in boxing's marquee division, and instead of giving lift to the dire state of the struggling weight class, the lackluster event probably left the casual fan feeling more dyspeptic than ever. This is evidenced by the fact that there were more boos than cheers throughout the entire twelve rounds of fighting. What a gloomy state of affairs!

Over all, despite the poor performance in the headliner, the rest of the event made for a rather interesting night of boxing.

The first four contests on the card lasted under an hour. First up, Ronnie Vargas won a unanimous decision over Monyette Flowers in a junior middleweight clash, with all three judges scoring the bout 40-36. Next up, 300 pound Alexander Ustinov easily dispatched of Earl Ladson less than two minutes into the opening stanza. In the following bout, rising prospect Peter "Kid Chocolate" Quillin put on a fine display of speed and power when he stopped an overmatched Thomas Brown halfway through the second round, and continuing the trend of early round knockouts, cruiserweight prospect Johnathon Banks made quick work of Imamu Mayfield for a first round stoppage.

The first four matches went so quickly that the sparsely packed audience was forced to wait a half hour before the next fight. Middleweight prospect "Mean" Joe Greene put on a one-sided exhibition against game opponent Francisco Antonio Mora. Simply put, Greene looked spectacular against a tough opponent who was prepared to fight. Greene proved to have a wide array of weapons at his disposal, which included some well-timed lead lefts, various hooks and uppercuts, difficult angles, and a great jab which set-up some nice combinations to both head and body.

Greene scored a pair of knockdowns in the second round and another pair in the fourth. Aside from a point deduction in the sixth, when Greene was penalized for a pair of low blows after being warned earlier, he was pitching a shutout. As brilliant as he looked offensively, it was his defensive abilities and outstanding ring generalship which enabled him to establish his offense. Joe Greene is a very fluid fighter who uses the ring like a seasoned professional. I can remember only one or two instances where he was hit flush throughout the entire duration of the contest, which was mercifully stopped between the tenth and eleventh rounds. At the time of the stoppage, I had Greene leading 99-86, as did two of the judges.

The following fight included another rising middleweight, Ireland's John Duddy. Watching Duddy fight immediately after Greene portrayed a tremendous contrast in styles: Joe Greene is a defensive guru who rarely gets hit flush and uses the ring to his advantage, whereas, Duddy is a defensive misfit who repeatedly gets tagged with monster shots and has no idea how to use the ring to his advantage. I am not sure if I would go so far as to call these two polar opposites, but they are damned close.

Throughout the ten round affair, Duddy was repeatedly caught flush with power shots. Every time opponent Walid Smichet wound up to deliver a haymaker, it invariably found the mark with impeccable pinpoint accuracy. It was an absolute marvel to watch, as time and time again, Duddy's chin was exposed for many a monster punch. After four rounds, it appeared as if this was an upset in the making. From my perspective, it was crystal clear that Duddy was getting beat—and beaten badly! To his credit, despite repeatedly getting smashed in the face, Duddy seemed to take the shots well, even if they did briefly stop him in his tracks.

As the bout progressed, Duddy began to improve slightly, but it appeared to me that this had more to do with Smichet slowing down than it did with Duddy doing anything to reverse the trend. I gave Duddy five of the final six on my scorecard, which would have earned him a draw. One of the three judges saw the bout my way, while the other two inexplicable scored the bout eight rounds to two in favor of Duddy. Eight rounds to two! I have no idea what these judges were watching, but the scorecards were an absolute sham, and in the end, I couldn't help but feel a little bad for Smichet who clearly gave it his all and further exposed Duddy as a defensive abomination.

Even though Duddy put his own limitations on full display, he came to fight and, as always, his crowd-pleasing style proved most entertaining. The same cannot be said about the main event between Klitschko and Ibragimov—evidently, these two did not take notice of the roaring enthusiasm which preceded their showdown.

The fact that the heavyweight division has desperately needed a star figure to fill the void left by Lennox Lewis is obvious. Lewis departed from the sport at a time when all of the titles were fractured, leaving casual fans at a loss with regards to who was the 'real champion'. The unification bout between Klitschko and Ibragimov—the first of its kind since Lewis and Evander Holfyield had a pair of matches back in 1999—was supposed to help settle matters and revitalize interest amongst the backbone of the sport—the casual fans! Instead, it probably wound up leaving the casual fans even more disgruntled.

In fairness to the 'combatants' (if we can even call them that based on their disappointing showing), each man posed a stylistic difficulty to the other which is often the case when an orthodox fighter goes up against a southpaw. For Ibragimov, he knew he was in the ring with a power-punching technician, and he was determined to be very careful not to make a mistake which would result in him being sprawled out across the canvas. For Klitschko, he was equally focused on not getting reckless, and he duly proceeded with the utmost caution, apparently well aware that Ibragimov's strategy was precluded on taking Wlad into the later rounds in hopes of exploiting any mistakes he might make along the way.

This resulted in one of the least entertaining heavyweight championship fights of all-time where neither fighter was willing to take any risks. The contest involved more posturing than punching, and it appeared as if the two champions sometimes went minutes without throwing a meaningful blow. As a result, the crowd grew most perturbed, echoing their disapproval in a veil of "Booos" which grew louder and louder with each passing round—who could blame them? Many of them paid good money in hopes of seeing an entertaining scrap, and instead, they got a twelve round waltz. Afterwards, I heard many a disgruntled fan stating their feelings, and the language they used is not something I am apt to repeat here. If there is a silver lining here, at least it was not a PPV event—which was no consolation to those who paid to be in attendance.

FINAL THOUGHTS:

1. Despite the boring affair, Klitschko's victory is significant for the heavyweight landscape and will hopefully bring us one step closer to having an undisputed champion.

2. John Duddy is a limited fighter who was lucky to escape with a win. He should try to land a title shot with Pavlik immediately so he can secure a huge payday, or else, he risks losing against a tough journeyman.

3. "Mean" Joe Greene looked spectacular and appears to be improving with each passing fight. It will be interesting to see how he fares against some of the division's top dogs, as I reckon he is ready for a big step up in class.
---
Klitschko jabs his way to victory! Cautious, defensive-minded tactical bout doesn't win over MSG crowd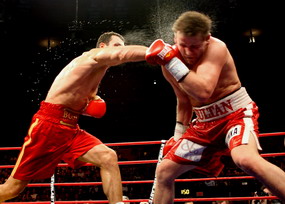 By Mike Indri - Retired Boxers Foundation, photo by Wray Edwards / ESB - Wladimir Klitschko pawed, jabbed and swatted his way to a twelve round unanimous decision win over Sultan Ibragimov in a rare heavyweight unification title fight; which enabled Klitschko to add Ibragimov's World Boxing Organization title belt to his trophy case, along with his own International Boxing Federation championship crown.

Headlining a Madison Square Garden fightcard which featured several quick knockouts by talented local prospects and a ten round "Pier Six" style brawl between popular Irish middleweight John Duddy and Francisco Mora, the Klitschko-Ibragimov heavyweight clash was hoped to be an intriguing, classic battle of two champions willing to put their hard earned titles at risk in their quest to become the one and only true "Heavyweight Champion", instead the huge crowd had to endure twelve rounds of a tentative, strategic effort by the physically bigger and stronger Klitschko against a willing and game champion who had no answer to combat his obvious disadvantages in height (five inches) and weight (close to twenty pounds)..

From the opening bell it was clear that this bout was to be more of a chess match than a fight, as Klitschko came out using as much energy swatting at Ibragimov's range-finding jabs as he did in looking to land his own punches. Unfortunately for Sultan, Wladimir is an expert chess player.

It was not until round five that the 14,011 predominantly Klitschko fans that packed the Garden, along with the millions watching live on HBO, finally witnessed the first sign of Dr. Steelhammer's mighty right hand. The shot temporarily silenced the boo's from the action deprived crowd and had the familiar "Klitschko-Klitschko-Klitschko" chants ringing throughout the rafters of boxing's most hallowed venue.

As round six brought three more minutes of fruitless work by Ibragimov and conservative effort by Klitschko, this championship fight was suddenly half over and if you blinked more than once you surely had missed most of the action.

One thing was for certain, whether it be for lack of a good effort or not, this fight was slipping away from Sultan Ibragimov and you would think that the undefeated fighter would realize that his current approach to this career defining opportunity was definitely not working and maybe it was time to resort to Plan B.

Apparently there was no Plan B for the thirty-two year-old Russian born southpaw, and that ineffectiveness along with the former Olympic silver medallist getting tagged with several more Klitschko right hands in rounds seven, eight and nine put Ibragimov in a dire situation. Those big right hands in round nine actually stunned Ibragimov and sent the hurt fighter sprawling into the ropes were it appeared that the ropes may have been all that was holding the soon-to-be former WBO heavyweight king up; as close to a knockout that this non-epic bout would see.

Against the urging and pleading from his most ardent fans, Klitschko laid back and played it safe. Content to pile up the rounds in listless fashion, Klitschko went back to the jab, albeit a solid one, and neglected the punch that makes him the most dangerous heavyweight today, perhaps the lone heavyweight with pure one-punch knockout power.

Never able to overcome the big physical disparity, and later claiming that his left hand had been broken weeks earlier during training, Ibragimov, now 22-1-1 (17 KO's) was barely able to scrap out one round on two of the judge's scorecards over the last six rounds. Highly respected judge Steve Weisfeld, a Rivervale, NJ native, did not see Ibragimov winning any rounds over the last half of the bout.

With all credit to Wladimir Klitschko, 50-3 (44 KO's), for fighting a determined and controlled match, obviously sticking to a pre-set fight plan, I really don't know who had a more difficult time: Sultan Ibragimov in trying to penetrate Dr. Steelhammer's tight and ever so cautious defense, or the fans who were watching?

Judge Don Ackerman scored it 119-110, while judge Chuck Giampa saw it 117-111 and the aforementioned Weisfeld had it 118-110. This writer also had it 118-110.

All for the unanimous decision winner, Wladimir Klitschko. Afterwards the IBF, and new WBO heavyweight world champion would say, "I am not disappointed in this performance as he (Ibragimov) is a very difficult guy to fight, he kept leaning back."

"I had to be careful to shoot my right hand-not to lose my balance", stated Klitschko. "Anyway, the fight is over and we have the winner of the fight. I am ready to fight as soon as possible. I wish to get another champion to fight."

In the co-feature attraction, popular middleweight Irish John Duddy overcame an early rough beating in his ten round bout against rugged, yet unheralded, Walid Smichet to survive with a controversial majority decision victory. Getting pounded with 47 of 85 power shots (according to the CompuBox punch stats) in round one Duddy, fighting out of New York by way of Derry, Ireland, was forced to battle from the opening bell and came out on the short end of most of the two-fisted volleys throughout the first half of this bar room brawl. Smichet, a Canadian from Montreal who now calls New York home, had Duddy bleeding from both sides of his face; the real danger being an extremely deep and nasty gash of a cut over the left eye. Luckily for the likable slugger, he was in the capable hands of top-notch cutman, Big John Mitchell. Eventually Smichet would tire and his offensive output would greatly diminish, giving Duddy the chance he needed to get back into the fight. Employing a good jab, actually moving away from some punches and working the body of a tiring Smichet would pay off dearly for the Irishman. While the emphasis of boxing over brawling salvaged the night for Duddy, the exposed showing against his rudimentary opponent blew Duddy's real shot; his all but signed June 7th title opportunity against middleweight world champion Kelly Pavlik.

While the severe cut over his left eye may require as much as four months of recuperation, the real question now is his worthiness.

Judge Frank Lombardi called it a 95-95 draw, while both judges John McKaie and Don Trella somehow scored it 98-92 for Duddy, keeping the Irishman undefeated at 24-0 (17 KO's), while the short lucked Smichet falls to 17-4-3 (13 KO's).

On the K2 Promotions and Warriors Boxing "Heavyweight Unification" undercard:

Powerful middleweight prospect Joe Greene retained his NABA regional title and picked up the vacant NABO belt as well with his commanding ten round technical knockout win against gutsy Francisco Mora. Pounding the resilient Argentinean from the onset Greene, decked out in all green: robe, trunks, shoes, and even gloves dropped Mora twice in round two and twice in round four. Despite the constant beating by the southpaw Greene, Mora, to his credit, is doing just enough to justify his right to continue, while skilled referee Tony Chiarantano is keeping a close eye on Mora.

Winning every round the only blemish on the fight ledger is the one point penalty Greene picks up in round six for low blows. While Mora's trip to the canvas in round seven is rightly ruled a slip, it just shows that the big-hearted fighter's legs are gone as well.

With his face bruised Mora gets a look from the ring doctor in round eight and although his right eye is damaged, the thirty-four year-old fighter is allowed to continue. After six more minutes of a beating administered at the hands of the Queens, NY native, Mora returns to his corner after the tenth round and drops to his knees, then slumps onto his side. While Mora's heart and soul would not stop his body did, and at the advise of the doctor the one sided scheduled twelve rounder was halted, giving the still perfect Greene, now 18-0 (14 KO's) the impressive TKO win. Mora slips to 52-13 (35 KO's).

Former IBF Cruiserweight champion Imamu Mayfield did not last too long against highly touted, Kronk gym fighter Jonathan Banks. After a solid right hand drove Mayfield backwards and his glove hit the canvas to keep him up, Banks followed with what seemed to be a grazing right hand atop Mayfield's shoulder which surprisingly sent the 35 year-old Perth Amboy, NJ resident to the canvas again, where he stretched out until the count of ten and referee Eddie Cotton felt he had seen enough. Banks, now 19-0 (14 KO's), gets credit for the KO at 1:49 of the first stanza. Mayfield fell to 25-9-2 (18 KO's), and has now lost five of his last six fights, dating back to 2004.

Talented super middleweight Peter "Kid Chocolate" Quillin also made short work of his opponent, Thomas Brown, now 11-4-1 (7 KO's) as he devastated the York, SC native, sending him writhing in pain to the canvas. Referee Pete Santiago was forced to stop the one sided match, scheduled for six rounds, at the 1:32 mark od round two.

"Kid Chocolate" sweetens his already perfect record to 17-0, with Brown a very quick 14th knockout victim.

European heavyweight prospect Alexander Ustinov was treated very nicely in his first fight stateside by journeyman Earl Ladson, now 13-18-1 (7 KO's). After getting dropped early in round one with a shot behind the head that was ruled a knockdown, Ladson did not waste much time in getting back down to the canvas for two more trips before referee called a halt at 1:59 of the first round. Ustinov, of Minsk, Belarus, now is 8-0, with 8 knockouts. Ladson travels back to Winston-Salem, NC a loser in ten of his last twelve fights.

Fighting for the sixth time since turning pro last September, busy jr. middleweight Ronnie Vargas improved to 6-0 (4 KO's) with his four round unanimous decision win over Monyette Flowers, now 4-9-1, from Memphis, TN. Highly acclaimed as a top-ranking amateur Vargas, fighting out of the Bronx, dominated the night's opening bout; all three judges scored it 40-36 for the young Venezuelan boxer.

Alexa Ray Joel, daughter of legendary musical artist Billy Joel, added to the special night by singing the national anthem. Fight announcer Joe Antonacci aptly handled the duties until HBO prime timer Michael Buffer steeped in, but unfortunately for the packed house neither Klitschko or Ibragimov must have heard the "get ready to rumble" part, as the main event was a stinker that will hopefully be quickly forgotten. Otherwise a great night of boxing, at boxing's greatest venue Madison Square Garden; star studded as always.