Alexander Povetkin Beats Chris Byrd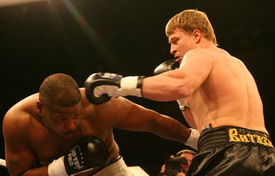 By Ron Hansen: In the International Boxing Federation eliminator tournament, Alexander Povetkin (14-0, 11 KOs) struggled last night in Germany with 37 year-old Chris Byrd (40-4, 21 KOs) before the fight was stopped in the 11th round when Byrd's father threw in the towel.

At the time of the stoppage, however, Byrd was still fighting effectively and landing counter shots against Povetkin. Though considered by many to be a future star in the heavyweight division, Povetkin looked mediocre against Byrd, showing very little power, speed or foot movement and only looked marginally better than the veteran Byrd.

The first couple of rounds were fought cautiously with neither fighter doing much. Povetkin's right eye was already showing signs of swelling by the 2nd round which was made worse by a head butt in the next round, opening a cut over the eye. Povetkin was the more active puncher, throwing many more punches although many of them missed the mark or were picked off by Byrd. Unlike some of the larger heavyweights, like Wladimir Klitschko, who preferred to fight Byrd on the outside, Povetkin stayed in close quarters with Byrd most of the fight.

That was more out of necessity than a real choice due to Povetkin's limited reach and lack of any kind of jab. In many of the exchanges, Byrd would retreat to the ropes where he would attempt to counter the slower Povetkin with fast combinations. It worked at times, but for the most part it allowed Povetkin to have a stationary target to pound away at. In between rounds, Byrd's young son advised for him to stay off the ropes. However, for whatever reason, Chris failed to follow his advice because he would go back to the ropes again and again in every round, trying to counter Povetkin.

In the 6th round, Byrd sustained a small cut on the bridge of his nose. It was nothing serious but it would bleed the rest of the way, staining his trunks. It looked much worse than it really was. By the end of the 7th round, Byrd was beginning to look tired as Povetkin's constant pressure seemed to have a negative effect on him. However, he continued to land speedy shots and an occasional powerful left hand. In round eight, Povetkin landed a large number of shots as Byrd chose to stand and trade with him in the opening round. However, Byrd connected with a perfect left hand late in the rope, which knocked out Povetkin's mouthpiece and surprising him.

In the 9th round, Povetkin stayed in close, smothering Byrd's punches and keeping him pinned against the ropes for most of the round. However, Byrd landed a large number of nasty-looking head shots, showing how poor Povetkin's defense is. The 10th round was very close with fighters trading shot for shot. Byrd was more effective in the first half of the round, landing a large number of powerful left hand head shots. However, Povetkin came on strong at the end of the round with combinations and made it close. In the 11th round, Povetkin hurt Byrd with a three punch combination.

Byrd continued fighting back, however, as Povetkin was unable to follow-up with anything substantial. Still fighting back, Byrd backed up to his corner and ducked under a wild flurry of shots by Povetkin, who appeared to miss all of them. At that point, Byrd's father threw in the towel. Not sure what he was seeing because Byrd was fighting back and Povetkin was mostly missing and had nothing on his slow punches. Whatever the case, the fight was stopped at 1:52 of the 11th round.

Povetkin looked in no way ready for someone like Wladimir Klitschko, who would easily pulverize the slow moving, weak punching fighter I saw last night against Byrd. Povetkin should perhaps pull out of the tournament because he's not ready for Wladimir at this stage in his career.
---
In Appreciation Of Chris Byrd

Matthew Hurley: When Chris Byrd decided to fight as a heavyweight after spending his successful amateur boxing career as a middleweight most people thought the undersized boxer was playing with fire. He had even less punching power than Evander Holyfield had when he moved up to heavyweight after winning the cruiserweight championship. Looking back it's hard to believe how skeptical everyone was of Holyfield's jump up in weight. Byrd laughed at the skepticism leveled at him and entered the ranks of the big men.

Initially Chris Byrd wasn't a fighter I rooted for. I found his style a bit off putting as his defensive prowess and lack of power dictated distance bouts unless someone like the murderous punching Ike Ibeabuchi, who he fought in 1999, finally caught up to him and took him out. Ibeabuchi, who at the time was a real threat to every heavyweight out there, was steamrolling his way to a title shot. The proposed fight with Byrd stunk of "mismatch" but so convinced that his southpaw stance and defensive skills would lead him to victory Chris Byrd practically begged for the fight to be signed. He had something to prove to all the naysayers, and his main point of contention with his critics was that he, the undersized kid with no power, would climb into that ring with anyone no matter how much bigger than he and ply his craft.

When Ibeabuchi nearly decapitated him in the fifth round of what was an interesting fight, everything changed in terms of my perception of Chris Byrd. I became a fan, a fan who marveled at his courage, his competitive nature and his gentlemanly sportsmanship. I still didn't think he would ever win a title at heavyweight and always wondered why he didn't drop down to cruiserweight or even light heavyweight where he probably would have dominated for years, but that was what was cool about Chris Byrd – he was determined to fight at heavyweight and it didn't matter if the fighter across the ring from him was a hulking Wladimir Klitschko who outweighed him by forty pounds.

That kind of courage can be looked at as either the ingrown nature of a true professional fighter or delusions of grandeur. Perhaps it was a mixture of the two but in the end it served Byrd well because he recovered from the Ibeabuchi loss and went on to surprise not only his dissenters but several heavyweight fighters who became dumbfounded in the ring with the little southpaw who seemed to be dipped in grease and glided around the ring like a ballet dancer.

Those who didn't like his style and booed him didn't really get it. Although his hit and run tactics are a required taste his willingness to call out anyone and everyone was refreshing and very old school. And then, as he got older and his speed began to slow just enough, the fighter in him took over and he stayed in the pocket, willing to trade punches with bigger, stronger men. Those men included Wladimir Klitschko (L 12, L TKO 7), Evander Holyfield (W 12), Fres Oquendo (W 12), David Tua (W 12), Andrew Golota (D 12), Jameel McCline (W 12) and most recently Alexander Povetkin (L TKO 11).

The bout with Povetkin was marked by that diminishing speed which forced Bryd to fight inside, relying on his heart and will rather than his legs and boxing ability. It included a sixth round that was fought at such a brutal, exhausting pace that it brought an appreciative crowd to its collective feet. But that round signaled the beginning of the end for Byrd. It concluded when Byrd's father threw in the towel in the 11th round.

The talented Povetkin in now in line for a shot at Wladimir Klitschko and it is worth noting that Byrd was fighting this IBF eliminator for the same thing which would seem insane considering the beating Klitschko administered to him in their rematch but by the same token it seems perfectly sane when you consider that it is Chris Byrd who would find nothing unusual in trying to get in the ring with the big Ukrainian again.

In the end Povetkin summed up Chris Byrd perfectly because praise for a true fighter should come from another fighter who knows what it's like to climb through those ropes.

"Chris Byrd was always a hero of mine," he remarked. "I've always admired his heart and skill. I just loved the way he moved. The fight was tough, very tough because he was very experienced. I couldn't land my blows the way I wanted."

I always admired his heart and skill. That sums up Chris Byrd in a nutshell. He always had the skill but his heart should always be mentioned first. He may not have been as exciting as a Mike Tyson or as dominant as a Lennox Lewis but he was as true and pure an example of the mettle it takes to be a world-class fighter. And on top of all that he was and remains one of boxing's good guys. Not bad for an undersized kid whom everyone doubted when he entered the heavyweight ranks.
---
Sebastian Sylvester and Larsen victorious On Povetkin-Byrd Undercard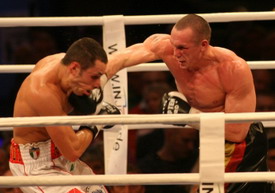 Sebastian Sylvester defended his European middleweight belt with a split decision over Italy´s Simone Rotolo. From the third round on, the Hurricane had to overcome a cut below his right eye which he had sustained in sparring. "I started out strongly but briefly lost my rhythm after the cut opened," the 27-year-old (27-2, 13 KOs) said. "I tried to focus on my defence in the following.."

Not that he neglected his offensive duties, though. In the fourth, he knocked Rotolo down with a thunderous one-two combination before cruising to an uncontested win. His dominance was not mirrored by the scorecards, though, with two judges ruling the contest 115-112 and 115-114, while the third one called the bout 116-112 in favour of the challenger. Even the Italian admitted he was "surprised" by the verdict. "I fought well but I don´t think I won," Rotolo said. "I was surprised when I heard the result." And Sauerland managing director Chris Meyer added: "Maybe the judge got mixed up with the corners.."
Manager Winfried Spiering praised his fighter for a "disciplined effort". He said: "Sebastian desperately wanted to take the fight despite the cut, so we adjusted our tactics accordingly. Sebastian stuck to the game plan well. He has big things coming up." Spiering has set his sights on a meeting with WBA champ Felix Sturm. "We want to finally fight him in 2008," he added.

Also on the undercard, Mads Larsen (49-2, 37 KOs) cruised to the fourth win after his comeback when he clinched a unanimous points victory over previously unbeaten Emiliano Cayetano. He was ahead 79-75, 79-73 and 78-74 on the scorecards. "I am happy about the win but not entirely pleased with my performance," the 34-year-old said. The Golden Boy had to survive an early scare in the first round when a big right hook knocked him down for the first time of his career. "I have never been down before so I needed some time to adjust," Larsen admitted. In the following, the former European super-middleweight champion worked well behind his strong right jab to keep Cayetano at bay and cruise to an uncontested victory. Cruiserweight Yoan Pablo Hernandez (13-0, 7 KOs) also clinched a shutout victory over Ismail Abdoul.

In The main event, Alexander Povetkin (14-0, 11 KOs) has vowed to take "one step at a time" following his impressive TKO victory over Chris Byrd. The 2004 Olympic gold medal winner is just one victory away from challenging IBF champion Wladimir Klitschko after stopping Byrd in the 11th round of their eliminator in Erfurt. When Povetkin trapped the American in his corner to launch yet another furious assault, Joe Byrd threw the towel. "This was a big win for me," Povetkin said. "Byrd was a strong and very experienced opponent. He defended well but I kept trying. The win was a giant stride towards my ultimate goal."

From the first bell on, Povetkin stamped his authority on the bout. Constantly marching forward, he was best when he pinned Byrd in the corner or in the ropes and pelted him with heavy combinations. "I have never seen my son take so many shots," Joe Byrd admitted afterwards. "I take my hat off to Povetkin. He will be the next champion."

Povetkin used his explosiveness and punching power to wear the 37-year-old down. "He was more determined and deserved to win," Byrd (40-4, 21 KOs) praised afterwards. "He is like a young tiger and reminds me of the fighter I was when I was 13-0. He will go a long way from here and win the title."

The 4.000 fans in Erfurt roared every time the former world amateur champion fired in his heavy hands. With 68 seconds remaining in the penultimate round and Povetkin about to go for the kill, Byrd´s corner decided their fighter had taken enough punishment. "Today Alexander proved why we hold him in such high esteem", manager Wilfried Sauerland lauded. "That was a great performance and a spectacular fight which fascinated the crowd."

Povetkin will battle out a final eliminator with either Calvin Brock or Eddie Chambers, who clash in early November, to determine the next mandatory challenger for Klitschko. "I am not thinking about Klitschko just yet," Povetkin vowed. "I will keep working hard in practice and take one step at a time."
---
Povetkin beats Chris Byrd
By Ted Sares: Konstantin Tszyu seemed to have started it all, and it now seem to be steamrolling. The Russian boxers continue their dominance as Alex Povetkin stopped Chris Byrd in the eleventh round with a solid performance. Povetkin, now 14-0, proved to be a better fighter than a male model as he put a pretty good beat down on the affable Byrd who must now think about retirement or moving to Cruiserweight..

Povetkin pressed the action and kept coming forward, continuing to throw punches at a very good rate at a Chris Byrd who was in survival mode until an 11th round TKO stoppage by towel-throwing. Byrd looked particularly vulnerable when he got caught pinned the ropes or trapped in a corner, and started fading just as Povetkin picked up the tempo.

This fight completes one half of the International Boxing Federation Heavyweight Title Elimination Tournament. Brock and Chambers will decide who fights the resident of Tschechow, Russia.

With Chagaev, Klitschko, Maskiev, and Ibragimov already claiming belts and Lyakhovich, Denis Boytsov, and Valuev lurking, the fighters from countries formerly known as the Soviet Union are making a hugh statement in the heavyweight division. Povetkin has now added his name to the list.

As well, Roman Karmazin and Dimitri "Baby" Kirilov have made their mark in the lighter divisions. Keep your eyes on Aleksei Tishchenko as perhaps another rising star. Of course, Victor Oganov was exposed by Fulgencio Zúñiga, but aside from that, the Russians keep coming.