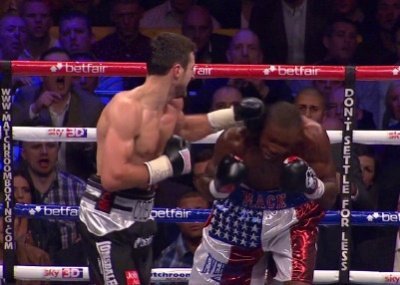 By Marcus Richardson: IBF super middleweight champion Carl Froch (30-2, 22 KO's) blasted out a badly over-matched Yusaf Mack (31-5-2, 17 KO's) in the 3rd round on Saturday night after hurting him badly and putting him down with a right and a left to the body at the Nottingham Arena, in Nottingham, UK. The fight was then stopped at 2:30 of the round when Mack couldn't get back up due to the pain.
Mack, 32, went down in a delayed reaction to the body shots and it was clear that he was in too much to get back up. Froch also put Mack down in the 1st round from a left hook to the head. However, Mack wasn't hurt from that shot.
In the 2nd round, Froch hurt Mack with a late flurry of shots in the last 10 seconds of the round that had Mack's legs looking unstable as he took heavy shots against the ropes. It looked like a replay of Froch's demolition of Lucian Bute.
All in all, Froch was just too heavy handed for Mack and it seemed like every time Froch put his punches together he had Mack looking unsteady on his feet. Froch mostly held back but when he did launch all out attacks in each round, Mack was reeling badly.
Froch's promoter Eddie Hearn mentioned that Froch will be facing Bute next in March unless Bute opts not to take the fight. Hearn also said he'd like to get Andre Ward over to Nottingham so that Froch can try and avenge his loss to him.
Other boxing results on the card:
Tony Bellew UD 12 Roberto Bolonti
Khalid Yafai TKO 1 Antonio Nettuno
Scotty Cardle UD 8 Miguel Aguilar
Kerry Hope pts 6 Norbert Szekeres
Leigh Wood pts 4 Dai Davies
Callum Smith pts 4 Dan Blackwell
Martin Joseph Ward pts 4 Dan Carr
Konrad Dabrowski pts 4 Kristian Laight