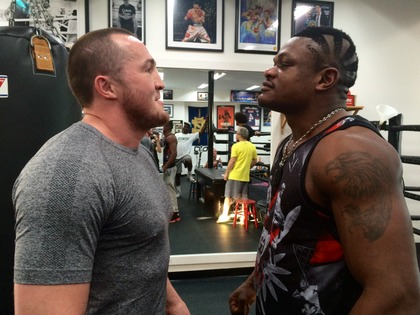 Weigh-In Results: Denis Lebedev 198.6 – Youri Kalenga 198.8
Eduard Troyanovsky 140 – Aik Shakhnazaryan 139.5
Dmitry Kudryashov 200 – Francisco Palacios 197.75
Rakhim Chakhkiev 200 – Valery Brudov 196.5
Manuel Charr 245 – Johann Duhaupas 241
Dmitry Bivol 177 – Konstantin Piternov 176
#1 Rated Challenger YOURI KALENGA and World Boxing Council ('WBC') Cruiserweight World Champion DENIS LEBEDEV "Faced Off' for the first time at the Wild Card Boxing Gym in Hollywood, California in early February.
In preparation for their world title fight, both warriors are opened up training camps in Southern California as Kalenga headed to Big Bear Lake, California with the guidance of ABEL SANCHEZ and Lebedev under the watchful eye of FREDDIE ROACH in Hollywood.
"Seeing Lebedev this week was fantastic, he's an impressive champion, clearly the best cruiserweight in the world and I'm thrilled to start camp to dethrone him," said Kalenga.
"The world title fight between Kalenga and Lebedev is a very important fight for both fighters, and as you can see they both have a lot of respect for each other" said MICHAEL KING of KING SPORTS. "It's going to be a great fight!"
Photo Credit/King Sports