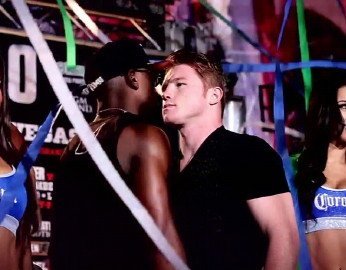 The last time Floyd Mayweather Jr. had fought more than once in one calendar year was in 2007, that makes it 6 years ago. Of course during those days, Floyd was that much younger, and it seemed not only necessary but also effortless for him to do.
Now that Mayweather Jr. has signed a contract with Showtime network promising them a stern minimum, he will once again be stepping into the ring on a more frequent basis.
May 4th, 2013 was Mayweather Jr.'s previous fight, where he stepped inside the ring against Robert Guerrero. He is now getting ready to face the young boxing sensation Saul 'Canelo' Alvarez, just a little over 4 months after Floyd's last fight.
Will this short of a break have an effect on Mayweather Jr.? Will he look tired and slower than his usual self come fight night? Will his body be letting him know that it can no longer keep up with the new required tempo?
With an unblemished record of 44 wins and no losses, it seems as though a fighter would have a pretty good idea of when they are starting to fade, and when the risk of entering the ring outweighs the possible benefit. Having said that, never has such knowledge stopped a champion from fighting their last few fights.
Mayweather Jr. is notorious for his unparalleled workout regimes, and is well known to keep in shape and exercise in-between fights. You and I can name dozens of fighters that have ballooned after their fight, only to play catch up and try lose their bellies before the next one. But have you ever seen Mayweather Jr. not in shape? Have you ever seen him under-perform?
This is an interesting topic, because this is the perfect time to note and discuss just why Floyd is unlikely to be troubled by fighting more often at his later age. I cannot even say how many times all of us have heard Floyd mention that he is happy with the way he fights, because he never takes any punishment, while most other fighters do.
Aside from a bloodied nose and a damaged hand (this is something that Floyd has been dealing with forever, and is not an indication of any severe performance impeding damage), he has never arrived at the post fight press conference with signs of a recent brawl in the ring.
He usually looks as if he never fought that night; nonetheless his opponent always comes in looking bloodied and damaged. That is exactly why fighting two, three, or however many times a year he wants, will not have the same effect on him as it would on most other fighters changing their pace.
Personally I don't think that this new pace will leave Mayweather Jr. in trouble. I think that he will be able to adjust and perform the way he intends in all his fights. The main question should be: how will Floyd do with the early stages of this new pace and a challenger of such caliber as Canelo?
We can speculate as much as we like, but we will see for ourselves in 4 days time!
More @ http://cgboxing.blogspot.com/
https://www.facebook.com/VitaliFightPress