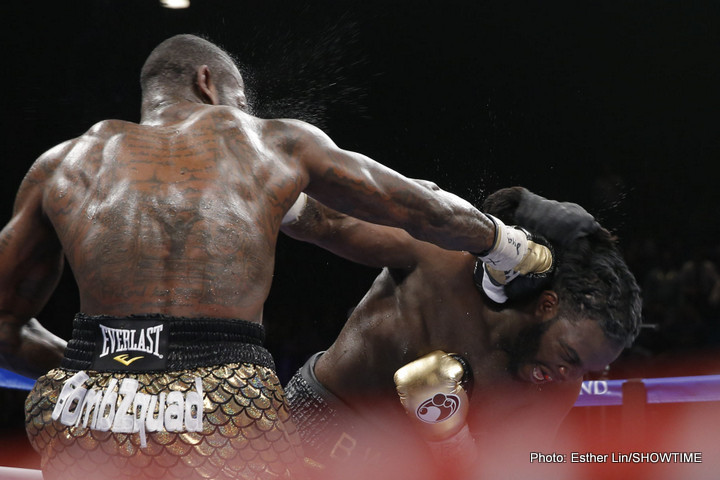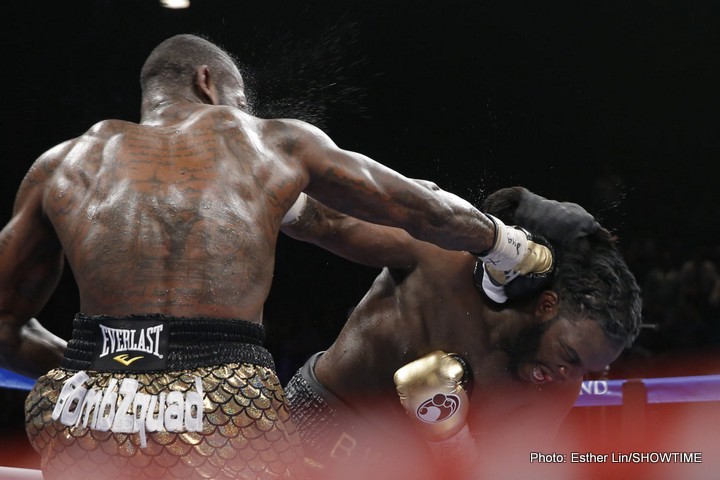 With only 1 month to prepare for his title defense against his mandatory challenger Bermane Stiverne (25-2-1, 21 KOs), WBC heavyweight champion Deontay "Bronze Bomber" Wilder (38-0, 37 KOs) isn't worried at all about having to take the fight on November 4 on Showtime Championship Boxing at the Barclays Center in Brooklyn, New York.
Wilder says it's not going to end well for the 38-year-old Stiverne when he gets him inside the ring in their rematch. The Bronze Bomber beat Stiverne 2 years ago by a 12 round unanimous decision to take his WBC title from him. Now it's 2 years later, and things are much different.
Wilder is 100 percent healthy for the fight, and he's been the far more active fighter of the two. Stiverne has only fought once since their fight in beating Derric Rossy 2 years ago in 2015. Despite 2 years of inactivity, Stiverne is still rated No.1 by the World Boxing Council. It's strange to say the least.
"Stiverne asked for it, so he's going to get it. Whatever happens happens," said Wilder. "Ask and you shall receive. I'm relieved to be getting my mandatory out of the way. At least now I won't have to deal with that down the road."
Wilder, 31, was supposed to be fighting next month against #1 WBC Luis "King Kong" Ortiz (27-0, 23 Kos), but he tested positive for a banned substance for the pre-fight drug test. The WBC made the determination this week that they wouldn't sanction a fight between Wilder and Ortiz due to the Cuban's adverse drug test results.
Stiverne was already fighting on Wilder's undercard against Dominic Breazeale for the November 4 card on Showtime. So instead of fighting Breazeale, Stiverne moved up to the main event and is now fighting Wilder. It works out well for Wilder and Stiverne. It obviously isn't a good deal for Breazeale. He doesn't have an opponent for the November 4 card. However, Breazeale can always fight Matchroom Sport fighter Dillian Whyte if he's willing to face him a week earlier on October 28 with next to no preparation for the fight.
Whyte's promoter Eddie Hearn is so confident that Whyte will beat Breazeale, that he's willing to make the fight for the October 28. It would be funny if Breazeale went ahead and took the fight with Whyte and beat him. It would teach Hearn a lesson of not being too confident about his fighters. Everybody needs adequate training time for fights, even guys like Dillian Whyte.
"In the first fight, I broke my hand in the third round, and I still dominated," said Wilder. "That was a lot of the reason why it went the distance. This time it's a different day, different time and different fight. This time it won't end well for him. Despite all of these obstacles that are thrown in my path, it still will not stop me from reaching my ultimate goal, which is to be the undisputed heavyweight champion of the world. Stiverne will pay for Luis Ortiz screwing up!"
Deontay needs to forget about Ortiz and put his focus at the task at hand in trying to beat Stiverne. It's no good for Wilder to be thinking about trying to take out his aggression on Stiverne for the fight that got away from him in Ortiz. Wilder needs to learn from this. When you choose fighters that have tested positive for drugs in the past, then this is what you get. Ortiz tested positive for a banned drug in the past in 2014. It shouldn't have surprised Wilder that Ortiz would test positive again.
"I am ready, willing and able to seize back my title from Wilder," said Stiverne. "We all know that Wilder dodged a bullet in the first fight, but not this time. It was my fault, but I learn from my mistakes. On November 4, Wilder will feel my pain."