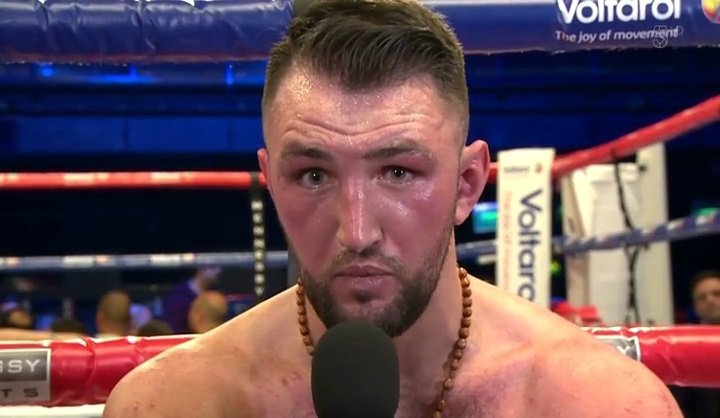 Once-beaten (via debatable decision to Joseph Parker) world heavyweight contender Hughie Fury said before Saturday night's crushing stoppage victory over defending British heavyweight champ Sam Sexton how he would be a harder puncher, a more spiteful puncher from here on in – and he delivered. In becoming the second-fastest man to stop Sexton, Fury arguably scored the most impressive KO of his career thus far.
So what next? Don't expect Fury to hold onto the British title and get busy defending it. Peter Fury, Hughie's father and trainer, in speaking with IFLTV, said that Hughie will vacate the title (possibly leaving Joe Joyce, an unbeaten contender who Peter rates very highly, to fight for it) and then look for "good fights." Informing us how he will look to keep his son busy and get him back in the ring by late July, Peter mentioned names Kubrat Pulev, Manuel Charr and Alexander Povetkin as fighters he would have no problem putting his son in with "if they want to challenge him."
At just 23 years old, Fury, the cousin of former world champ Tyson ("I'm not standing in any shadows any more," Hughie said on Saturday when being compared to Tyson; he and his cousin reportedly having had a falling out of some kind) has oodles of time on his side. Fury's lifelong goal/dream is to become world heavyweight champion and he says that once he has achieved this he will "keep the titles for a long, long time."
Fury against either of the three names Peter mentioned would be very, very interesting. The plan is to get Fury, 21-1(11) into mandatory position for one of the world titles, "so they can't duck me," Hughie said. A win over Charr is certainly a realistic possibility – if Team-Fury can get the fight made. Charr, the holder of a version of the WBA heavyweight belt, has that fight (that refuses to go away) with Fres Oquendo to deal with. As for Pulev and Povetkin, both are highly ranked (Povetkin by the WBA, Pulev by the IBF) and are perhaps close to getting a world title shot themselves, so they will be tough fights to nail down for Fury.
Peter says he wants to get "whatever good fights we can get for Hughie," and this may prove to be the biggest obstacle: getting the big and meaningful fights. Fury has a ways to go yet, but he is that tough sell in boxing: a fighter who offers a whole lot of risk and considerably less reward to any would-be opponent.
Let's hope he gets the big fights he both wants and deserves.