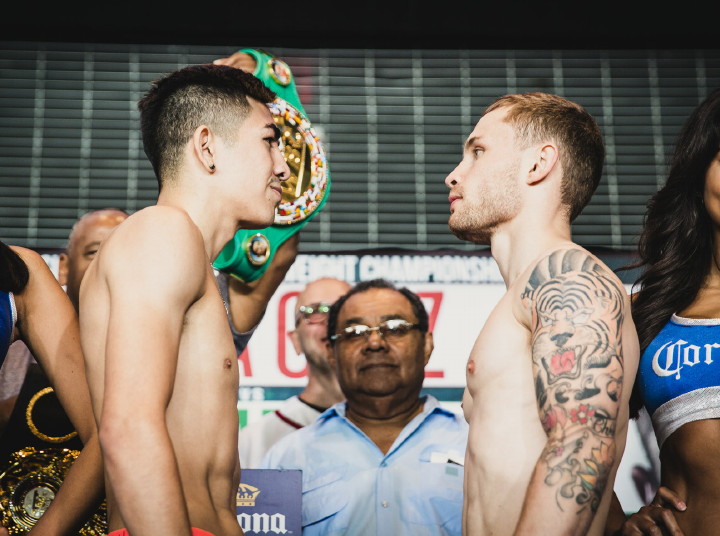 (Photo credit Amanda Westcott/SHOWTIME) SHOWTIME CHAMPIONSHIP BOXING – 9 p.m. ET/6 p.m. PT
WBA FEATHERWEIGHT WORLD CHAMPIONSHIP – 12 Rounds
LEO SANTA CRUZ – 125 ½ pounds
CARL FRAMPTON – 125 ¼ pounds
REFEREE: HARVEY DOCK; JUDGES: GUIDO CAVALLERI (ITALY), FRANK LOMBARDI (CONN.), TOM SCHRECK (N.Y.)
SUPER LIGHTWEIGHT BOUT – 10 Rounds
MIKEY GARCIA – 138 pounds
ELIO ROJAS – 139 pounds
REFEREE: EDDIE CLAUDIO; JUDGES: JULIE LEDERMAN (N.Y.), ALLEN NACE (N.Y.), ROBIN TAYLOR (N.Y.)
IBF JUNIOR MIDDLEWEIGHT ELIMINATOR (For No. 2 Position) – 12 Rounds
TONY HARRISON – 153 ½ pounds
SEGEY RABCHENKO – 153 ½ pounds
REFEREE: ARTHUR MERCANTE; JUDGES: JULIE LEDERMAN (N.Y.), CARLOS ORTIZ (N.Y.), JAMES PIERCE (N.Y.)
SHOWTIME BOXING ON SHOWTIME EXTREME® – 7 p.m. ET/PT
10 ROUND WELTERWEIGHT BOUT
PAULIE MALIGNAGGI – 146 ½ pounds
GABRIEL BRACERO – 148 pounds
REFEREE: BENJY ESTEVES; JUDGES: JULIE LEDERMAN (N.Y.), CARLOS ORTIZ (N.Y.), ROBIN TAYLOR (N.Y.)
10 ROUND LIGHTWEIGHT BOUT
IVAN REDKACH – 135 ¼ pounds
TEVIN FARMER – 134 ½ pounds
REFEREE: ARTHUR MERCANTE; JUDGES: TONY LUNDY (N.Y), ALLEN NACE (N.Y.), ROBIN TAYLOR (N.Y.)
#SantaCruzFrampton
Tickets for the live event, which is presented by Premier Boxing Champions and promoted by DiBella Entertainment in association with Cyclone Promotions, start at $38 and can be purchased online by visiting www.ticketmaster.com, www.barclayscenter.com or by calling 1-800-745-3000. Tickets are also available at the American Express Box Office at Barclays Center. Group discounts are available by calling 844-BKLYN-GP.
For more information visit www.SHO.com/Sports follow on Twitter @SHOSports, @LeoSantaCruz2, @RealCFrampton, @BarclaysCenter, and @Swanson_Comm or become a fan on Facebook at www.Facebook.com/SHOSports, www.Facebook.com/DiBellaEntertainment, www.Facebook.com/barclayscenter. PBC is sponsored by Corona, La Cerveza Mas Fina.
Share the post "Weights: Santa Cruz 125 1/2lbs, Frampton 125 1/2"