Share the post "Video: Freddie Roach kicked by Alex Ariza in Brandon Rios' training camp"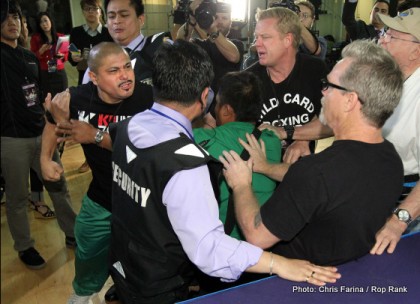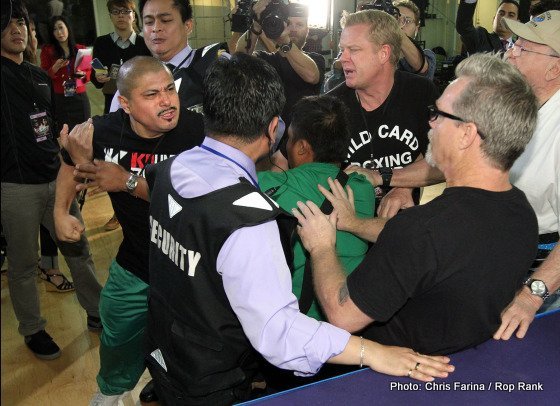 Photo: Chris Farina – Top Rank – 24/7 Pacquiao/Rios series finale Thursday Night on HBO – Episode #3 (series finale) – Debut: THURSDAY, NOV. 21 (10:00-10:30 p.m. ET/PT) – Other HBO playdates: Nov. 21 (2:05 a.m.), 22 (8:30 p.m.), 23 (10:30 a.m.), 24 (9:00 a.m.), 25 (1:30 p.m., midnight), 26 (5:30 p.m., 2:25 a.m.), 27 (9:30 p.m.) and 28 (11:50 p.m.)- HBO2 playdates: Nov. 22 (12:15 a.m.), 23 (2:40 p.m.), 24 (12:25 a.m.) and 29 (8:30 p.m.) Series available on HBO ON DEMAND and HBO GO.
Camps break as Manny Pacquiao (54-5-2, 38 KOs) and Brandon Rios (31-1-1, 22 KOs) head to Macau for their high-stakes welterweight fight, one of the year's most anticipated showdowns.
Video: Freddie Roach is KICKED by Alex Riza when Freddie Roach confronted Robert Garcia about taking over gym time for Manny Pacquiao. Freddie Roach, Robert Garcia and Alex Ariza all interviewed by Radio Rahim for reaction after fight included in this video.
Freddie Roach Attacks Garcia and Team Rios During Workout
Freddie Roach responds to Robert Garcia confrontation
Team Rios reaction to Freddie Roach fight "He called me a f*cking Mexican"
Robert Garcia Intverview
Top Rank CEO Bob Arum talks to RingTV.com about the kicking incident between Pacquiao's trainer Freddie Roach and Rios' conditioning coach Alex Ariza, plus the possibility of Pacquiao facing Ruslan Provodnikov and more.
All three episodes of 24/7 PACQUIAO/RIOS air back-to-back Friday, Nov. 22 on HBO, beginning at 7:30 p.m. (ET/PT).