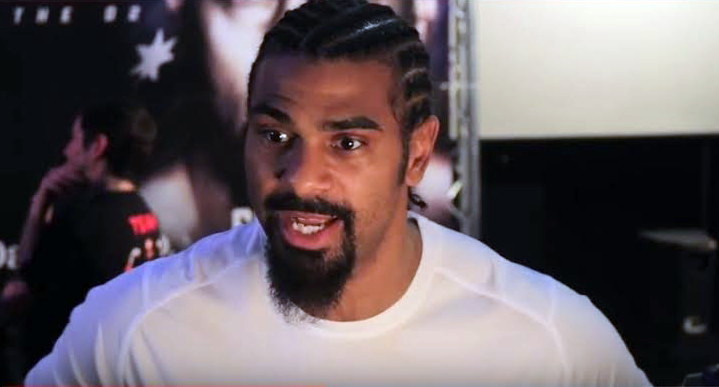 David Haye: "I do have an opponent, but I am holding off a few days to try and secure Lucas Browne. It seems after speaking to Team Hatton that the possibility of Lucas Browne being available to fight on May's Haye Day show against myself is a possibility. That possibility comes down to a few things and top of that list is money. Next week I will be getting some numbers from terrestrial television stations, hopefully those numbers will be attractive enough to lure Brown back to the UK, to allow me to challenge for his WBA Championship, my old WBA Championship. So I am really excited about it. Nothing is done until it is done."
"My experience in boxing is that if it makes financial sense, 9 times out of 10, unless there are egos involved or deep rooted hatred, whatever makes the most amount of money, makes the most sense and I can't see a bigger fight at the moment that is available other than myself. I know there are mandatory obligations with Fres Oquendo, which we will need to get to the bottom of and ensure Fres Oquendo is happy. Brown need to be impressed with the numbers, if he isn't impressed with the numbers terrestrial TV bring to the table, the fight won't happen, plain and simple."
May 21 @ o2 Arena could be Lucas Browne for the World WBA Championship…

Posted by David Haye on Saturday, March 12, 2016
"Very very exciting times, I do have an opponent now, which is quite ironic. It was getting frustrating, people were pricing themselves out. Everything happens for a reason, perhaps I shouldn't have signed to fight anyone else yet. Browne would see me as dangerous for sure, he knows I can punch – I have had one fight in 4 years. His last fight was a 10 round fight against a very good former two-time World Champion. He is bigger than I am, he is heavier than I am but I believe I have superior skills. It's very interesting times.
"I have seen some stuff online about wanting the big fights, David Haye, Tyson Fury, Anthony Joshua, all the names which bring big arenas, excitement, big money. I'm very very excited. I have meetings next weeks with TV Networks, it's out of my hands and in theirs, hopefully they will see the value. The stat for the comeback show it all, it went out live on Dave 'The Home of Witty Banter' they didn't have a history of live sport, in fact they hadn't shown any sport. But what did we do, we broke their records, 3.2 million peak ratings having only promoted the event a week prior to Haye Day. The numbers are a testament to the love for boxing that the British Public has and their eagerness to see me in the ring. I believe I am exciting and my record suggests that, of my 27 victories, 25 have been by KO, I don't go out there looking for pitter-patter punches, I bring the hard stuff. I'm excited."
"I hope Browne will be ready, he got a cut eye in the last fight which will take 2-3 weeks to heal….Timing is everything in life, this could be perfect for me and perfect for him. He is a big guy, 24 fights unbeaten, he has a 90% KO rate or something. Me fighting Brown for the WBA Title is something I am very very interested in, I know the British and World boxing fans will be as well. I just hope everyone can see the bigger picture and to strike while the iron is hot, we have a date, we have an arena, tickets have nearly sold out. Now to just get the TV sorted."
"There is lots of potentially entertaining fights for boxing fans around the world, I am happy and humble to be back and part of it, I was out looking in from afar but I am back now, exciting times."
Video: David Haye hits back at Anthony Joshua
David Haye responds to Anthony Joshua's interview on Sky Sports News earlier today where he confirmed he'd be keen to fight Haye at some point in the future.
Haye responds and provides some advice for AJ on how to win his upcoming World title fight against southpaw Charles Martin.
#HayeDay returns to The O2 on May 21, tickets are available on general sale now via AXS.com.
Anthony Joshua calling me out..

Posted by David Haye on Monday, March 7, 2016