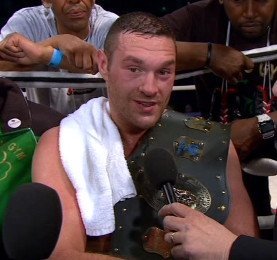 There was an interesting tweet from Britain's premier heavyweight and WBO mandatory Tyson Fury (24-0, 18kos) this morning with reference to Twitter speculation regarding the British heavyweight title he owns and the numerous men that keep getting named with regards to potentially fighting, or challenging for it.
There appears to be a belief that because he is in pole position to face dominant, lineal heavyweight champ Wladimir Klitschko, Fury would vacate the British title that he won back in July 2011 against a then undefeated Dereck Chisora,(20-5,13ko) coincidentally on the day singer Amy Winehouse died.
It appears that the 6ft 9in "fighting-man" typically has no intention of such a thing. The tweet from Fury simply read;
"All this talk of people fighting for my British title, what a load of rubbish, it's mine and I'm keeping it. Come and take it off me you bums"
Perhaps what Fury is referring to is the social media "gossip" that mostly stemmed from an article in the Daily Mail a week or more ago that has suddenly picked up pace, regarding a fight between Chisora and Liverpool's David Price (19-2,16ko), who is now ready to return to Britain after rebuilding in Germany following his two devastating knockout losses to veteran Tony Thompson.
Chisora and Price, in the official BBBoC rankings are #2 and 3# respectively, with fast rising Olympic gold medalist Anthony Joshua (11-0,11ko) sitting pretty at #4. However, at this stage, all talk of Chisora v Price, despite the scouser's planned return to his hometown in the summer under Sauerland Event, is all speculation.
Wladimir Klitschko is boxing his first fight in the US in seven years (part of a television deal with broadcasting giant HBO) against relative novice, Philadelphia's Bryant Jennings(19-0,10ko's) on the 25th April in New York.
Tyson has just beaten Dereck Chisora for a second time in February, this time more comprehensively than the first, evidencing the vastly under-rated boxing skill he actually possesses once again. David Price also last boxed in February, out in Germany, in yet another, and hopefully final, confidence builder before he gets back in the mix on the domestic heavyweight front.
Anthony Joshua has a May 30th fight with solid American Kevin Johnson (29-6-1, 14ko) who himself has never been stopped and took both Fury and Chisora the distance. That means he too will seemingly be out of the picture with regard to a potential Fury British defence, should he make one before Klitschko and it's quite obvious to me that Eddie Hearn wouldn't risk his cash cow at this stage of his fledgling career against a guy like Tyson Fury anyway.
Frank Warren, who helps represent Fury's management interests alongside promoter Mick Hennessey, has asserted, alongside Tyson himself after the Hammer fight, that he wants Wladimir Klitschko next.
For this writer, a better fight for both men, despite Tyson's mandatory status with the WBO, is a challenge to new WBC heavyweight champion, America's big punching "Bronze Bomber" Deontay Wilder (33-0,32kos). He hasn't boxed since January when he won the title against a game yet limited Bermane Stiverne, and Frank Warren has already asserted that he has held talks in America with representatives from both HBO and Showtime who Wilder appears on, with regard to future fights for Tyson.
With Klitschko not even having taken care of business yet regarding his next fight vs Jennings, it's entirely possible that Tyson Fury COULD box again before the two of them potentially clash. Either in a world title bout vs Wilder, or if he's insistent it really is Wlad and ALL the rest of the belts bar WBC he wants, then he could take a British defence to "tick over" while he waits for Wladimir to recover post Jennings.
It could be a banana skin though obviously depending on who stepped up. It won't be Chisora, so if Price, who before his defeats at the hand of Thompson had a bit of a rivalry with Fury, decides he fancies it then who knows?
Below that it's guys like Richard Towers, Gary Cornish, Dillian Whyte and Ian Lewison, and without doing a dis-service to them, Tyson Fury is a level above. In saying that, all of the above are great domestic opponents for young Hughie Fury (15-0,8ko) who himself is fast establishing himself as a name to watch in the heavyweight division in the UK.
I think unless it's ordered Tyson Fury has no need to defend the British title just yet. Especially as the big money fights are within spitting distance. However, one of the traits of the entire Fury team, is a never back down attitude. Tyson Fury may have a desire to own the Lonsdale belt outright and join a prestigious and respected "club" of fighters by defending that belt and he is 2 fights from that.
Its clear that soon we will have an announcement on Tyson Fury's next move, and much depends on the negotiations that are going on behind the scenes. If one thing is for certain, the notoriously ruthless Klitschko team will pinch every penny and take every advantage they can get against Team Fury. They have done this many, many times before. They are aware of their dominance.
Wilder, who has had back and forth Twitter exchanges with Tyson, has insisted HE also wants the fight with Fury and in the opinion of this writer, both men would make for a competitive and un-predicatable fight that many will view as a pick 'em. Either way, Fury will almost certainly have to travel for his world title opportunity and it will remain to be seen what he does with regard to the British. In all honesty, I think for now, he is beyond that, and the fans know what they want to see.
This fan wants a fight with Wilder. Watch this space.
Thanks as always for reading. Twitter @undilutedpoison