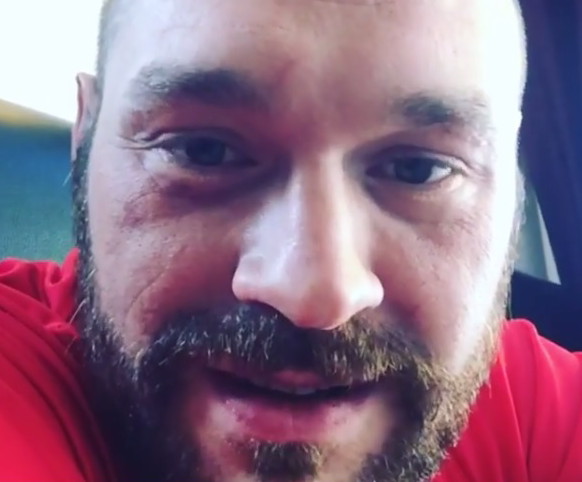 Former heavyweight king Tyson Fury has teased us before, with messages put out on social media promising "a big announcement," only for none to come. Tyson has also vowed to retire, telling us via twitter how he will never fight again. And just recently, the never-beaten former champ announced via his twitter page how he would not be seeking a new license to box from the British Boxing Board of Control.
"Make it clare (clear), I'll not apply to the BBB of C for a new license I'll go elsewhere, take my money & business to somewhere that appreciate it," Fury wrote earlier this month.
Still to clear his name via VADA and be licensed to box again in the UK, Fury hinted he may go abroad to fight. And today, just an hour ago, the 29 year old tweeted how he has big plans for next year:
"Be ready to fight in April 2018 in a great fight! & again in the summer in a mega fight! & again in back end of year. 3 big fights in 2018," Tyson wrote today.
So, can we take Fury at his word on this occasion? We all want to see him get his act together, weight-wise, and return to the ring with all fires burning, and in top shape, Fury might be able to regain his position as the world's number-one. As things stand now, though, Fury, 25-0, will have to take his show on the road and box abroad – with no British license (and no desire to re-obtain one) Fury has no choice.
But Fury, a big name the world over, would surely find a home for his return fights overseas; in the U.S perhaps. It's interesting to think just who the "great fight" Fury mentioned will be against in his ring return. Fury has been called out by plenty of names – Shannon Briggs most recently – and his comeback fight would absolutely attract a ton of fan attention and support; if it actually happened.
But with Fury you never know, and he may change his mind all over again tomorrow and decide, once again, that he has had it with boxing. But for the sake of the heavyweight division and of keeping things as interesting as possible, it is to be hoped Fury is determined to fight again next year and that he is currently working hard in training.
It's been 23 months since the "Gypsy King" sensationally upset Wladimir Klitschko to take the heavyweight titles.