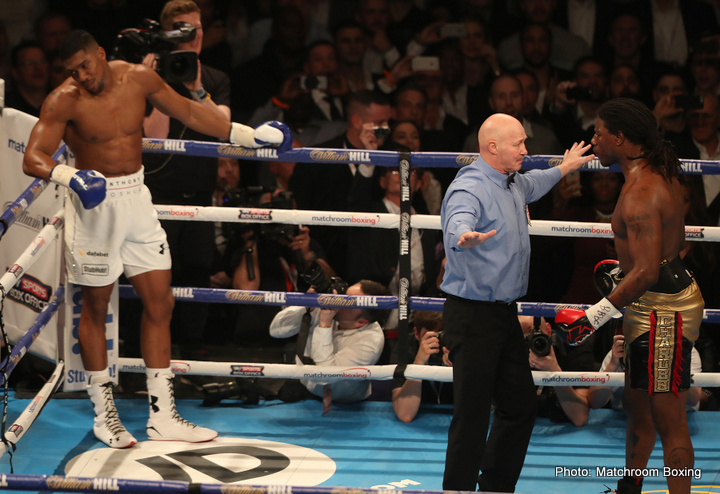 Share the post "Tyson Fury and Deontay Wilder are Anthony Joshua's "top priority now" says Hearn"
Anthony Joshua wants to become the undisputed heavyweight champion of the world. In order to make this dream – one he has had since he was a young kid – come true, Joshua must beat fellow unbeaten talent Tyson Fury (linear king and WBA, WBO ruler) and Deontay Wilder (the WBC boss). Technically, even this amazing feat would not make Joshua, who already holds the IBF belt, the sole claimant to the heavyweight throne, as we currently have two other men (Ruslan Chagaev and Luis Ortiz) holding a version of the WBA belt.
The WBA tournament that is underway to crown just one man as their heavyweight champ may well see Fury come out on top, but AJ promoter Eddie Hearn is talking about his star fighter getting it on with Fury as soon as this November. It will likely take longer than that for the WBA tournament to reach its conclusion. But if Joshua were to defeat Fury and then Wilder within the next 10 to 12 months (again, amazing feat but not wholly out of the question for a man with Joshua's skill and power), he would certainly be looked at by just about everyone as the one and real heavyweight king.
Joshua has two voluntary defences coming up – one against Dominic Breazeale on June 25th and then, likely October or November for the second one. If the Fury fight can be worked out quickly (and if Fury beats Wladimir Klitschko in their July rematch of course) Joshua's fight that will mark his second IBF title defence could also wind up being a challenge for the linear and the WBA/WBO belts Fury currently calls his own. Joshua against Fury is a quite mouth-watering proposition, and so too is a Joshua-Deontay Wilder showdown. These are the huge fights fight fans will get if things go according to Joshua and Hearn's plans.
Hearn made it clear that Joshua's priority and main goal is winning all the heavyweights belts and he feels a Joshua-Fury fight can easily be made, and that he has already had positive talks to this effect with Peter Fury.
Boxing is always a better sport when it has as many unified, universally recognised world champions as possible; a unified and universally recognised heavyweight champion especially. Is Joshua, still only 16-0(16) and yet to be extended beyond the 7th-round, the man who will become the next unified heavyweight king? Fury and Wilder will of course have other ideas, yet many good judges feel Joshua is the next megastar of the division. If he gets the fights he is shooting for, Joshua will give fans some great nights – on both sides of the Atlantic no doubt.
Share the post "Tyson Fury and Deontay Wilder are Anthony Joshua's "top priority now" says Hearn"