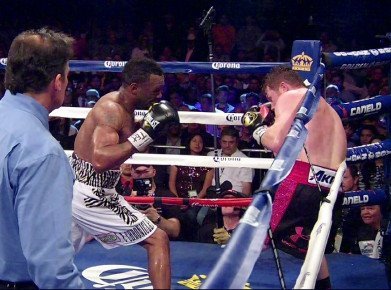 If the following is true, than the September 14th fight night will be one of the best PPV cards in a very long time.
It appears that Austin Trout might be facing Erislandy Lara at the MGM Grand's Garden Arena as an undercard fight of the Mayweather Jr. vs. Canelo bout. At this time, while we haven't yet heard anything solid from the promoters or the fighters themselves, rumors as well as this fight showing as scheduled on BoxRec.com have people buzzing with excitement.
Mayweather Jr. vs. Canelo, Matthysse vs. Garcia, and Trout vs. Lara, would be the fight card in September if everything works out the way we hope. And if that's the case, those expensive ticket prices just became a bargain.
Trout's undefeated reign after beating Miguel Cotto ended with his U.D. loss to Canelo in April. It must be hard to mentally recover from losing that perfect record, and a victory would be a great way to start.
Let's hope that all will be worked out and signed, giving boxing fans an rare night of all star boxing.
More @ http://cgboxing.blogspot.com/
https://www.facebook.com/VitaliFightPress