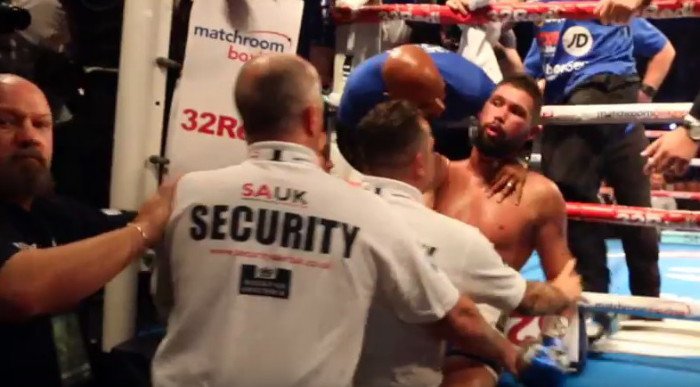 Reigning WBC cruiserweight king Tony Bellew is convinced he has the beating of David Haye, this despite the fact that "Bomber" will be having his heavyweight pro debut, at the age of 34, on March 4. Bellew is confident for a number of reasons – the spar session he and Haye had, many moons ago, with Bellew insisting he got the better of things, being one of them.
But Bellew is also ultra-confident he will win in March because of the recent activity level of Haye; or the lack of activity of the former WBA heavyweight champ. The cruiserweight champ is sure that once Haye gets hit and realises he is in a real fight, a tough fight, his first in years, it will be advantage Bellew. The proud Liverpudlian, writing in his column for METRO, strongly believes Haye's lack of action, and the fact that "The Hayemaker" has not tasted a solid punch in years – way back in 2008 against Monte Barrett according to Bellew – will prove his downfall.
"He's under this belief that he took Wladimir Klitschko 12 rounds because he's got the best chin in boxing," Bellew wrote of Haye. "But he didn't take anything clean from Wladimir, he spent the whole night running and the post-fight complaining about his little toe. The last he took a heavy shot was against Monte Barrett and he got put on the floor. He's been on the floor on multiple occasions and he's shown he's not the bravest fighter. The last thing he wants is for the fight to go into the second half, because I'm the active fighter. I know, 100 percent, his attitude changes once I catch him clean."
The Haye-Barrett fight seems an eternity ago now, and it's true Haye, 28-2(26) has not had his chin tested too much since the November 2008 win. Certainly, neither Mark de Mori nor Arnold "The Cobra," Haye's last two opponents, hit him even once. And Bellew may well be right when he says Haye doesn't want the upcoming fight to go into the second half, that his stamina shortcomings coupled with his lack of a recent tough fight will prove very problematic to him if the fight does go late. But the big question is, can Bellew, 28-2-1(18) get through those early rounds and take Haye late?
Haye, 36, has always been at his most dangerous in the early going of a fight, when he is full of energy, fast, accurate and his punching power is really zinging, and if Haye is gambling on getting Bellew out of there quick, he may well hit the jackpot. Bellew needs to extend Haye and turn the fight into a who wants it more-type of battle – but can he do it?
If the fight does last longer than Bellew says Haye wants it to, it could turn very interesting, but there will without a doubt be some nervy moments for Bellew and his supporters in those first two or three rounds. Can Bellew get through the early storm? If Haye is relying on a quick win, and if Bellew knows he needs the fight to go late to win, which fighter has the best chance of getting what they want?
Plenty of people feel Haye's longer arms will allow his heavier punches to get the job done before Bellew has a chance to get into his groove. So, who do you like: Haye early or Bellew late?