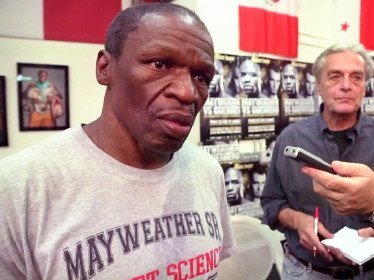 by TMZ Staff: It's a real life family feud — Floyd Mayweather's dad tells TMZ Sports … he's all set to get in the ring to FIGHT the father of one of Floyd's old opponents, Robert Guerrero … for real!!!!
Floyd Mayweather Sr. and Ruben Guerrero were out at breakfast together in L.A. the other day — one month after they squared up against each other outside a boxing facility in Vegas,.
Only this time, both men were actually civil toward each other — and confirmed they've both agreed to settle their beef in the ring.
"You're gonna see one of the best fights bro," Guerrero says … "I'm fighting one of the best fighters in the world."
So far, no date has been set … but both men insist it's gonna happen soon — and will probably be recorded for a reality show.
Stay tuned …
###
TMZ: Manny Pacquiao — Yes, I Eat Aborted Duck Fetuses … It's a Filipino Thing
by TMZ Staff: Rocky drank raw eggs for protein … but Manny Pacquiáo takes things a step further … 'cause TMZ sports has learned, the eggs he likes to eat are filled with UNBORN BABY DUCKLINGS.
It's true … the boiled duck fetuses — called Balut — are all the rage in the champ's native Philippines. The little duckies are cooked ALIVE right before they hatch … and are eaten out of the shell.
Pac-man was at a press conference for his upcoming Timothy Bradley fight in NYC today … when we asked him if the popular Filipino snack tastes as nasty as it looks.
Check out the clip … Manny's face tells the whole story.