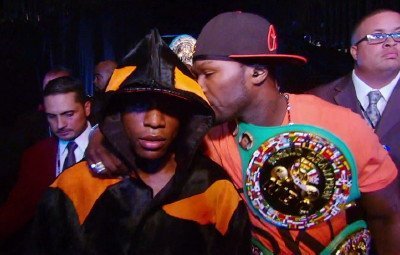 by Bradley Pearson – With what most are referring to as the "Cold War" in modern day boxing, the ongoing dispute between Top Rank chief Bob Arum and Golden Boy Promotions duo Richard Schaefer and Oscar De La Hoya, has seen countless failed contract negotiations & disputes- depriving loyal fans of dream fights that today remain simply just that; a dream. The introduction of a third heavyweight promotional presence within the sport could somewhat well revolutionise today's fight game- perhaps bridging the gap between the two feuding companies.
Enter Floyd Mayweather. Arguably the most unlikely of all candidates, the eight time world champion and reigning pound-for-pound king of the sport rocked the boxing world earlier this month when teaming up with long term friend, rapper 50 Cent, in forming their very own promotional company; "The Money Team". Despite Mayweather's recent incarceration, the Grand Rapids native along with the world renown Hip-Hop star have wasted no time in signing a string of world class fighters, most notably former Olympic Gold medalist and undefeated Cuban sensation Yuriorkis Gamboa (21-0, 16 KO's)- as well as top super middleweight contender Andre Dirrell (20-1, 14 KO's).
Earlier this week it was revealed TMT will headline their very first event come November 17th, with Dirrell and Gamboa the co-main features in an eye catching double-header. Pending confirmation of both TV station and opponents, its rumoured both fighters will be involved in title fights with Irish 168 lb interim world champion Brian Magee (36-4-1, 25 KO's) said to be in store for the American Dirrell, whilst Juan Carlos Salgado (26-1-1, 16 KO's) is being lined up for the Miami based Cuban.
Certainly an opportunity for TMT to burst onto the scene with a bang, and establish themselves as major force within the sport- yet also chances for both Dirrell and Gamboa alike to somewhat revive their careers after each enduring a tough year. Dirrell, was recently passed fit after suffering head trauma following his controversial disqualification victory over Arthur Abraham back in 2010. A successful knockout win in his comeback fight last December, the Michigan super-middleweight will be looking to thrive during the prime years of his career, after a significant period away from the ring, with just 3 fights in as many years. Gamboa, 30, also in what would be considered his prime years will unquestionably be looking to make a big statement after vacating his featherweight titles and moving up to the 130 lb weight class. Fresh off of leaving Bob Arum's Top Rank roster of fighters, the Cuban has yet to fight this year after a series of legal issues regarding his former contract under Arum. Due to fight lightweight champion and undefeated powerhouse Brandon Rios, the fight fell apart after the Olympic champion was already in the process of vacating Top Rank, and moving elsewhere. Signing with 50 Cent and TMT Promotions will present new challenges for Gamboa, as he looks to storm through the super-featherweight ranks as swiftly as he did at 126 lb's.
However the harsh realities of the boxing business became rapidly apparent for 50 Cent, real name Curtis Jackson, just a few days ago when Golden Boy Promotions secured a Showtime deal to air their event, the same night- leaving Jackson's TMT out in the cold. It's certainly an unsought wake up call for the newly turned boxing promoter, perhaps serving as a reminder that the world of boxing management very seldom runs smoothly.
Follow me on Twitter (@_bradleypearson)
www.pearsonarticles.webs.com