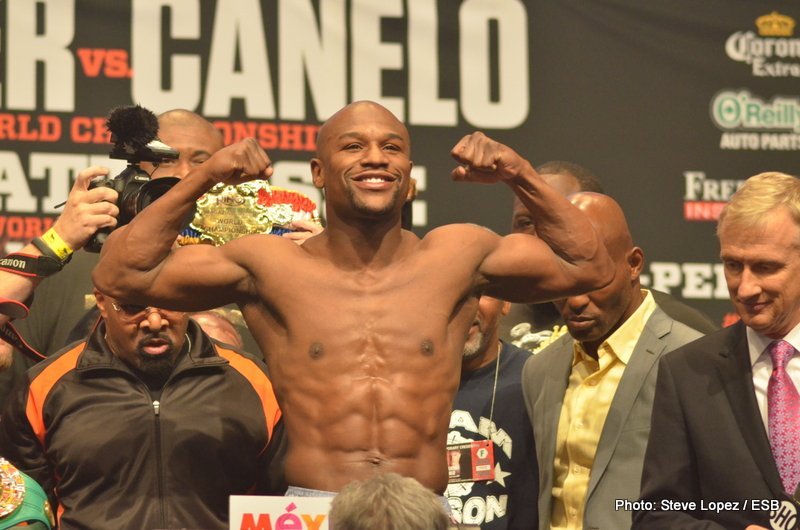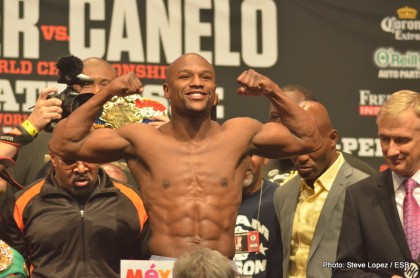 Ladies and gentlemen…the countdown to the One is almost over!
The MGM Grand Garden Arena was packed with enthusiastic fans and media members. Being inside the arena was almost deafening. Clearly, the public is excited for the event. The turnout could very well make it the biggest weigh-in in the history of the sport.
Before the weigh-in began, many of the Golden Boy stable of fighters made their appearance on the stage for quick photos and brief interviews. As all fighters stood on the stage, one could see that Golden Boy and Mayweather Promotions have a great stable of fighters. Arguably the best fighters for promotional companies.
The biggest question mark on the minds of all fans and media members was: will Canelo Alvarez be able to make the 152 pound limit? All fighters for the televised pay-per-view card made weight. The only hiccup may have been Danny Garcia having to weigh in twice after being one half of a pound over the light welterweight limit. Garcia made weight on the second attempt.
There isn't much to be said left about the weigh-in. For the past week, much attention has been given to fight week events.
Who will be The One?
Saturday night, all questions will be answered!
For more of Steve Lopez, follow on Twitter: @LopezPPVBoxing