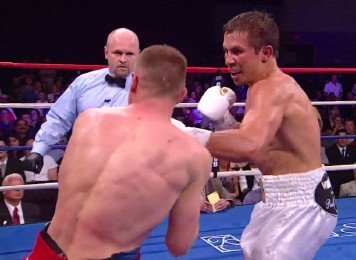 By Anthony Loy: Forget arguing about the p4p rankings, the middleweight division is currently the home of fierce debate regarding who will sit atop the mountain in the very near future.
The heir to the throne appears to be one Gennady Golovkin, a punch perfect destruction of hard-hitting but limited Grzegorz Proksa on Saturday night has put the hype train into full speed but whilst he undoubtedly has the tools and an extensive amateur background (in which he holds wins over Andre Dirrell and Lucian Bute) I can't help but feel people are getting carried away with his exciting but totally expected win over the one-dimensional Proksa, a man who was outpointed not long ago by the unheralded Kerry Hope.
The man currently reigning supreme in what is fast turning into the most fascinating division in Boxing Sergio Martinez takes on Julio Cesar Chavez Jr for the WBC belt on September 15th in what promises to be one of the fights of the year, Chavez who has a very impressive 46-0-1 record will provide Martinez with a stern test and will hope to impose his size advantage when the two meet, whatever the outcome of this fight and I believe it will be a close points win for Chavez I think its likely it will be Chavez's last in the 160lb division.
Daniel Geale and Felix Sturm provided and excellent fight and a nightmare for the judges on Saturday night with Geale earning a split-decision win away from home in Germany, a place not known for giving visiting fighters a fair shake (just ask Matthew Macklin). Geale has cemented his place in the upper echelons of the division and should be looking for the biggest fights out there to capitalise on his current popularity, seemingly though he will fight Sam Soliman next if reports are to be believed. Sturm after holding the WBA title hostage in Germany for a number of years will no doubt seek out a fight with Arthur Abraham up at 168, a match-up which will sell very well and one that in my opinion Sturm would cruise to a wide points decision in.
Two other fights lined up in the near future which will provide us with a clearer picture sees Britain's Matthew Macklin take on Joachim Alcine and an intriguing battle between two unbeaten prospects when Kid Chocolate Peter Quillin takes on Hassan N'Dam N'Jikam, both standing at 27-0 this sort of matchmaking has to be applauded.
If ever a tournament was needed in Boxing it's for this division, a plethora of top class fighters have been mentioned thus far and the surface has barely been scratched.
One man who I hope comes back strong is the forever injured Darren Barker, a terrific fighter who gave Martinez an extremely tough night deserves to be in the World title mix. Another Brit Martin Murray has failed to cash in when his stock was high after his draw with Sturm; this guy needs to be active. Irish hope Andy Lee who was stopped in seven rounds last time out by Chavez Jr will want to rebound quickly and a contest with Murray could be just the ticket.
Dmitry Pirog, almost a forgotten man at the minute has done little of note since his brutal KO of Daniel Jacobs back in July 2010, a scheduled fight with Golovkin fell through earlier this year, it may well have been a good thing for him.
Just a quick question, how many of the aforementioned fighters would once Middleweight king Jermain Taylor currently beat?
In a year's time I think we will have seen a changing of the guard, Martinez age will catch up with him at some point even if it's not against Chavez Jr, I believe Geale would be found out by both Barker and Macklin if they ever got the chance as would Pirog. One thing that will ultimately stay the same though is that Gennady Golovkin will remain the most avoided fighter on the planet.