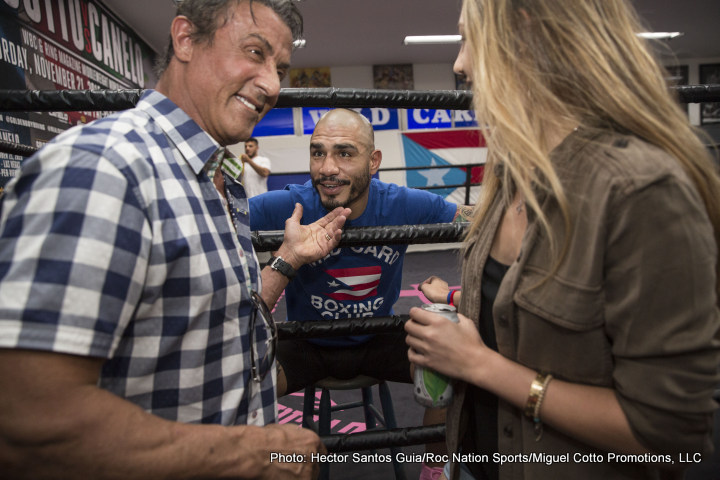 Love them, loathe them or maybe you're somewhere in between, but all boxing fans have to admit how Sylvester Stallone's fictitious character, Rocky, and the seven movies "The Italian Stallion" appeared in, captured the spirit of this great sport, helped add to its popularity and even made real life fight fans out of movie-goers.
And for those fans who cannot get enough of Balboa's antics, it could be time to wave a sad goodbye. For last night, at The Santa Barbara International Film Festival, Stallone said he has gone as far as he can with the character that made his a household name in 1976.
"I really have mixed feelings abut this, seriously – I feel like Rocky, at the end of this movie (Creed) on the steps, with the help of a young man, and he looks out and says, 'From here, you can see your whole life.' – it sort of summarizes the whole thing. I don't know how much further you can push Rocky," Sly, 69, said yesterday as quoted by Variety.
Of course, as has already been pointed out, Stallone has previously said he was finished with Rocky. After the sole flop of the series, 1990's Rocky 5 (a flop both commercially and critically), Stallone said he'd done all he could with the character. But then, in 2006, came the superb Rocky Balboa. This film, criticised by many even before its release, primarily due to its premise and nothing more (a near 60-year-old Rocky, actually fighting the heavyweight champion, come on!) smashed both the critics and the box office. Rocky had indeed made a great, great comeback.
Rocky, standing in a cemetery, waved goodbye at the end of the flick, a symbolic real-life wave goodbye, the fans felt. Yet last year, along came Creed, a Rocky spin-off dubbed Rocky 7 by some. Another fine film, which received plenty of critical acclaim, the franchise was pumped with yet more life. There were almost instantly rumours of a Creed 2, but now it looks as though Rocky has punched, and coached (as he guides the son of the late Apollo Creed in the latest instalment, as surely everyone knows) his last.
The series, if it has come to an end, goes out on a high. Creed, while not as gritty as the original Rocky, not as much fun as Rocky III or Rocky Balboa and not as emotional as Rocky II, does the old slugger proud. And, as Sly himself says, how much more could he possibly do with the creation he first came up with after watching Muhammad Ali pound the sass right out of Chuck Wepner (or so the legend goes)?
We have had a great time watching Rocky, and we all owe Stallone a big thanks for giving us a fictitious pug – or, as Rocky refers to himself in one of the great lines from the series, a ham and egger – we could both admire and, crucially, believe in.
THE single most successful and inspiration film series devoted to the noble art, the Rocky films touched so many millions of people, from a number of generations. And The Rock goes out as he came in, swinging!
Rating the Rocky films in order of punch power:
Rocky – the original Oscar winner and the best of the lot.
Rocky II – a sequel that is almost as good as the original.
Rocky Balboa – against the odds, some 30 years after the original, the sixth film in the series really did bring back the magic.
Rocky III – Mr-T is as brilliant as he is over the top!
Creed – an ageing Rocky battling way more than just an opponent.
Rocky IV – predicted the future Russian invasion into boxing!
Rocky V – the late Tommy Morrison gives it his best shot in the supporting role, but this one is a dud, or if you prefer, a no-contest.