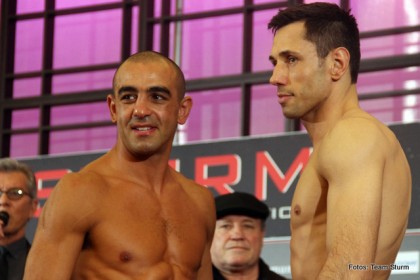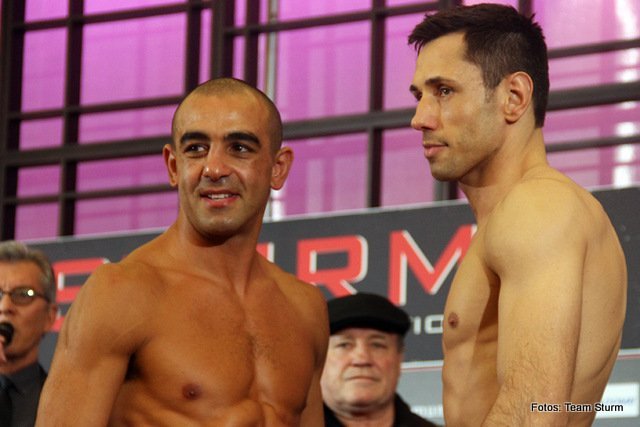 by Tommy Bird: Sam Soliman has allegedley failed his post-fight drug test after his controversial decision win against Felix Sturm in Germany last month. German newspaper sources reported today that the A sample of the 39-year old Australian was tested positive for a performance enhancing designer drug.
"I received a letter from NADA today with the news that Soliman's A sample was positive," confirmed Thomas Pütz, German boxing president, in an official statement. "They found a designer drug in the urine sample that was taken after the fight with Felix Sturm on February 1st. I'm shocked and already informed the governing bodies." The substance is an amphetamine that has often been used in cycling and can only be traced since three or four years. It helps produce a higher amount of oxygen and can be dangerous to a human being when misused.
Soliman scored a career-best win when he decisioned Sturm in February, although many experts had the home-town fighter ahead. The win put Soliman in a position to face fellow Australian and IBF 160lbs champion Daniel Geale. This is now in real jeopardy… Soliman can still opt to open the B sample, which could be tested soon. If positive, the Sturm fight will most likely be ruled a no contest and Soliman would lose his mandatory position.
Felix Sturm was reached at his vacation in Dubai and was outraged upon hearing the news. "Incredible, this explains a lot", he posted on his Twitter account and said to German newspaper BILD. "I was harassed before the fight with several blood tests then he cheats himself. It's a sad day for boxing." His manager, Roland Bebak, added: "We hope for justice and a new chance for Felix."
Sam Soliman was tested positive for a performance enhancing substance after his fight with @SturmBoxing. We will now await the results of…

— Sturm Box-Promotion (@sturm_bp) March 2, 2013
… the B sample in order to plan our next step. We are strictly against doping and believe that boxing should be a clean sport.

— Sturm Box-Promotion (@sturm_bp) March 2, 2013