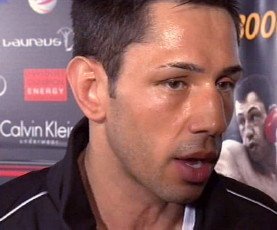 By Marcus Richardson:: WBA Super World middleweight champion Felix Sturm is hoping he can get the winner of tonight's fight between WBO super middleweight champion Robert Stieglitz and Arthur Abraham. Sturm has a fight coming up next month on September 1st against IBF middleweight champion Daniel Geale, and he's supposed to be defending his title against Gennady Golovkin after that. But it looks like Sturm prefers to face the Abraham vs. Stieglitz winner instead.
Sturm told fightnews.com "I was asked if I would fight the winner and yes, sure, I would. I'm open for that."
Of course, boxing fans might see this as a way for Sturm to avoid fighting the hard hitting Golovkin, who has been trying to get a fight against Sturm for quite some time. Sturm was able to bypass his fight against Golovkin by fighting a unification bout against Geale on September 1st. However, if Sturm then still doesn't fight Golovkin and takes on the winner of the Abraham-Stieglitz fight then you have to wonder whether Sturm is avoiding a fight against Golovkin.
Fighting Golovkin would likely be a lot tougher for Sturm than facing someone like Abraham, who doesn't punch with as much speed or concussive power as Golovkin does. And Stieglitz isn't really a big puncher. He's more a boxer and it's someone that Sturm could manage a lot easier than facing a crushing puncher like Golovkin.
Sturm should be able to get past Geale next month. He's got the better jab, the better power and he's fighting at home in Germany. Geale is a pure boxer and he's going to be facing someone with better skills than him in Sturm. The kinds of fighters that Sturm has problems with are fighters that can hit hard and who throw a lot of punches. Geale is neither a puncher or a fighter that throws a lot of shots. Sturm should win this fight.