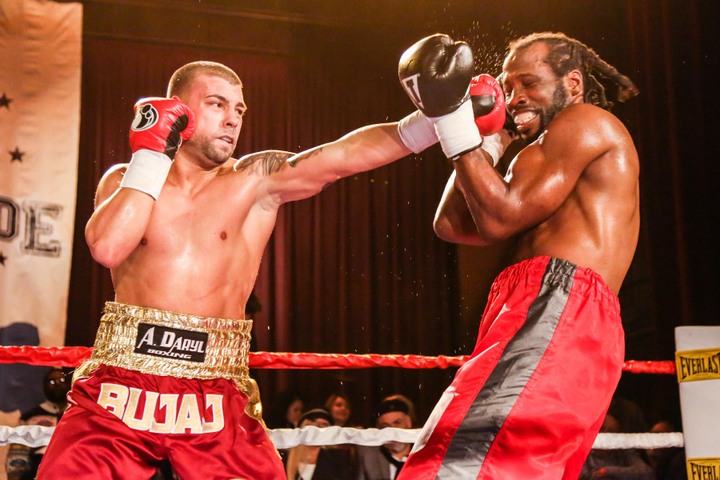 Photo by Lars Hjelmroth, Rolco Sports Network – Card is Short of Fights but Spirited in Action
DETROIT– The Darkside Boxing Promotions card presented by Ron Cameron SportsTalk Radio started late and had no backup plan as two featured fights cancelled. The Masonic Temple-Jack White Auditorium was a great venue for the cruiserweight comeback route of Brooklyn based Steve Bujaj. Bujaj went to 13-1 (9 KO's) by taking an eight round unanimous decision over Zack Page of Warren, Ohio. This was the first fight back for Bujaj, since his lone loss to Winky Wright last year.
Middleweight Lane Staal stayed at 11-1-1 when his opponent didn't show up. Juan Goode also stayed at 6-0, as he got a no-show also. Manager Jackie Kallen of Hands on Boxing, coaxed another four round unanimous decision from Dorrell Van Horn who went to 7-0 (5 KO's) over Cameron Allen. It is time for VanHorn to test himself with longer scheduled fights.
In a spirited match, Chris Franks of Traverse City, Michigan evened his budding pro record to 1-1-1 with a TKO over Steve Rainford of London, Ontario. Franks had pestered a nose bleed with persevering mechanics and the corner of Rainford could not stop the flow. The referee had no choice but to stop the contest in the third round.
William Hill got an unanimous decision in a four rounder over Peter Bianca of Toronto, Ontario. Rick Graham forced a first round TKO over Trav Wilson of Grand Rapids, with a flurry of 1-2's.
www.darksideboxing.com.