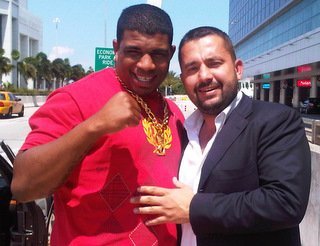 by Kevin "Kingpin" Johnson
I wanted to let Eastside Boxing and the rest of the world know that the I have just been advised that Odlanier Solis has pulled out of our fight scheduled for November 26, 2013, In Sunrise, FL. 
Apparently, his promoter and manager signed him up for a guaranteed ass whooping that he wasn't willing to receive. I'm sorry for all those that were looking forward to seeing me end Solis' career but what can I do, this is the worst part of boxing, specifically the heavyweight division.
Guys like Odlanier Solis are either too afraid or too fat to fight on a consistent basis.  I've asked my team to continue to find the toughest and best fights out there regardless of who, where and when, and I will continue to chase opportunities across the globe.