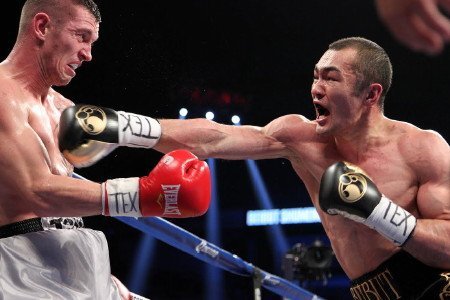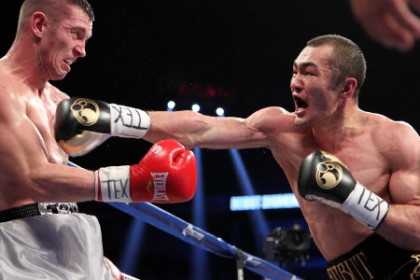 (Photo credit: Tom Casino/Showtime) In the opening stanza, Shumenov made his presence felt in the closing seconds by drilling Kovacs with a short, compact left hook to the jaw that floored the tall, rangy title challenger. Although Tomas beat the referee's count, the reigning champ created an immediate deficit for the Slovakian born fighter.
Midway through the second round, Shumenov landed a hard right hand that put Kovacs down a second time. Although Beibut was patiently stalking his prey, the defending champ was seemingly having his way with his overmatched opponent. Kovacs survived his way through the remainder of round two, but the momentum was clearly with the champ.
In the third and final round, Shumenov landed the "Coup de Grace", by way of overhand right, that landed flush on the jaw of Kovacs and sent him slumping to the canvas. Despite beating the ref's count, the third man in the ring, Rafael Ramos called a halt to the contest at the 2:55 mark.
The victory marks Beibut's first fight competing under the Golden Boy promotional banner. The promotional giant could be setting up a unification bout with fight legend and IBF title holder Bernard Hopkins in 2014.