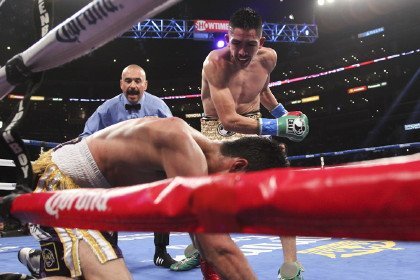 (Photo: Showtime) By Michael Montero: IBF bantamweight champion Leo Santa Cruz is one of the most proficient offensive fighters in the sport today; the kid just doesn't stop throwing punches, bell to bell. Tonight LA's Santa Cruz defended his IBF bantamweight title before a hometown crowd at the Staples Center against Victor Zaleta, of El Paso, Texas. As is typical in Santa Cruz bouts, this was a lesson in combination punching that was fun to watch.
From the opening bell it was Santa Cruz, now 22-0-1 (13 KO's), who charged forward, enforcing his will on his lesser experienced opponent. Zaleta was very game and never stopped trying, despite being dropped in the 4th round and again in the 7th. Both times he was put down he hung tough and fired back with determination. But he was being broken down systematically and it didn't look like he could finish the fight.
In the 9th round Santa Cruz finished the show, landing a flush straight right that dropped Zaleta, now 20-3-1 (10 KO's), for a third and final time. The ref called the fight right then and there, as the Texas native had taken enough punishment and looked in bad shape. Santa Cruz had thrown over 800 punches to that point and landed many hard shots in each round.
The sky is the limit for Leo Santa Cruz; he's definitely one of the top up and coming fighters in boxing. The offensive arsenal is complete – inside and outside, jabs, hooks, uppercuts, bodywork – everything. Who wouldn't love to see him face the winner of tonight's main event?
monteroboxing@gmail.com