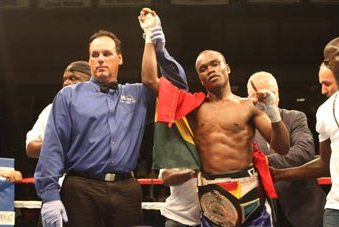 Samuel Kotey Neequaye moved a step closer to world championship reckoning after posting a split points' decision victory over Doreen Spivey to claim the NABA Lightweight title on Friday night.
The Ghanaian dominated floored the experienced Spivey in round 5 but nothing came easy for Neequaye who has dedicated the belt to his countrymen for their continued support.
"We just have to give thanks and praise to God almighty for making this happen. I feel blessed to be in this position. By grace of God am feeling so great, the feeling is great because it was not an easy fight but I kept my composure and stick to the game plan," Neequaye told the Ghana-based website, www.sportsinghana.com exclusively moments after being crowned champion.
He added: "I dedicate this title to all Ghanaians and let them know this is just the beginning of greater things to come. All I ask for is their continued support and the world title will be delivered by the grace of God."