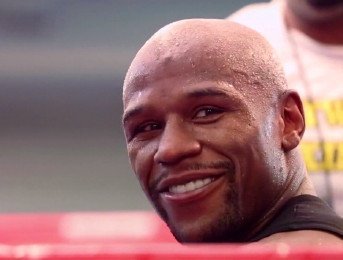 Former WBA lightweight champion Brandon Rios is extremely skeptical that a fight between the two biggest stars in boxing Floyd Mayweather Jr and Manny Pacquiao will take place in 2015. Rios says he'll believe it when he sees the two fighters in the ring.
Rios says he's suspicious of Mayweather's motives for suddenly saying he's interested in the Pacquiao fight. Rios thinks that one of the reason why Mayweather is mentioning a fight against Pacquiao right now is perhaps an effort for Mayweather to boost his name value. Rios thinks Mayweather is afraid that his name is dying and that by mentioning Pacquiao, he could be raising his name.
In other words, Rios thinks Mayweather is name dropping to increase his popularity the easy way without getting in the ring with Pacquiao.
"I don't believe it until we see [a] contract, until they actually walk into the [expletive] ring," Rios said to esnewsreporting.com "Until then, it could just be maybe Mayweather is scared that his name is dying a little bit because that's the fight that everyone want to see, him and Pacquiao. So he's just saying his name to bring his name back up, we don't know."
Wow, Rios is really hitting Mayweather where it hurts. Mayweather hasn't shown the habit of merely talking about different fighters unless he was interested in fighting them. He's not talked a lot about wanting to fight Pacquiao over the years. The times that he has talked about a fight against Pacquiao, it's come when he's attempted to get a fight against him with no luck.
Mayweather seems to genuinely interested in fighting Pacquiao next May. However, he appears to be getting resistance from Pacquiao's promoter Bob Arum, who says that Mayweather is poaching by trying to take the May 2nd date, which falls on the Mexican holiday Cinco de Mayo. Arum wants the May 2nd date for Saul "Canelo" Alvarez. Arum is trying to setup a fight between Canelo and his fighter Miguel Cotto for the Mexican holiday.
If this ends up getting in the way of a Mayweather-Pacquiao fight from taking place then Arum could be stuck with a much smaller fight. The Canelo-Cotto fight might turn out to be a lot smaller than many people think it's going to be due to the pay-per-view attrition. It's a good fight, but it might not do much more than 1 million buys, if that. In the meantime, the Mayweather-Pacquiao fight might be the casualty of all this.