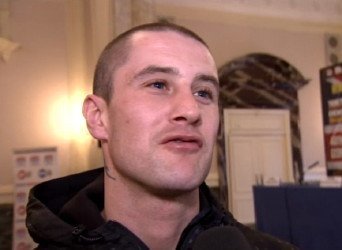 WBO lightweight champion Ricky Burns (36-2, 11 KO's) got his difficult title defense against Jose Gonzalez out of the way in beating him by a 9th round TKO last May, and now Burns will be making what should be a lot easier title defense against #8 WBO 8 Raymundo Beltran (28-6, 17 KO's) on September 7th in Glasgow, Scotland.
If Burns beats Beltran, he will likely face the winner of the Gavin Rees vs. Anthony Crolla fight next. That'll give Burns two relatively easy fights back to back before he has to take on someone dangerous like Sergio Thompson, Omar Figueroa or Terrence Crawford. That's where Burns will really be tested.
Beltran is a good fighter, but he's already lost at the top rungs of the division recently in defeats against Luis Ramos Jr. and Sharif Bogere. Beltran did defeat Hank Lundy and Ji-Hoon Kim recently, but those guys aren't in the same class as Burns and it's not the same thing.
Beltran's trainer Freddie Roach will no doubt have watched Burns's recent fight against Jose Gonzalez and will come up with a good game plan for him to try and capitalize on Burns' weaknesses. It's pretty easy to see what Beltran can do to try and win this fight.
Burns likes to cover up when his opponents are throwing a lot of shots, and if Beltran can unload on him at a constant pace for 6 or 7 rounds, he could do enough to get a decision by winning enough rounds in the second half of the fight. Burns only fights in spurts nowadays and he's definitely beatable.
Gonzalez was dominating Burns last May until he injured his hand and ran out of gas in the 7th. Burns then took over the fight and was able to get a stoppage win. However, Burns did not look good in that fight and he hasn't really looked good for a long time.
It's difficult to see Burns holding onto his WBO title for very much longer. He'll probably beat Beltran and he'll definitely beat Rees or Crolla, but when he's forced to take on the likes of Figueroa or Crawford, he's going to lose to both of those fighters. Sergio Thompson vs. Burns would be a 50-50 fight, and I'm guessing Burns will chose to face him after taking the winner of the Rees-Crolla fight.