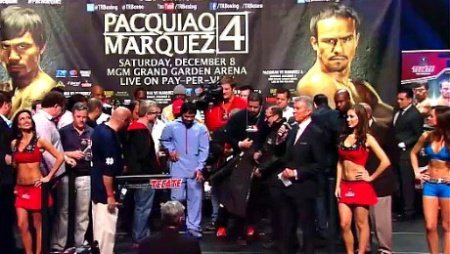 By Paul Strauss: One boxing journalist had the audacity to say, "I've seen it before. I don't want (need?) to see it again." Think about that for a minute. Three great fights, all of which have involved some controversy and debate over who was the real winner, and just because the fourth fight is between the same two combatants, this numbskull doesn't want to see it! He implies it will be tedious, irksome and lacking in interest! Bah! Humbug!
Most fans eagerly await the fourth fight, and would love to see a fifth snout and out bout, or however many times these two peerless, nonpareil fighters decide to lace on the gloves to face each other. That's no crapola! Their fights come with a guarantee devotees will see boxing at its best and get their money's worth of excitement. This journalist's foolish opinion is nothing more than tommyrot. It's beyond discussion. Discussion involves the exchange of knowledge, and this would be nothing more than an argument, a forced exchange of ignorance. Don't fall for it. Don't become flummoxed or addle brained into believing this will be boring. No way!
This is going to be another great fight, a beak buster! Much is at stake for both men. Manny wants to re-establish his worthiness as P4P and move back in line for a mega-million dollar match-up with Floyd Mayweather, Jr. JMM feels a win is necessary for him to remove all doubt created by those dastardly judges, who saw him as coming up a bit short in each of the previous three bouts. JMM has an urgent and admirable desire to leave a legacy of courage and greatness, and gain the love and respect from boxing fans that comes with it.
What's still true now, as with the first fight, is there's no precognition, no foreknowledge of who the winner will be, and whoever wins this jaw jammer will, in a sense, be seen as invincible, at least for the moment. All doubt will seemingly have been removed, but it will come with some changes to the usual physiognomy of each man. Their features will undoubtedly be featured.
What's also admirable with these two warriors is there's none of the usual vaporing, or boastful, bombastic talk or behavior. They don't brag or load up with gasonades, as do some problem children. These two are content with seeking out a "final settlement". Each man wants to put a simple quietus on fans of the other.
JMM plans to do it with punches unlooked for…….out of the blue, unforeseen. He will retreat, but as General Douglas MacArthur said, "We are not retreating. We are advancing in another direction." JMM will be dodgy, sly, wily and most of all treacherous. He will whittle away at Pacman, countering every move. He will bang away at Manny's slats, hoping to weaken him. He will use all of the normal shots, and come up with some hybrids. But, he also knows what Sugar Ray Robinson said about fighting Rocky Graziano applies to fighting Manny. Sugar Ray said, "When you fight Graziano, you be sharp, or you be flat!"
Manny, on the other hand, wants to once again be a whirling dervish, circling JMM with force and speed. He wants to annihilate his nemesis. He wants to hammer him out, blow him away. He promises bombs away. According to Manny and Freddie Roach, there will be no more of this one punch at a time crap. If Manny listens to Freddie, he will be throwing nothing but combinations, because he knows doing so will increase his chances of landing the big one. He knows the big one can knock JMM down and possibly out. At the very least, it will demobilize him and make him vulnerable for the sleep inducing shot. He feels he let opportunities to stop JMM slip away. In this fight, he wants to seize moments as they arise and victimize and plunder his foe, so there can be no excuses
So, who wins? Andre Ward said, "Success occurs when the opportunity meets preparation." Who do you think will be better prepared? JMM claims he is better prepared. He's bigger, stronger, faster, and with "cup therapy", who knows? I believe it was Gene Tunney who said, "If you have to fight, you should be prepared to do so from the neck up instead of the neck down." Will a multitude of distractions, not the least of which is a terrible typhoon that just hit the Philippines, affect Manny's performance?
As of now, we don't know if any (excuses) will be necessary. That's part of the excitement. Will this fourth face-off be climatic? Will there be a knockdown(s), a knockout, or a one-sided decision? Or, will the debate continue with another closely contested contest and controversial decision? If that happens, the truth might be contained in what the great basketball coach John Wooden once said, "Never makes excuses. Your friends don't need them, and your foes won't believe them." One thing is for sure. Fans will be treated to watching two of the best future hall of fame fighters in the world. Now, does that sound wearisome to you?