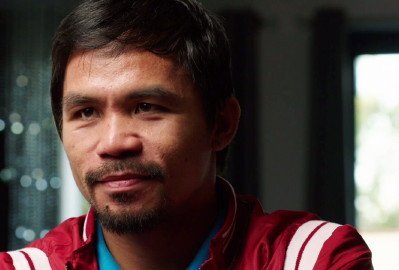 WBO welterweight champion Manny Pacquiao (56-5-2, 38 KOs) will be in training camp a grand total of 7 weeks to get ready for his first title defense of his WBO belt on November 22nd against light welterweight Chris Algieri (20-0, 8 KOs) in Macao, China.
Pacquiao might be better off having a longer training camp rather than a short one because it's going to be difficult for him to adapt to Algieri's defensive and highly mobile fighting style.
"Manny will camp out in General Santos City," said Pacquiao's adviser Mike Koncz to the Manila Bulletin.
Next Monday, Pacquiao and Algieri will start a 6-city press tour that will start in Macao, China and move to Shanghai and then to the United States. Pacquiao will be back in the Philippines by September 6th or 7th.
Pacquiao's life remains complicated and very busy with him being involved in PBA and his political career. He's obviously used to being a very busy person, but you've to wonder whether he's got his head fully focused on boxing at this point in his career. At 35, Pacquiao isn't young any longer and he hasn't knocked out an opponent in years.
With his history of leg cramps that slow him down in the ring, Pacquiao could find himself struggling on November 22nd against Algieri if he isn't 100% focused on the task at hand. Even if Pacquiao is focused and has a great training camp, Algieri could still make this a very difficult fight for him with his movement and constant jabbing. Algieri likes to make his opponents miss with their shots while countering them with shots of his own.
One thing that Pacquiao has going for him in this fight, besides his hand speed advantage, is his punching power. He hits harder than Algieri, and this could enable him to get the nod from the judges even if he winds up getting out-boxed in the fight. If the judges are mainly looking for the harder, cleaner landing shots, then they'll likely be more impressed with Pacquiao's shots than the lighter punches from Algieri.