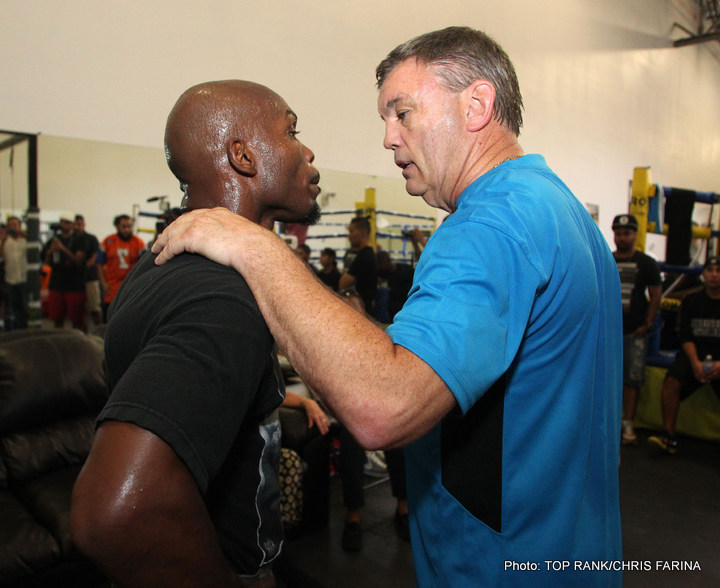 Manny Pacquiao likes what he sees in the changes that trainer Teddy Atlas has seemingly made in the fighting style of WBO welterweight champion Tim Bradley since he started training him. Pacquiao feels that Bradley is a more aggressive fighter now that Atlas is at the wheel in his training camp, and he's hoping that Bradley will fight aggressively against him when they get inside the ring on April 9 in their fight on HBO pay-per-view from the MGM Grand in Las Vegas, Nevada.
Pacquiao wants the 5'6" Bradley to fight aggressively on April 9th, because he sees this as an opportunity to give the fans a great fight for their money.
Pacquiao's last fight against Floyd Mayweather Jr. last May was something of a disappointment with neither fighter doing much to entertain the fans. Pacquiao (57-6-2, 38 KOs) had a right shoulder injury that prevented him from fighting at his best. Mayweather didn't help matters by using movement and fighting defensively the entire 12 round fight instead of taking risks.
For casual boxing fans that had never seen Pacquiao and Mayweather fight before, they were disappointed and many of them felt that they had thrown away their money in paying to see the dull fight.
"When he (Bradley) took in a new trainer, he became a bit more aggressive," said Pacquiao to mb.com.ph. "If he maintains that fighting style, the fans will be in for a treat. I like that."
The chances of Bradley (33-1-1, 13 KOs) fighting aggressively against Pacquiao in their fight on April 9th are probably not good. Bradley brawled with Pacquiao in their second fight in 2014, and it didn't work out well in his favor. Pacquiao was able to get the better of Bradley with his superior hand speed and punching power in winning a 12 round unanimous decision.
Bradley, 32, had more success in his first fight with Pacquiao in 2012, when he chose to use in and out attacks to land shots and then get away before Pacquiao could return fire. That style of fighting worked best for Bradley compared to how he fought in the second bout two years later in 2014.
Atlas is likely going to have Bradley moving around the ring like he did in his win over Juan Manuel Marquez, and not standing and trading with Pacquiao. Atlas has said repeatedly that he wants Bradley to fight smarter. The only way he can do that is to avoid standing in front of Pacquiao like he did in their last fight in 2014.
The good news is that Bradley tends to get drawn into brawls a lot, so it's possible he could forget about Atlas' game plan and slug with Pacquiao at certain points in the fight. Atlas will obviously be in the corner to remind Bradley in a forceful manner that he needs to stick to the game plan. It'll be interesting to see if Atlas is able to get Bradley to follow his instructions in a consistent enough manner for Bradley to get the victory.