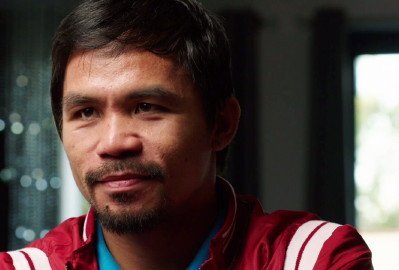 Teddy Atlas of ESPN isn't counting out unbeaten Chris Algieri (20-0, 8 KOs) in his fight against the 35-year-old Filipino fighter Manny Pacquiao (56-5-2, 38 KOs) in their 11/22 bout at the Cotai Arena, Venetian Resort, Macao, Macao S.A.R., China.
While Atlas likes Pacquiao's skills and his power, he still sees him as having a lot of mileage on him from all the hard fights he's had during his 19-year pro career. With Pacquiao having fought that long, Atlas sees Algieri as having a real chance of whipping Pacquiao and taking his WBO welterweight title in front of the entire boxing world on HBO pay-per-view.
"You don't know what Pacquiao's gonna be when he gets in the ring," said Atlas to Fighthype.com. "This is a guy [Pacquiao] who's got a lot of problems, a lot of distractions, a lot of things around. He's got a lot of miles on the odometer. He's only a couple fights removed from being knocked out cold."
As much as I want to disagree with what Atlas is saying, I simply can't. He's speaking too much logic here for me to disagree with his wisdom. The fact of the matter is Pacquiao does have a lot of mileage on him, and he was recently knocked clean out by Juan Manuel Marquez.
Pacquiao has had two fights since then against Brandon Rios and Tim Bradley, but he was stunned by the light hitting Bradley last April. Algieri isn't likely going to be able to put a dent in Pacquiao's chin the way that Marquez did, but he could stun him or stagger him.
Algieri's thing is to hit and not get hit in return, and that's a style that will give Pacquiao a great deal of problems when they get inside the ring on November 22nd. Pacquiao needs someone to either stand frozen in place for 12 rounds or someone who comes straight at him for him to do well.
"Who knows he (Algieri) might get Pacquiao on an off night and you'll never know. He's made us all wrong so far," Atlas said.
I think Atlas might be right. If Algieri can continue to box Pacquiao for the entire fight, and focus on his defense, he could very well clown Pacquiao in front of the entire world and take his WBO strap in the process.