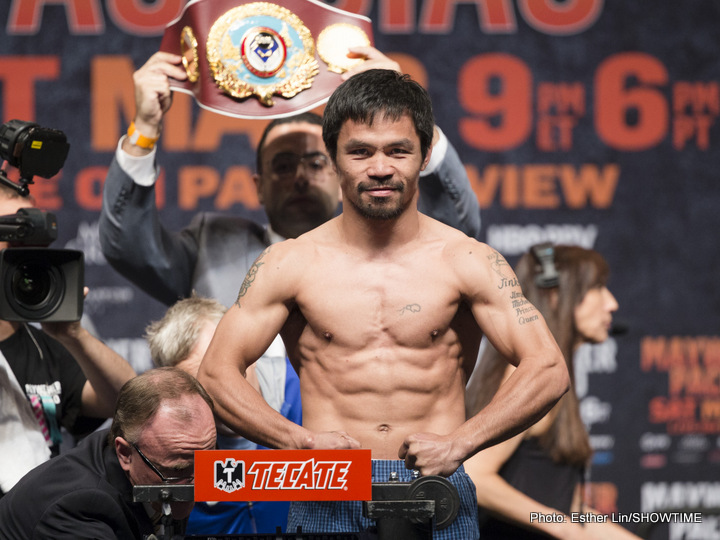 Manny Pacquiao Vs. Saul Canelo Alvarez: if it happened it would be enormous, and Top Rank boss Bob Arum – perhaps as a result of a little too much celebrating over his 50 years in the game – says the fight could happen, at a catch-weight of 155-pounds. Speaking with Fighthub.com, Arum said that if Pacquiao can defeat Tim Bradley in their rubber-match on Saturday, and if Alvarez can defeat Amir Khan in May, the dream-fight could go ahead.
"We're going to see about that," Arum told Fighthub on the subject of a mega-fight between the 37-year-old and the 25-year-old. "Manny has to beat Tim Bradley, and he's got to decide that he wants to keep fighting. I think Canelo would accept the challenge but Canelo also has an obstacle. Amir Khan's not going to lay down. I think Canelo wins that fight but it's not an easy fight. Manny, the way he is now with both hands working, Canelo is going to take the kind of beating from Manny that Oscar [De La Hoya] took. That's a decision for Manny. I don't tell him who to fight."
So is Arum off his rocker – the same thing was said many moons ago, don't forget; when Pacquiao against De La Hoya was first announced – or could this fight actually happen? It would be a huge deal if it did go down (even if yet more ammo would be fired at Canelo for "ducking" a man with the initials GGG!) and who knows, maybe Pacquiao – who boxed at a career-high 150-pounds when he gave the fearsome Antonio Margarito a fearsome hiding in 2010 – could even beat Alvarez.
Alvarez, as his promoter De La Hoya even acknowledges himself, has trouble with movers. Alvarez would possibly have real problems with the speed and movement of Pac-Man, to say nothing about the blurring hand speed and power of the southpaw. Both superstars have good, intriguing fights coming up, fights both men could, theoretically, lose (David Haye is utterly convinced the experts have got it wrong and that Khan will out-point Canelo; as he explained to IFilm TV recently – adding how he is going to put a large bet on the May fight) and of course, Pacquiao has said for a while this Saturday's fight will be his last.
But if Pac-Man did beat Bradley, if Canelo did beat Khan, and then if Pacquiao decided to go for one last massive fight before retiring, this match-up would be a helluva way to say goodbye. Even those people who are giving Canelo hell for not yet having agreed to fight Golovkin might even cut him a little slack if he took this fight!