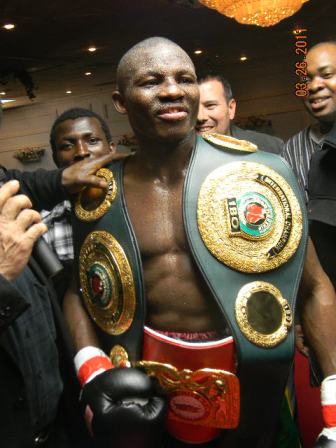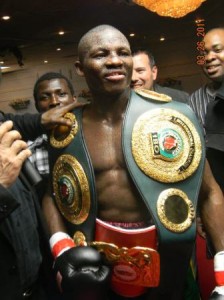 Chicago based Middleweight championship aspirant, Osumanu Adama once again emphasised his case for a crack at any of the top titles after outpointing American Doel Carrasquillo courtesy a round 7 stoppage in a scheduled eight rounder last Friday night at Cicero Stadium, Cicero, Illinois, USA.
Adama, now 22-3, 16 knockouts, Joliet, Illinois by way of Accra, Ghana, was fighting for only the second time since his unsuccessful bid in his first world title fight against IBF Middleweight champ, Daniel Geale, losing a close 12 round decision in Tasmania, Australia, on March 7, 2012.
Only last March 16 did he fight since the failed world title bid a year earlier but after taking to the ring again within four months, Adama says he is in the groove again and will work hard to get a shot at the world title yet again.
But first he wants the champion to agree for the fight to take place in the United States.
"I'd love to fight Daniel Geale again, but not in Australia again. My eyes were blurring after the second round with Geale. I never felt this way in the ring in my life. I think they (Geale's corner) know something about the coagulant which caused my eye distress. Fight me in the (United) States, Daniel Geale, show me you're a real champion," Adama said in an interview even before the win over Carrasquillo.
"Thanks be to Allah for the victory. I'm trying to fight 3 more fights and I could be back up the rankings again. It's hard work all the way," Adama said.