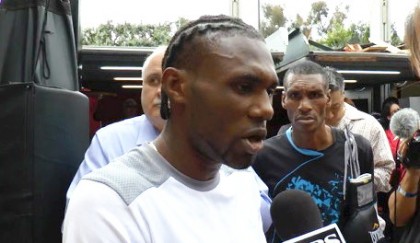 NICHOLAS WALTERS – "I'm a descendant of the gladiators. I come to fight. I'm not sure if the fight is going to go past four rounds. It depends if Sosa comes to fight. I'm sorry, but Sosa is not going do to me what I did to Nonito Donaire or Vic Darchinyan.
"I'm a lion! I don't know if Sosa is a lion. People are expecting a big fight, and I'm going give them a big fight. The Axe Man is very dangerous. He's always prepared for a war.
"When you don't know much about a fighter, that's dangerous. Sosa will find out. Nonito didn't know much about me until I knocked him out.
"Next year, anything is possible. I'm looking to fight the big names fighters. Gamboa? Anything is possible. Vasyl Lomachenko is not looking in my direction. But I'm here. I'm ready to fight. I'm not hiding from nobody. I'm a true fighter. I believe if I'm going to be the best, I have to fight the best. I'm not even concerned about fighting at heavier weights. I've been sparring guys at 140 and 145 pounds."
JASON SOSA
"I played basically every sport, from football to soccer, and used to work a day job in park services until two years ago.
"I first learned how to street fight growing up in the notoriously tough Camden, NJ. That was a plus.
"I'm very intelligent in the ring. I've got to give it to my guy — my father figure — Raul Rivas. He changed my whole boxing style. I believe after this fight, people will recognize Raul "Chino" Rivas as one of the top trainers.
"I'm the bigger, the stronger and the smarter guy. I've sparred taller, longer, heavier guys in training camp. We know what we're expecting from Walters, and we're ready for it.
"My prediction is: I'm going to go out there and focus. I feel that we are going to come out victorious.
"I'm an aggressive fighter, a smart fighter, a powerful fighter."
"I have some advice for all the fight fans who don't know me who will be tuning into HBO on Saturday night. Don't blink!"
ard-winning accommodations, a diverse mix of restaurants, luxury spas and several nightlife options.
Undefeated former World Boxing Association (WBA) featherweight world champion NICHOLAS "Axe Man" WALTERS returns to the ring to take on granite-fisted Top-10 contender JASON "El Canito" SOSA in a 10-round junior lightweight rumble. Walters vs. Sosa will take place This Saturday! December 19, at Turning Stone Resort Casino in Verona, NY. Promoted by Top Rank®, in association with Peltz Boxing Promotions and Warriors Boxing Promotions, Walters vs. Sosa will be televised live on HBO Boxing After Dark, beginning at 10:15 p.m. ET/PT. Doors will open at 6:00 p.m. ET. The telecast will also feature Bryant "By-By" Jennings vs. Luis "The Real King Kong" Ortiz in a 12-round heavyweight battle for the WBA interim Heavyweight title. That fight will be presented by Golden Boy Promotions, in association with Gary Shaw Productions.
Walters and Sosa boast a combined record of 44-1-3 (35 KOs) — a winning percentage of 92% — with 80% of their victories coming by way of knockout.
"I am training hard in Panama. I know how important this fight is and I will be in optimum physical condition," said Walters. "My team has been studying video of my opponent Sosa. I cannot wait to leave Panama, get into Verona, New York and get inside the ring. Boxing is my passion."
"First, I would like to thank God for all that he has done for me in my life. I also would like to thank Russell Peltz, Top Rank and HBO," said Sosa. "I would also like to thank Nicholas Walters for giving me the opportunity to fight on December 19th. He is a very strong fighter and the toughest opponent that I have faced. But I am up for the challenge. I have a great team and they are getting me in the best shape of my life and making sure that I am mentally and physically ready to come away with the win. I am sure we are both ready for war and fans are not going to want to miss this."
"I believe this will be the final Fight of the Year candidate for 2015," said Carl Moretti, Vice President of Top Rank. "The making of this fight is the product of the right decision made at the right time by all the right people."
Walters (26-0, 21 KOs), from Montego Bay, Jamaica, has won 11 of his last 13 fights by stoppage. He captured the vacant WBA featherweight title on December 12, 2012, knocking out Daulis Presscott (26-1, 19 KOs) in the seventh round. He successfully defended the title three times during his three year reign — all by knockout — stopping Alberto Garza, former two-division world champion Vic Darchinyan and 2012 Fighter of the Year and former four-division world champion Nonito Donaire in the fourth, fifth and sixth rounds, respectively. A former amateur standout who collected gold medals at the 2007 Pan American Games Qualifier III and the 2005 and 2007 Caribbean Championships, Walters is known for his expert boxing skills and movement and two-fisted punching power that are at a caliber of a much higher weight class. In his last fight, on June 13 at Madison Square Garden, Walters was forced to vacate the title when he failed to make the weight limit by one pound. However, he emerged victorious, winning a unanimous decision over the previously undefeated Top-10 contender Miguel Marriaga.
Sosa (18-1-3, 14 KOs), from Camden, NJ, enters this fight riding a four-year, 17-bout unbeaten streak which includes 13 consecutive knockout victories dating back to 2012! Many local fans, who flock to his fights, consider Sosa to be one of the best fighters to come out of Camden since Dwight Qawi. Sosa's been a fan favorite since turning pro in 2009 because of his exciting and aggressive style, strong punching power and an average length of bouts of under four rounds. He is currently world rated No. 8 by the International Boxing Federation (IBF) and No. 13 by the WBO.
Host of the event, the Oneida Nation's Turning Stone Resort Casino, continues to distinguish itself as a premier destination for blockbuster boxing matches. The December 19 card will mark Turning Stone Resort Casino's 16th nationally televised boxing event in less than two years, cementing the resort as a mecca for knockout televised fights. Located in Upstate New York, the four-season destination resort offers world-class entertainment and gaming, award-winning accommodations, a diverse mix of restaurants, luxury spas and several nightlife options.
Professional media requesting credentials for the December 19 event must contact Kelly Abdo, Turning Stone Resort Casino Public Relations Manager at (315) 366-9291 or kelly.abdo@turningstone.com.
Remaining tickets, priced at $60, $35 and $25, plus applicable fees and taxes, may be purchased at the Turning Stone Resort Box Office, by calling (315) 361-7469, or online via www.ticketmast.com.