Hassan N'Dam N'Jikam 72.3kg/159.5lb vs Ryota Murata 72.3kg/159.5lb
(WBA Middleweight championship)
Juan Hernandez Navarrete* 51kg (.2kg over) vs Daigo Higa 50.8kg/112lb
(WBC Flyweight Championship)
*Juan Hernandez Navarrete loses the title on the scale.
Ganigan Lopez 48.8kg/107.75lb vs Ken Shiro 48.8kg/107.75lb
(WBC Light Flyweight Championship)
Promoter: Teiken Promotions
Venue: Ariake Colosseum Tokyo Japan
Broadcast: Fuji TV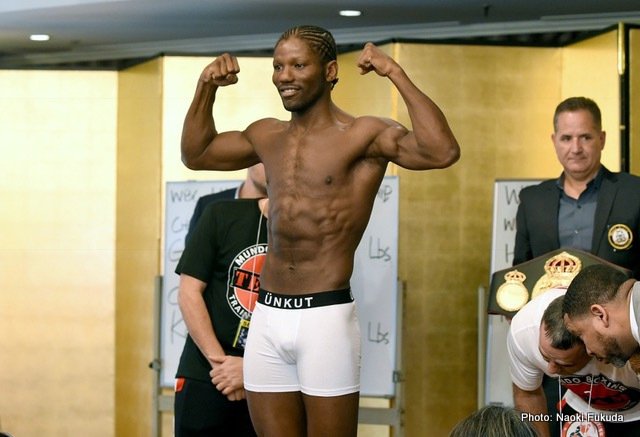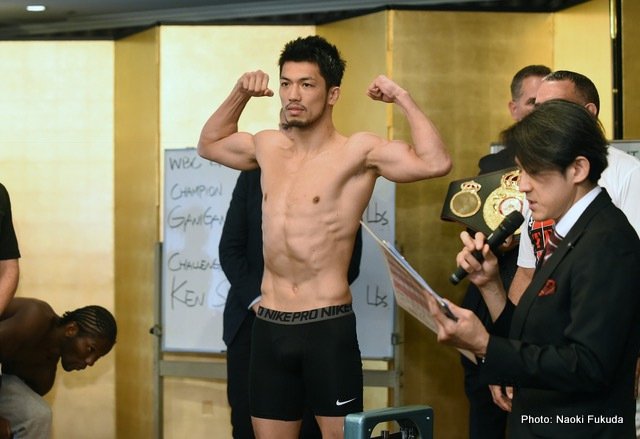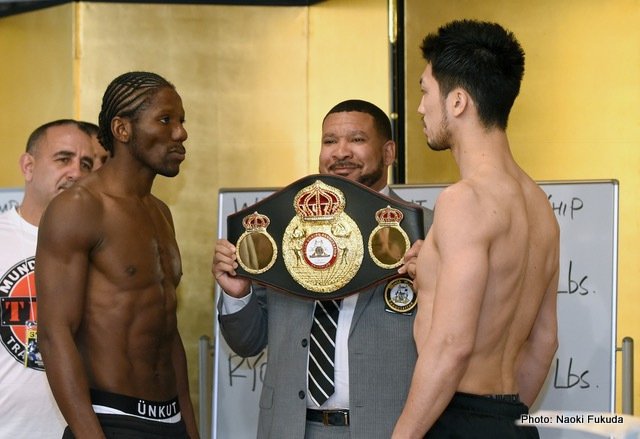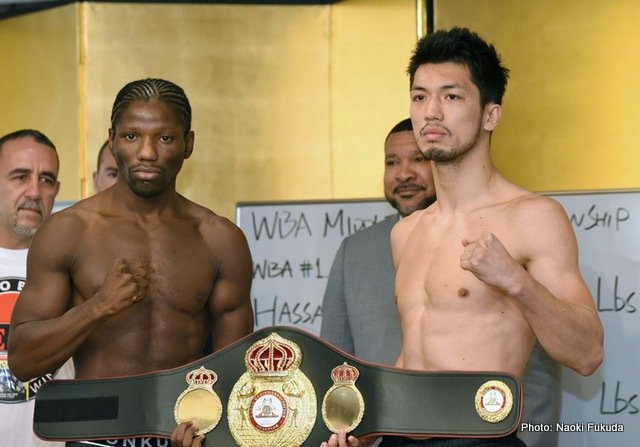 Tokyo – Thursday May 17th at the Grand Palace Hotel WBA Interm Middleweight Champion Hassan N'Dam N'Jikam of France (35-2-0, 21 KO's) and 2012 Olympic gold medalist Ryota Murata of Japan (12-0-0, 9 KO's) held their final press conference to decide the regular WBA World Middleweight champion at the Ariake Colossuem in Tokyo Japan set for this Saturday May 20th, 2017. Also on the fight card are two WBC world championship bouts. DaigoHiga (12-0-0, 12 KO's) of Okinawa, Japan will challenge Juan Hernandez Navarrete (34-2-0, 26 KO's) of Mexico City D.F. for the WBC Flyweight championship. Ken Shiro (9-0-0, 5 KO's) of Kyoto, Japan faces WBC light flyweight titlist Ganigan Lopez (28-6-0, 17 KO's) of Mexico City D.F. Press in attendance and coverage of this mega event has been unprecedented due to Ryota Murata's ever growing star power in Japan. This triple title event is presented by Teiken Promotions and televised live by Fuji TV at 7:00pm JST.
PRESS CONFERENCE QUOTES
HASSAN N'DAM N'JIKAM vs. RYOTA MURATA
WBA MIDDLEWEIGHT CHAMPIONSHIP
RYOTA MURATA:
"It's the world title fight that I look forward to and I would like to thank you all for being here"
"There is pressure to perform but I am excited more than anything"
"Looking at it now I'm not really concerned about the belt but my focus is in beating Hassan N'Dam"
"My game plan is already set so I'm not going to change anything now, I just have to make weight and show my best.
"Hassan is a fighter I respect and I've seen him fight on TV and I am excited to face him and on Saturday I can't wait to fight"
"The value of the title isn't something that I can judge but I'm thankful for the opportunity and I'm looking forward to the fight and all I can do now is win"
"Ill do my best and the day after tomorrow I'll win"
HASSAN N'DAM:
"Hello to everyone. Its 2 days before my fight and I feel very good. It's the first time for me seeing so many people for the press conference and I hope it will be the same for the fight because you're going to enjoy a great fight. I want to thank the people who support me. I want to thank my promoter Sebastian Acarias who has done everything to make the fight happen. I want to thank my team, Pedro Diaz and Oswaldo who helped me throughout training camp. I want to thank all my family, all my friends and my sparring partners who helped me to be great today. So I feel very good and lets see whats gonna happen Saturday"
"This will be my 7th world title fight. It will be a great fight for me because I know what to expect. Murata was an Olympic champion but he needs to prove to me that he can stand with me. I think you are very prepared for this fight so I hope to have a great fight with you"
"My nickname is "El fenomeno"that means "I am the showman" The fight is going to be a show. I'm gonna be ready for that fight. I think Murata is going to be ready too. It's going to be a great fight but I've already fought the best boxers in the world and I know this game. I've been in this business a long time. So lets see this Saturday whats gonna happen, but I think I'm going to win."
"Be ready for Saturday because you're going to get a great fight. You (Murata) have12 fights with other fighters but right now you are facing Hassan N'dam, it will be more difficult for you"
JUAN HERNANDEZ vs. DAIGO HIGA
WBC FLYWEIGHT CHAMPIONSHIP
JUAN HERNANDEZ:
"Good afternoon, thank you to all who attended. I'm happy to be in Japan. It's my 2nd time here and I return as a champion. My mindset is different this time around and I want to put on a great show on Saturday"
"It will be a difficult fight for me to defend my title. I want to defend my title and bring the belt back home"
"I am against a fighter with an unbeaten record so I want to fight a smart fight. I will do whatever it takes to take the title home to Mexico. I got the title in Thailand with a KO so I want to show a good victory this time as well"
DAIGO HIGA
"Honestly I'm excited. From being accepted to the gym then starting as a pro and now having the opportunity to challenge for the world title"
"I will go withthe flow of the fight against a great opponent, use my footwork and show good boxing. I don't think I can become a champion without that so I will defeat him and win"
"Thank you very much to my manager, he raised my from an amateur and I very thankful to him for letting me in the gym. I am thankful to him for the opportunity"
"I know I have to do whatever it takes and leave it all in the ring to take the win"
GANIGAN LOPEZ vs. KEN SHIRO
WBC FLYWEIGHT CHAMPIONSHIP
GANIGAN LOPEZ :
"Good afternoon. I'm happy to be here. I've done all the preparation in Mexico and I'd like to show the fight of a world champion"
"I've fought very good young fighters but I come as the champion and I will return to Mexico the champion of the world"
KEN SHIRO:
"The nerves are the same a usual, I will win at all costs"
"I'll box the way I always do and push the action"
"I would like everyone to know my name, I want to win a world championship to repay those that have helped my along the way"
"I will win no matter what, please root for me"
Brant Waiting Eagerly to Face Winner of N'Dam vs. Murata Tomorrow Night
No one is watching tomorrow night's fight for the vacant WBA World middleweight title between Japan's Ryota Murata #2-rated and France's #1-rated Hassan N'Dam, at the Ariake Colosseum in Tokyo, Japan, more closely than WBA #3 contender Rob "Bravo" Brant and his promoter, Greg Cohen.
Brant (22-0, 15 KOs), of Saint Paul, Minnesota, is mandated by the WBA to face the winner within 120 days.
The fight, which will be Brant's first for a world championship, will be the culmination of a fantastic 2016-2017, that saw him win the WBA-NABA Middleweight Championship via spectacular knockout over Decarlo Perez in January of last year and then go on to defend it successfully twice more.
Cohen, whose expert guidance has led Brant to fighting on national television numerous times while gaining a large following of fans, especially in his home state, says he's probably more excited for Brant than he is.
"Rob is a special fighter and an outstanding person and I'm so happy for him," said Cohen. "He has worked so hard to get here and after tomorrow night, he'll know who he's facing for his first world title. I have always believed in Rob Brant and I know he'll be victorious when the day comes. He's a winner. That's what he does."
About Greg Cohen Promotions
One of boxing's premier promotional outfits, Greg Cohen Promotions (GCP) is a well-respected name for staging world-class professional boxing events and promoting elite professional fighters throughout the world.
Founder and CEO Greg Cohen has been involved with professional boxing in various capacities since the late 1980s, honing his craft and establishing himself as a shrewd international boxing businessman.
Distinguished by his ability to spot and develop raw talent, Cohen first made promotional headlines for his expert guidance of, among many others, former WBA Junior Middleweight Champion Austin "No Doubt" Trout, who Cohen helped guide from unknown New Mexico prospect to elite pay-per-view level superstar.
In addition to Trout, Greg Cohen Promotions has worked with established names such as former unified and two-time heavyweight champion Hasim "The Rock" Rahman and all-time-great multiple-weight class world champion James "Lights Out" Toney.
Cohen currently promotes Undefeated WBO NABO Heavyweight Champion and top 10 world-rated contender Jarrell Miller, Undefeated WBA NABA Middleweight Champion and top 5 world-rated contender Robert Brant, WBO NABO Lightweight Champion and top 5 world-rated contender Mason Menard, former WBA Interim World Lightweight Champion and top 10 world-rated contender Ismael Barroso, top 10 world-rated contender Rico Mueller, undefeated WBA International Bantamweight Champion and world-rated contender Mzuvukile Magwaca, WBO Oriental Super Welterweight Champion and world-rated contender Dennis Hogan, IBO World Featherweight Champion Lusanda Komanisi, former WBO Super Lightweight World Champion Kendall Holt, as well as current top 10 world-rated contenders cruiserweight Olanrewaju Durodola, Filipino Jr. Lightweight star Harmonito Dela Torre, Filipino Super Lightweight Czar Amonsot, and top 15 world-rated contenders featherweight world title challenger Eric Hunter and Guyanese bantamweight Elton Dharry.
Greg Cohen Promotions has hosted world-class boxing events in the finest venues throughout the United States and the world and has also proudly provided talent and/or content for several television networks including CBS Sports Network, HBO, Showtime, ESPN, NBC Sports Network, CBS Sports Network, MSG and FOX Sports Net.