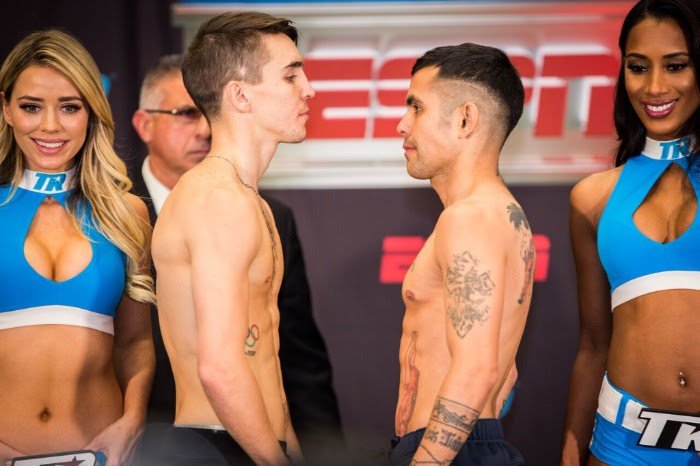 Photo: Ricardo Guglielminotti/The Fighting Irish – Michael Conlan and Luis Fernando Molina have weighed in ahead of their chief-support bout on the undercard of the world super-featherweight title showdown between Vasly Lomachenko and Guilermo Rigondeaux in New York.
Belfast native Conlan tipped the scales at 126.2lbs ahead of the six-round featherweight fight, while Molina weighed in at 125.4lbs at Madison Square Garden.
Double Olmpympic champions Lomachenko and Rigondeaux meet in a historic main-event battle at the MSG Theater on Saturday night, while London 2012 medallist Conlan will compete in the co-feature bout ahead of the night's main course.
The bout will mark undefeated Conlan's fifth outing as a pro as he aims to boost his 4-0 (4 KOs) record against 29-year-old Molina (7-3-1) and the 26-year-old Irishman was in a confident mood after Friday afternoon's weigh-in.
"I'm feeling great and really looking forward to the fight," said Conlan. "I made the weight easy this time and the whole week has been brilliant.
"I love being back in New York – the support I have here is amazing – and the amount of Irish accents at the weigh-in was just great to hear. I'm going to have some support tomorrow night.
"I'm confident that I'll win and win it fairly easily, but this guy [Molina] is a good step up for me. He was decent as an amateur and he's only had a few losses as a pro – I believe one or two of them were disputed – so I expect him to be looking to come and claim a scalp.
"Top Rank have given me great backing and I can't let an opportunity like this slip," added the Falls Road fighter, whose bout will be screened live in the US on ESPN and on BoxNation in the UK and Ireland.
The MTK Global-managed boxer topped the bill at the same venue last March on his debut and will return to MSG on St Patrick's Day 2018 if all goes to plan in his bout on Saturday night.
"I have a lot riding on this in the sense that next year is going to be a massive year for me," said Conlan. "Loma and Rigo are two great fighters and a lot of people will be watching, but I'm out to make a name for myself in the States and I need to win in style to make people sit up and take notice."
Michael Conlan out to bag his fifth knockout when he takes to the ring in NYC
Michael Conlan has predicted that he will record his fifth stoppage win on the spin when he takes to the ring in the chief-support bout to the world super-featherweight-title clash between Vasyl Lomachenko and Guillermo Rigondeaux in New York tonight.
Former world amateur champion Conlan (4-0, 4KOs) takes on Argentinean Luis Fernando Molina (7-3-1) in a six-round co-feature featherweight bout at Madison Square Garden's Theater in support of two of world boxing's most gifted fighters.
The meeting of Lomachenko and Rigondeaux marks the first time that two double Olympic champions clash in the pro ranks, while London 2012 medallist Conlan will feature on their undercard.
Since turning pro last March – topping the bill at MSG with a stoppage win over Tim Ibarra on St Patrick's Day – Conlan has recorded four wins in less than nine months.
The former world, European, Olympic and Commonwealth medallist is keen to impress this weekend as he features live on ESPN TV in the US and BoxNation in the UK and Ireland.
"I don't think it will go past four, definitely not. If a stoppage actually happens in the fourth it happens, but I don't see it going past four and I'm feeling confident," said Conlan, who tipped the scales at 126.2lbs at Friday's weigh-in.
"I've watched a good bit of him [Molina]. He comes forward, he's a rugged little fighter and he's game. I think he had a decent enough amateur background –he fought at a decent level as an amateur and as a pro he's had seven wins, two losses and one draw and they were close losses. He's game and he's going to come to win, but I think he's going to be made for me.
"I've already headlined at the Garden and I'm going to be top of the bill again on St Patrick's Day next year, but I need to impress in this fight. It's a huge main event – two of boxing's best going at it – and I have a great opportunity to show what I'm capable of and I won't be wasting that chance."
Conlan's manager, MTK Global's Matthew Macklin, believes the Belfast native will be out to make a statement this weekend.
"I want to see a clean performance, with a good shot selection. Pick his punches and don't rush it," said Macklin. "He'll dictate the pace and fight when he wants to fight and rest when he needs to. He'll be the boss in there and I want to see a very controlled and composed performance.
"This is a great stage for him to be on, but he deserves to be here. Top Rank have really backed him, but he has all the tools to be a huge attraction here in New York and I believe he'll show why on Saturday night."
Molina weighed in at 125.4lbs and insisted he will be out to cause an upset this weekend, but the Buenos Aires native will have a confident opponent and a hostile crowd against him.
A sell-out attendance of over 5,000 will be present at MSG for Saturday night's bouts and Conlan claims he will deliver a performance to please his travelling fans.
"I've a huge amount of support coming from Ireland and I've really got great support here in New York too, so I want to make sure the fans get their money's worth," said Conlan. "They won't be going home disappointed. They'll have a knockout win to celebrate and I'm sure they'll make themselves heard!"