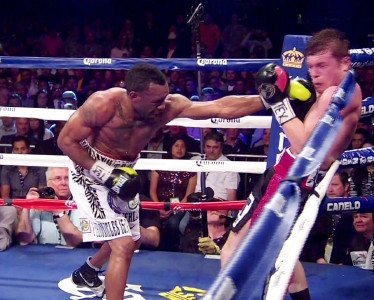 According to Steve Kim, Team Mayweather is saying that WBA/WBC junior middleweight champion Saul "Canelo" Alvarez will have to come down to 147 if he wants to fight Floyd Mayweather Jr. on September 14th. There won't be a catchweight of 150 and Mayweather won't move up in weight to fight Canelo at his weight of 147.
This now puts it on Canelo and his team whether they want the fight enough for Canelo to melt down 7 pounds from 154 to 147. It's certainly possible for Canelo to do this because if someone like Julio Cesar Chavez Jr. is able to melt down from 190 to 160 and make weight for his middleweight fights, then Canelo should be able to come down from 172 to 147 to make weight.
We're only talking about 25 pounds of water weight rather than 30. Canelo has come into his other fights weighing in the mid-160s, so it really shouldn't be that hard for him if he trims down a little to where he's weighing in the 160s when he faces Mayweather.
That would mean that Canelo would only have to take off around 20 pounds of water weight to make the 147 pound limit. That's perfectly reasonable and done all the time by fighters. If Cnelo rehydrates back up to 165+, he'd still have around a 15 pound weight advantage against Mayweather.
That should be more than adequate to make up for his lack of hand speed, experience, work rate and stamina. Of course, the fight won't take place in Texas, and there won't be the open scoring like there was the last time Canelo fought.
Fighting without opening scoring could make it difficult for Canelo because it would force him to fight with a lot more energy than he did last time he fought with the open scoring. The judges that worked the Canelo vs. Austin Trout fight last month had Canelo up by a huge margin after the 4th and 8th rounds despite fight looking like it was even fight, if not a slight edge to Trout.
Canelo looked exhausted in that fight, barely able to fight hard for a full one minute of every round. He won't have that luxury against Mayweather because the fight won't be with open scoring. That isn't happening and if the WBC tries that bit, you can bet Mayweather's WBC welterweight won't be on the line.