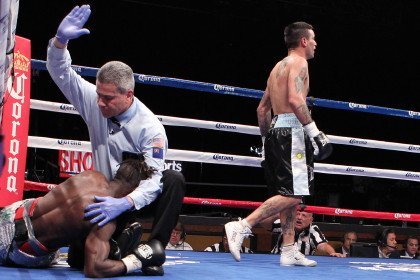 (Photo credit: Tom Casino/Showtime) By Marcus Richardson: Argentinian Lucas Matthysse (32-2, 30 KO's) finally ran into some good luck tonight in defeated #1 WBC 140 lb contender Olusegun Ajose (30-1, 14 KO's) by a 10 round TKO on Saturday night to claim the WBC interim light welterweight title at the Hard Rock Hotel and Casino, The Joint, in Las Vegas, Nevada. Matthysse, 29, battered Ajose from the 3rd round, hurting him constantly with punishing body shots and combinations to the head. In the 10th round, Matthysse put Ajose down. The fight was then stopped at 2:59 of the round.
Ajose looked rubber legged through much of the 2nd half of the fight as he kept taking ferocious head and body shots from Matthysse. Somehow, Ajose was able to take the shots without going down, but it wasn't him any good. His own shots had no affect on Matthysse, who just walked through the punches like they weren't there and continued to deliver his own punishing shots.
At the end of the 9th, a grinning Matthysse seemed to hurt Ajose when he had him against the ropes. It was pretty clear at that point that Ajose wasn't going to be able to survive the next round, and sure enough that's what happened. Matthysse punished him until getting a knockdown. The fight was then halted.
This win puts Matthysse in position to where he'll be fighting the winner of the October 20th fight between WBA/WBC light welterweight champion Danny Garcia and Erik Morales.
In other action on the card:
Daquan Arnett TKO 4 Jesus Tavera
Ishe Smith UD 10 Irving Garcia
99-90, 100-89 & 100-89
Melinda Cooper MD 6 Celine Salazar
J'Leon Love DQ 8 Ramon Valenzuela