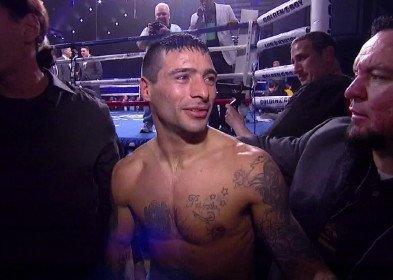 Lucas Matthysse (34-3, 32 KO's) isn't going to let his recent defeat at the hands of WBA/WBC light welterweight champion Danny Garcia get in the way of his continuing to progress to win a world title fight. For Matthysse, he sees this as a bump in the road.
Matthysse's going to be getting back in the gym and he wants to fight in April or May of this year. He could be trained by Robert Garcia in Oxnard, California. This would enable Matthysse to train side by side with Marcos Maidana. They both come from Argentina. Robert Garcia has done a great job with Maidana's career and improved his defense as well as his offense. It would be interesting to see what Garcia could do with Matthysse to make him a little more finesse oriented.
"I'm gonna take the title back," Matthysse told campeonenelring.
Asked when he would fight next, Matthysse said "between April and May."
Matthysse would be great opponent for Adrien Broner or Zab Judah, if Golden Boy Promotions could get either of those two to agree to fight Matthysse. But Matthysse needs to learn to box more for him to succeed long term, because he's not going to be able to just go out looking to score knockouts each time he fights. That's what ultimately caused Matthysse to lose to Danny Garcia. He kept trying to slug with him instead of adjusting his game to use his jab, move his head, and move around the ring to avoid some of Danny's clinches and low blows.
A good trainer like Robert Garcia would have given Matthysse some solid advice in the Garcia fight, and it's hard to imagine Matthysse losing it with Garcia in his corner. As it was, Matthysse lost a close decision to Garcia. Unfortunately a getting a rematch with Danny is not going to be easy for Matthysse, because he's moving forward with his career, and he'll likely move up in weight in the near future without giving Matthysse a rematch. Matthysse will still be at 140, and will likely take the WBC belt at that time. But there won't be another fighter like Garcia for him to fight.
Matthysse had high praise for Maidana for his win over Adrien Broner. Matthysse said "I knew he was gonna beat him. Sincerely, it makes me glad and I think it's good for boxing, for him and for his career. He already beat everyone, and is breaking his back and he deserves it."