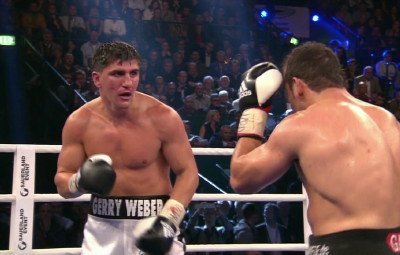 WBO cruiserweight champion Marco Huck (37-2-1, 26 KOs) will be taking what should be a very easily voluntary title defense this Saturday, August 30th against fringe contender #12 WBO Mirko Larghett (21-0, 13 KOs) at the Gerry Weber Stadium, Halle, Nordrhein-Westfalen, Germany.
This will be the 29-year-old Huck's 13th title defense of his WBO strap that he won back in 2009 with a 12 round decision over Victor Ramirez.
Huck is coming off of a 6th round TKO over 43-year-old Firat Arslan last January. Before that, Huck defeated Ola Afolabi by a 12 round majority decision last year in June. In his fight before that, Huck fought to a controversial 12 round decision over Arslan.
Huck probably should have lost that fight, but he's kind of unbeatable in Germany. Huck has had a number of fights where he's either been given a decision or a draw in fights that he appeared to lose. His fight against Afolabi in May of 2012 was a clear loss for Huck in my view, but the judges gave Huck a draw. Hucks's fight against Denis Lebedev in 2010 was another fight where I had Huck losing, and he was given a win in that fight as well.
The 31-year-old Larghetti's wins have come primarily against weak opposition with no name value. He seems to be more of a European level contender rather than an actual top tier contender.
The WBO has him ranked in the top 15 for some reason, but none of the other sanctioning bodies has him ranked in the top 15. It's hard to understand what the WBO sees in him to put him at the No.12 spot. But at any rate, he gives Huck a golden opportunity to win an easy fight on Saturday.
The WBO's top 15 ranking is some of what I consider the worst in the sport. It has a lot of fighters ranked way too high given their marginal skills and it seems to have some names lumped up near the top based on what they did years ago.
I consider Thabisio Mchunu to be the No.1 contender in the entire cruiserweight division, yet the WBO has Mchunu ranked #10. The WBO's ranking is very poor in my view because I believe Mchunu easily beats the 9 contenders ranked above him. What this means is that Huck really doesn't have to fight optional defenses to have an easy time holding onto his WBO title. All he needs to do is work his way through the top 10 contenders, because of them are very weak fighters without much talent in my view.
Here are the WBO's top 10 contenders:
1. Krzysztof Glowacki
2. Vikapita Meroro
3. Nuri Seri
4. Grigory Drozd
5. Tony Bellew
6. Nathan Cleverly
7. Jean Marc Mormeck
8. IIlunga Masabu
9. Felix Cora Jr
10. Thabisio Mchunu