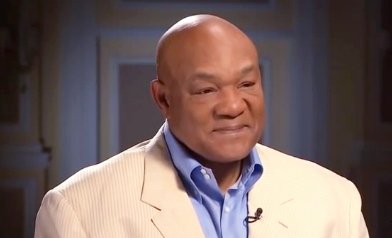 You remember Steve Zouski, don't you?
Chances are precious few fight fans do remember Zouski, yet the heavyweight battler who turned pro back in 1978 (winning his first 12 bouts, most of them by KO) and who went on to become a journeyman/trial horse in the '80s and early 90's holds a unique distinction: Zouski was the very first opponent former heavyweight king "Big" George Foreman faced when launching his unlikely 1987 comeback.
It was just over three decades ago this very day that a 38-year-old Foreman stepped back into the boxing ring having been retired for a full decade. Facing the much younger Zouski, who was 25-11 at the time and had been in with the likes of Mike Tyson, Marvis Frazier and Tony Tubbs, a 267-pound Foreman won via rather ugly-looking 4th-round TKO.
A healthy, largely curiosity-seeking crowd showed up, yet the critics slammed both the fight and Foreman's "crazy" idea of thinking he could make it back at such an age and at such a poundage.
"George Foreman's Flabby Comeback!," World Boxing magazine's cover story wrote for the April '87 issue. "The blob that ate Sacramento (the venue of the Zouski fight)," it read in the main article deep inside the mag's pages. Yes, George would be well and truly up against it during this comeback.
Yet Foreman refused to listen to the critics; the so-called experts (imagine if George had paid heed to the "advice" of writers/trainers and commentators such as Wally Matthews, Pedro Fernandez, Gil Clancy and the like – all of whom were ridiculing Foreman's ring return!?) and he patiently went about the business of ridding himself of ring-rust as he pursued his quest to make it all the way back to the very top.
All along, Foreman's battle cry was that of "I want Tyson!" Big George, with his sledgehammer left jab, his howitzer-like right hand and his pulverising uppercuts, felt he'd be able to do to "Iron Mike" what he did to Joe Frazier all those years ago. And, after a while, the fans – more and more of them, eventually to the point where Foreman's fights drew massive numbers on cable T.V – climbed firmly on the bandwagon. Even later still, there were rumours that Tyson wanted no part of Foreman; telling Don King that "if you love him so much, you fight the muther-fu****g animal!" Was Tyson scared of Foreman, one of the many, many great fighters his father figure Cus D'Amato had shown him tapes of when he was a budding teenager?
All of this was still a long way away at the time of the Zosuki win, however. Foreman first had to shed a whole lot of weight (eventually getting down as low as 235, but not feeling as strong there, and finally settling in at approx 250) and he had to scoop up those fans. This he did, and soon ther new and reinvented Foreman was the most exciting, the most fascinating and the just plain most fun thing that had happened to the current heavyweight division.
With a quick quote always at hand (the critics struggled to insult George with a joke he himself had not already thrown down) and with a bunch of slow-motion KO's added to his growing pro record, Foreman was enjoying boxing like never before. And we were enjoying him in a whole different way.
It wasn't until his January KO of the equally big Gerry Cooney (Foreman's first $1 million payday since coming back, also his first Pay-Per-View fight) that the critics, most of them anyway, began to cut George a little slack. Now, for the first time, the experts were asking the question the fans had been asking for some time: what would happen if Foreman managed to time an onrushing Tyson just right and land a bomb on him?
Sadly, we never got our answer. Foreman's comeback did confound all the odds, all the critics and all the logic in the world, as he DID regain his old crown – yet the fight George came back for, the one we all wanted to see, never took place.
We all admire, love and cherish Foreman today; due in large part to his history-making win over Michael Moorer and his game defeat at the hands of Evander Holyfield. Imagine how much more we would celebrate this amazing fighter who is now in his late sixties had he flattened Mike Tyson somewhere along the road on his unlikely comeback??
"Big" George Foreman: 76-5(68) overall – 31-3(26) in his 1980's comeback. Steve Zouski: 31-18(15)