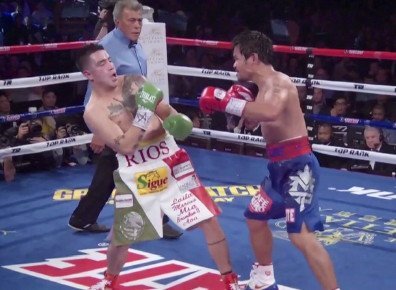 After a successful ring return, team Pacquiao along with Top Rank's Bob Arum are wasting no time in deciding when and where they will fight again.
According to the Manila Bulletin, Pacman will be back in the ring on April 12, 2014, at the MGM Grand's Garden Arena in Las Vegas. Despite their financial success in China, it seems as though the PPV numbers do make a difference, and keeping boxing away from the United States, and more importantly Las Vegas, is not a viable consistent option.
There have been various opponent possibilities circulating, but Arum insisted that all will be evident by Christmas. Could it be Juan Manuel Marquez? Maybe Timothy Bradley? Some even suggested that Ruslan Provodnikov could end up being the next man across the ring from Pacquiao, although I find it hard to believe.
There will always be hope, no matter what people say and pledge, that Mayweather Jr. and Manny Pacquiao will come to an agreement that will yield one of the biggest boxing fights of all time.
More @ http://cgboxing.blogspot.com/
https://www.facebook.com/VitaliFightPress