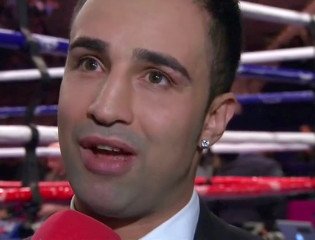 By Jeff Sorby: WBA welterweight champion Paulie Malignaggi (32-4, 7 KO's) is reportedly pleased that #2 WBA Marcos Maidana (33-3, 30 KO's) has accepted a fight with him on April 27th after negotiations between Malignaggi and 41-year-old Shane Mosley fell apart this week.
Malignaggi said on his twitter "It's great that Chino Maidana accepted. He is a worthy challenger. He deserves a shot. Let's get it done!"
Maidana said on his own twitter "Malignaggi is one of the few fighters out there who really have balls, not like the others. I want his title."
Maidana seems to be taking a swipe at Amir Khan, who hasn't accepted Maidana's attempts at getting a rematch with him after losing a 12 round decision to Khan back in 2010. Khan has ignored Maidana's attempts at getting a rematch. Maidana feels Khan owes him a rematch due to how their fight went down.
As for Malignaggi, he seems to be relieved in some ways that he's no longer going to be fighting Mosley because Malignaggi has been taking nonstop heat on his twitter account since that fight was first mentioned.
It's gotten so bad that Malignaggi mentioned today that he'll only be using his twitter account just to announce fight info. He feels he was disrespected by fans. It's really not surprising that Malignaggi was getting so much grief from boxing fans beaus if you look at Mosley's resume you'll spot immediately that he hasn't won a fight in four years, and yet he was being given a title shot by Malignaggi and Golden Boy over much more deserving fighters like Maidana.
It's good that the Malignaggi-Mosley fight isn't happening but we still don't know why the fight fell apart. If it was because Malignaggi didn't like the idea of giving an undeserving fighter a title shot, then that would be good, but somehow I doubt that's the reason for the fight not happening. It was likely over money.