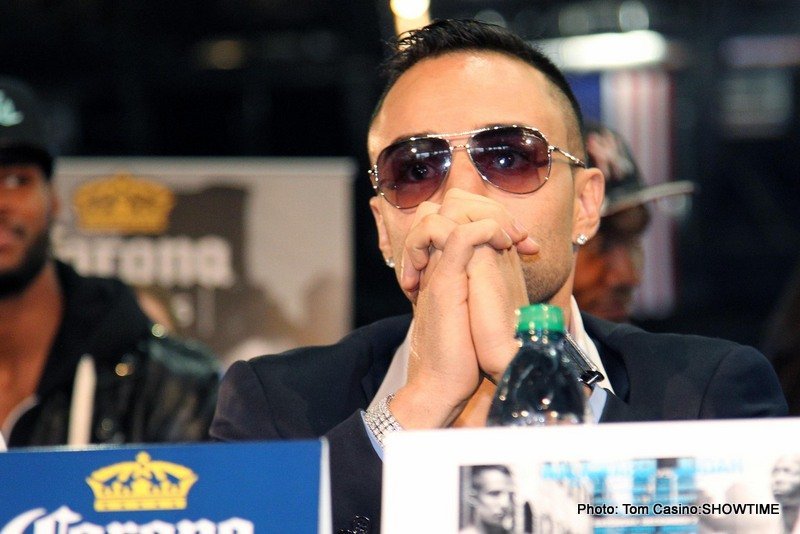 Brooklyn welterweight Paul Malignaggi (33-6, 7ko) has spoken to iFLtv ahead of his planned return to the ring against fringe level 147lb fighter Danny O Connor (25-2, 9ko) as chief support to Amir Khan v Chris Algieri on the PBC May 29th card from the Barclays Center.
Malignaggi, who many British fans hold a soft spot for, thanks to his fights with both Ricky Hatton and Amir Khan (as well as his work for BBC radio and now Sky Sports) has not boxed for a year, when we saw him stopped in a four round beat down at the hands of "Showtime" Shawn Porter in Washington.
It would appear that his commentary work, of which he is excellent, has ignited his fire to once again step back through the ropes.
Alongside preparing up and coming New Yorker Sadam Ali for his fight last weekend on the Klitschko-Jennings under card, it appears that Malignaggi has still got a longing to be under the bright lights himself. He said;
"I guess I kinda just missed being in the spotlight a little and what not, the rush of adrenaline. I tell you though there are weeks like this (MayPac) I do regret it 'cause I gotta go and train right now!"
"You make your choices. There are pros and cons to it you know and I'm definitely looking forward to being in the ring May 29th. I'm looking forward to putting on a good performance, but damn sometimes I hate training!"
And that is this writers only concern going into this fight. Surely the increase in media work can mean he will be liable to taking his eye off the ball? Working for British media throughout May/Pac is strenuous enough, yet whilst this is certainly meant to be a fight Paulie wins, you never truly know. For me this is Paulie's fight to lose and if he's not fully focused, after a year out, it could be a banana skin.
O' Connor is a similarly light puncher mind you and this has without doubt been carefully considered when matching Malignaggi for this contest.
In actual fact, Paulie called O'Connors fight against Andrew Farmer last October so has already had more than enough chance to get a look at his opponent's style too.
Of the man in the opposite corner, 2 time world champ Malignaggi has said;
"He's had a really good amateur career and anytime you've had a good amateur career you are dreaming of professional stardom"
Perhaps attempting to quell any doubts as to whether we can still expect to see the best Malignaggi on the 29th May, the 34 year old said;
"It's been a long time coming for him but it's also been a long time coming for me, because this past year there have been a lot of emotional ups and downs. It's funny cos when you think of the ring, you don't think of peace. But in the ring – that's where I'm at piece."
I wish Paulie all the best. Yet with his reputation as an analyst and a broadcaster growing by the day, I feel he really must ask himself if he's coming back to fight for the right reasons. And take a long hard look at things. Only time will tell if he still has enough to mix it at the top.
Thanks for reading
Twitter @Undilutedpoison